The house at 3 Crescent Hill in Springfield, around 1938-1939. Image courtesy of the Springfield Preservation Trust.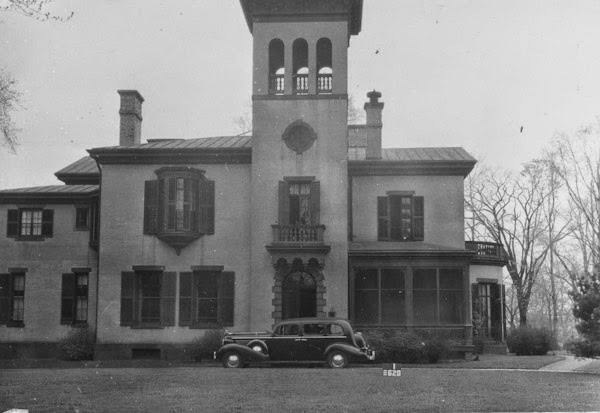 The house in 2017: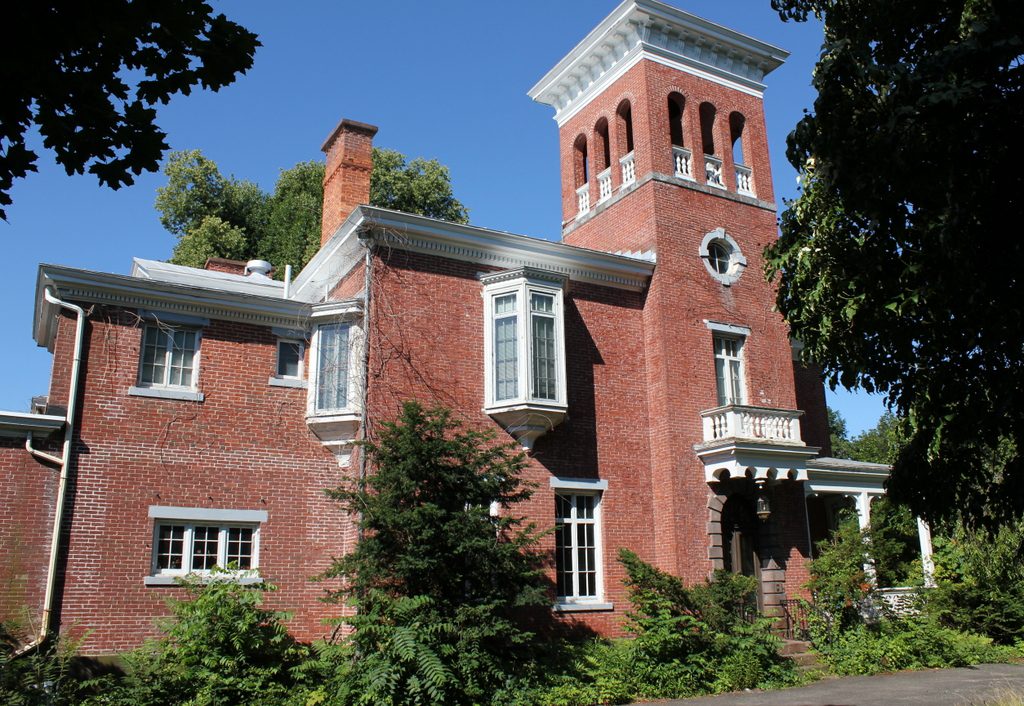 This Italian villa-style house was completed in 1851 on Crescent Hill, atop a ridge near the corner of Maple and Pine Streets. It was the work of Henry A. Sykes, a notable local architect from Suffield, Connecticut. His career was cut short when he died in 1860 at the age of 50, but he was responsible for architecturally-significant houses, churches, and other buildings throughout the Connecticut River Valley. However, this house was perhaps his magnum opus. It reflected the Italian villa style that was just starting to become popular for upscale American homes, and it was later praised by architectural historian Henry-Russell Hitchcock as "one of the finest nineteenth century houses in America."
The original owner of this house was John Mills, a lawyer and politician who was born in 1787 in Sandisfield, Massachusetts. He never attended college, but he studied law in Granville under future county sheriff John Phelps, and was admitted to the bar in 1812. He subsequently lived in Southwick, and in addition to his law practice he also served in the state senate from 1823 to 1827, including as the senate president from 1826 to 1827. In 1826, he was also part of a six-man commission that established the current Massachusetts-Connecticut border, finally resolving a long-standing dispute that dated back to the 1640s.
One incident during Mills's time in the state senate, which may be apocryphal, came in 1824, when the Marquis de Lafayette visited the Massachusetts State House. Lafayette shook hands with each member of the state legislature and, upon reaching Mills, supposedly clasped his hands and declared, "My dear friend, I recollect you in the Revolution." Mills, of course, was born five years after the war ended, and was the youngest of the state senators. However, he was also prematurely bald, which evidently made him look much older than he really was.
In 1835, Mills was appointed U.S. Attorney for the District of Massachusetts, a position he held until 1841. During this time, in 1836, he moved to Springfield, where he lived in a house on Howard Street. He returned to the state senate in 1842, and then from 1843 to 1844 served as the state treasurer and receiver-general. In 1848, he was nominated for lieutenant governor by the newly-established and Free Soil Party, a third party that was mainly focused on preventing the spread of slavery. He and his running mate, Salem mayor Stephen C. Phillips, were roundly defeated in the general election by incumbent Whig governor George N. Briggs and lieutenant governor John Reed, Jr., but they managed to finish second in the three-way race, ahead of the pro-slavery Democratic candidate.
Around 1849, Mills commissioned Sykes to design this house, which was completed two years later. At the time, Crescent Hill and the neighboring Ames Hill were just starting to be developed, but by the end of the 19th century this area would become the city's most prestigious neighborhood, with its proximity to downtown and its sweeping views of the river valley. John Mills was in his early 60s at the time, and was largely retired from public life by then. However, he did serve a single term in the state house of representatives in 1851, and in 1855 he became president of the Hampden Mutual Fire Insurance Company.
During the 1855 state census, Mills was living here in this house with his wife Emily and three of their children: John, Sarah, and Isaac. Isaac's wife Ann and their daughter also lived here, and the family employed three Irish-born servants who lived here. However, John sold this house two years later, and he and Emily moved to Byers Street, where they lived with their daughter Sarah and her newlywed husband, Roswell G. Shurtleff. The Mills family did not entirely leave Crescent Hill, though, because in 1859 Isaac and Ann moved into a new house across the street from here, at the corner of Crescent Hill and Pine Street.
John Mills died in 1862 at the age of 74, by which point this house on Crescent Hill was owned by John B. Stebbins, a wealthy merchant who was a business partner of hardware store owner Homer Foot. Stebbins was a native of Springfield, and was among the original students at Springfield High School when it opened in 1828, but after leaving school he moved to Hartford, where he worked as a clerk in a grocery store. However, he soon returned to Springfield, and found work as a clerk in Homer Foot's hardware store. After a few years here he moved again, this time to New York City, and worked as a clerk in another hardware store, but in 1839 he returned to Springfield for good, returning to his position with Foot, with the promise that he would be given an interest in the firm.
Homer Foot kept his promise, and in 1842 Stebbins became a partner in the company. A year later he married his wife Maria, and the couple first lived on Elm Street, and then at the corner of Main and Emery Streets, and finally on Byers Street before purchasing this house from John Mills in 1857. They had a total of seven children: John, Mary, Elizabeth, Annie, Fannie, Maria, and an unnamed child who died shortly after birth. Mary also died in infancy, but the five surviving children all lived here in this house with their parents.
Aside from Foot's store, Stebbins was also involved in a number of other companies, serving as a director and, at various times, as president of the Springfield Institution for Savings, the Holyoke Water Power Company, the Ludlow Manufacturing Company, and the Hampshire Paper Company. In the process he became a wealthy man, with the 1870 census listing his real estate as being worth $73,000, plus a personal estate worth $30,000, for a total net worth of more than $2 million in today's dollars. He was also involved in politics, serving as a city alderman in 1853, a member of the school committee from 1865 to 1869 and in 1873, and as a state legislator in 1883.
His wife Maria died in 1891, and John died in 1899, but this house remained in the Stebbins family for many years. Of the five children who survived to adulthood, neither Annie nor Maria ever married, and they lived here for the rest of their lives. The 1920 census shows them living here with their nephew, 48-year-old John, who was the son of their brother John. Maria died in 1928, and by 1930 Annie was living here alone, aside from two servants. She would remain here until her death in 1939, around the same time that the first photo was taken.
After Annie's death, the house was inherited by her nephew Carl Stebbins, the oldest son of her brother John. He had grown up in this house with his parents and grandparents, but he later moved to Tacoma, Washington, before eventually returning to Springfield. By the 1940 census he was 70 years old, and was living here with his wife Grace, their daughter Grace, and his wife's sister, Rebecca Birnie. He lived here until his death a decade later, and his wife remained here until her death in 1961, more than a century after the Stebbins family first moved into this house.
Their daughter Grace sold the property in 1962, and the house remained vacant for a number of years. During this time the interior was vandalized, but by the early 1970s it had new owners and was carefully restored. The house was individually listed on the National Register of Historic Places in 1973, and the following year it became part of the Ames Hill/Crescent Hill Historic District, which encompasses the many historic 19th and early 20th century homes in the neighborhood. Today, the house shows some changes from its 1930s appearance, including different first-floor windows on the left side, but overall it still stands as one of the grandest and most architecturally-significant houses in the city.