Looking north on Park Street from the corner of Adams Street in Holyoke, around 1892. Image from Picturesque Hampden (1892).
The scene in 2017: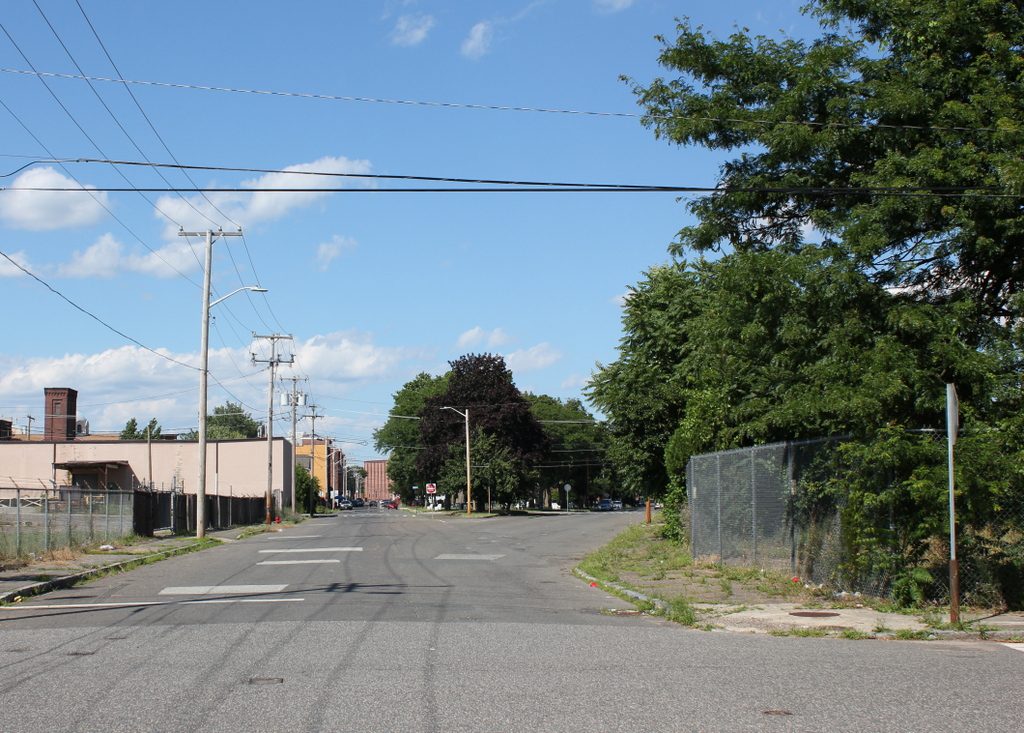 This view shows the scene from Adams Street, looking north toward the triangular park between Park Street (now Clemente Street) on the left and South East Street on the right. Here, the street grid of the South Holyoke neighborhood, which runs parallel to the Third Level Canal, meets the street grid of the rest of the city. This formed a small wedge of land in the center of the photo, just south of Sargeant Street, as well as a larger one just beyond it, in the block between Sargeant and Hamilton Streets. Originally known as Hamilton Park, and later the Hamilton Street Park, this was the largest open space in the neighborhood, and the first photo shows a mix of wood-frame and brick buildings on either side of the street. Further in the distance, in the center of the photo, is the Hamilton Street School, located on part of the triangle between Hamilton, Park, and South East Streets.
When the first photo was taken, this neighborhood was predominantly French-Canadian, although there was also a considerable German population as well. The 1900 census, which was done only a few years after the first photo was taken, gives some interesting insight into this neighborhood. For example, the house on the right was owned by August Ruppert, a 46-year-old German immigrant who ran a grocery store in the first floor of the building. He had immigrated to the United States in 1882, followed a year later by his wife Mary and their two young children, Richard and Annie. They had a third child, Emma, several years years later, and by 1900 they were living here in this house, with Richard working as a plumber and Annie as a weaver in a woolen mill. The census also shows On Wo living right next door at 282 Park Street. A Chinese immigrant, he was about 38 years old, and he worked as a laundryman, probably in the second storefront on the right side of the photo.
Today, nothing is left from the first photo except for the park and the streets themselves. Even then, they have undergone changes, with the Hamilton Street Park becoming Carlos Vega Park in 2012, and Park Street becoming Clemente Street. A 1911 city atlas shows over 40 buildings in this two-block section of Park and South East Streets, but today there are only five, with overgrown vacant lots comprising most of the streetscape. The present-day photo shows the effect that the loss of manufacturing jobs has had on Holyoke, and similar scenes can be found in other once-thriving neighborhoods in the city.