Looking north along the First Level Canal from Sargeant Street in Holyoke, around 1892. Image from Picturesque Hampden (1892).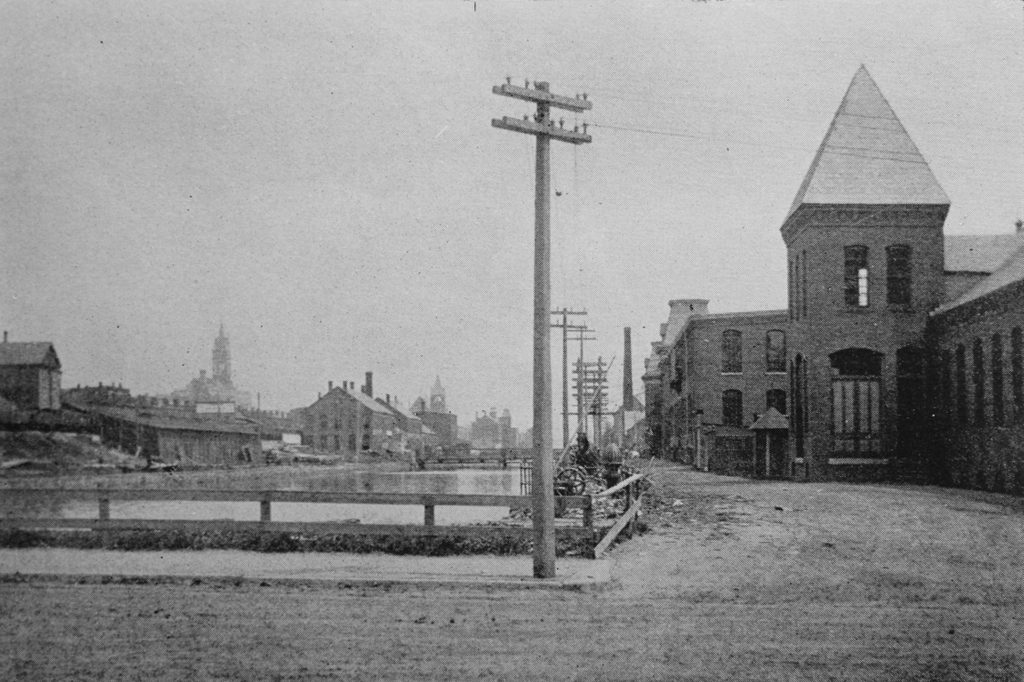 The scene in 2017: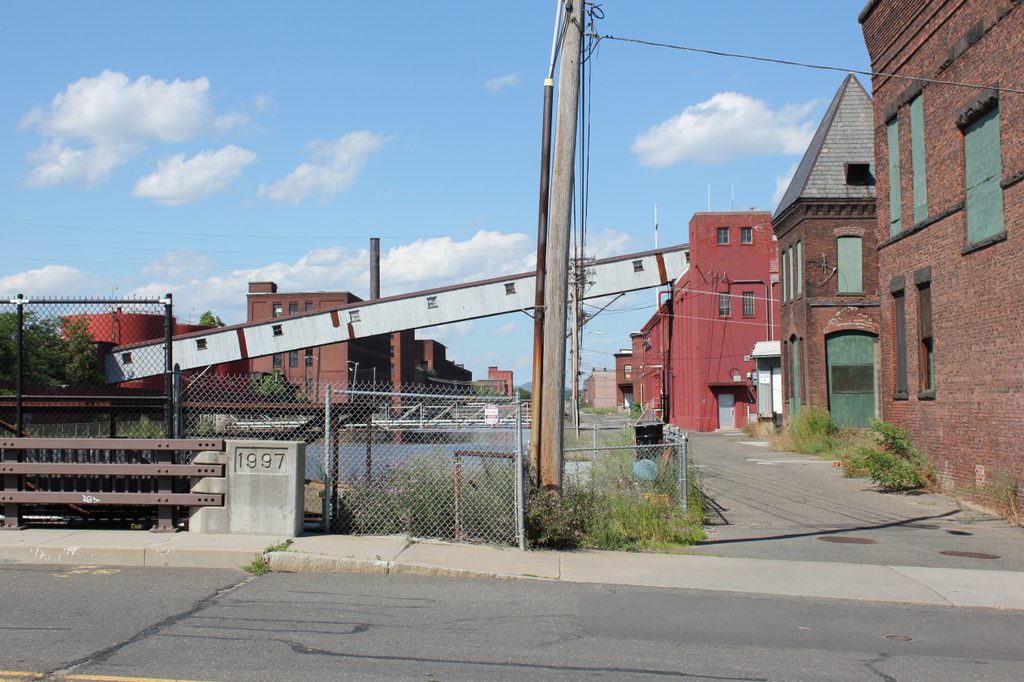 This view shows the scene from near the southern end of the First Level Canal, looking north toward the center of Holyoke. The tower of City Hall can be seen in the distance on the left side of the first photo, and the foreground shows a variety of industrial development along both sides of the canal. Furthest to the right is the George R. Dickinson Paper Company, one of the many 19th century paper mills in Holyoke. The two-story brick mill was built in 1880, and initially housed two machines that produced book papers. The company's owner, George R. Dickinson, lived in a mansion in Springfield, and he ran the company until his death in 1887.
George's son Henry then took over the company, and in 1890 he expanded the building to increase production. The first photo was taken several years later, with Picturesque Hampden describing how "it is now the best equipped mill of its kind in Holyoke, and its productive capacity ranks with the five largest in the United States." At the time, it was operating day and night in order to keep up with demand, and it had a daily output of around 23 tons of paper.
In 1899, the company was acquired by the American Writing Paper Company, with Henry Dickinson becoming its vice president. This mill continued to operate under the new ownership, and was expanded at some point after the first photo was taken, with an addition on the far right side of the photo. Otherwise, the building is still recognizable from the first photo, particularly its distinctive tower. Although no longer a paper mill, it is still in use as a factory, and today it produces plastic clamshell packaging.
Aside from the George R. Dickinson Paper Company, the other buildings on the right side of the canal are also still standing, although they too have been altered over the years. The next building, just to the left of the tower, was owned by the Holyoke Water Power Company, although it later became the city's municipal electric light plant. The building appears to still be standing, although it has been expanded and now includes a covered walkway across the canal. Further in the distance, barely visible in the two photos, is the former Crocker McElwain paper mill, which is still standing at the corner of Cabot Street, although without its original towers from the first photo.