The tenement houses at 136-142 Main Street in the Indian Orchard neighborhood of Springfield, around 1938-1939. Image courtesy of the Springfield Preservation Trust.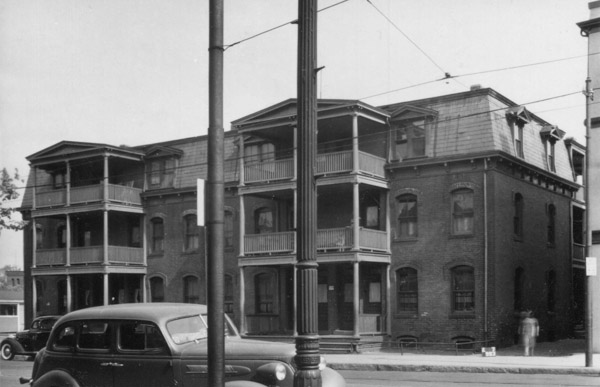 The scene in 2017: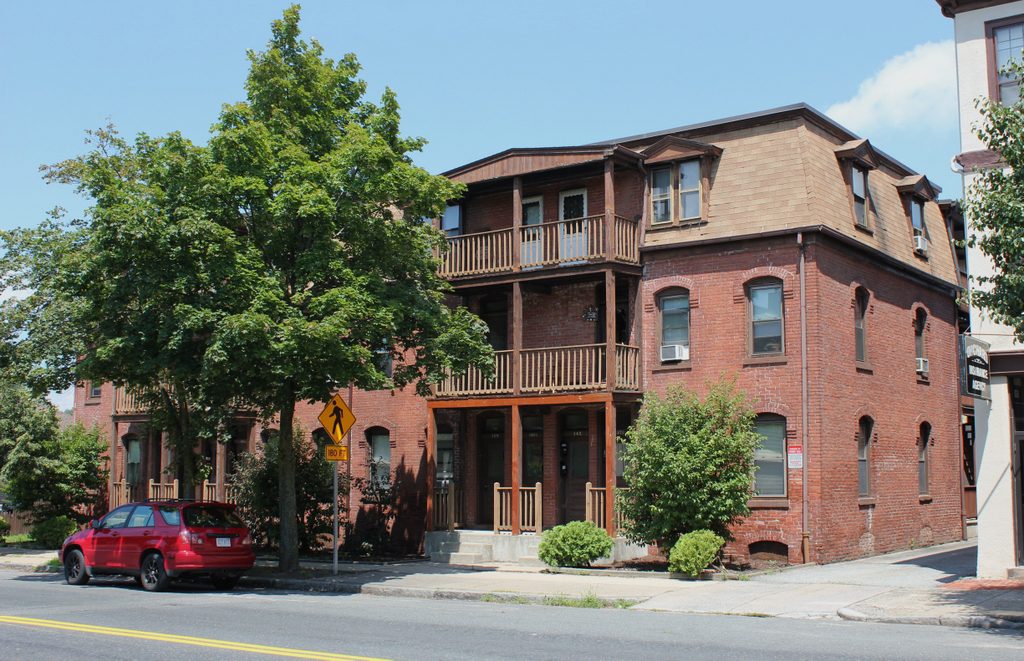 This Second Empire-style tenement building was built sometime around the 1870s, and was owned by Octave A. LaRiviere, a French-Canadian immigrant who lived a block away in a house on Main Street. A dry goods merchant, LaRiviere went by the anglicized name of John Rivers for many years, in order to avoid anti-immigrant discrimination. He served as a city councilor and alderman in the 1880s and 1890s, and later served as a Massachusetts delegate to the 1912 Republican National Convention. In his later years, he reverted to his original French name, and was a contractor in the firm of LaFrance & LaRiviere.
This building was one of many tenements that were built in this area in the late 19th century, in order to house workers at the nearby mills. Many were company-owned tenements, but this one was privately owned, with a mix of mill employees and other workers. The 1900 census showed at least three families in this building (although there were probably more than that), including two immigrant families from Quebec. One unit housed Louise Bengle, who lived here with her son Paul, who worked as a clothing salesman, and her grandson Donald, who worked as a machinist. A second unit was the home of Casimir Baillargeon, a carpenter who lived here with his wife Mary, along with his nephew, his niece, and a boarder. A third unit in the building was the home of Fred Pero, an iron molder who lived here with his wife Kate and their three children.
The first photo was taken in the late 1930s, and the 1940 census shows 12 families living in the buildings. They were a mix of native-born Americans, plus immigrants from Quebec and Poland, and most were employed by the nearby mills along the Chicopee River. Each family paid around $20 per month in rent, and their salaries ranged from a janitor who made $350 per year, to a tire maker who earned a salary of $1,560. The first photo shows two sets of wooden porches on the front, with two units apparently sharing each porch level. Today, not much has changed in this scene, and these porches are still standing. The rest of the building has also remained well-preserved, and continues to be used as a 12-unit apartment building.