The Brattleboro High School, at the corner of Main Street, Linden Street, and Putney Road in Brattleboro, around 1900-1906. Image courtesy of the Library of Congress, Detroit Publishing Company Collection.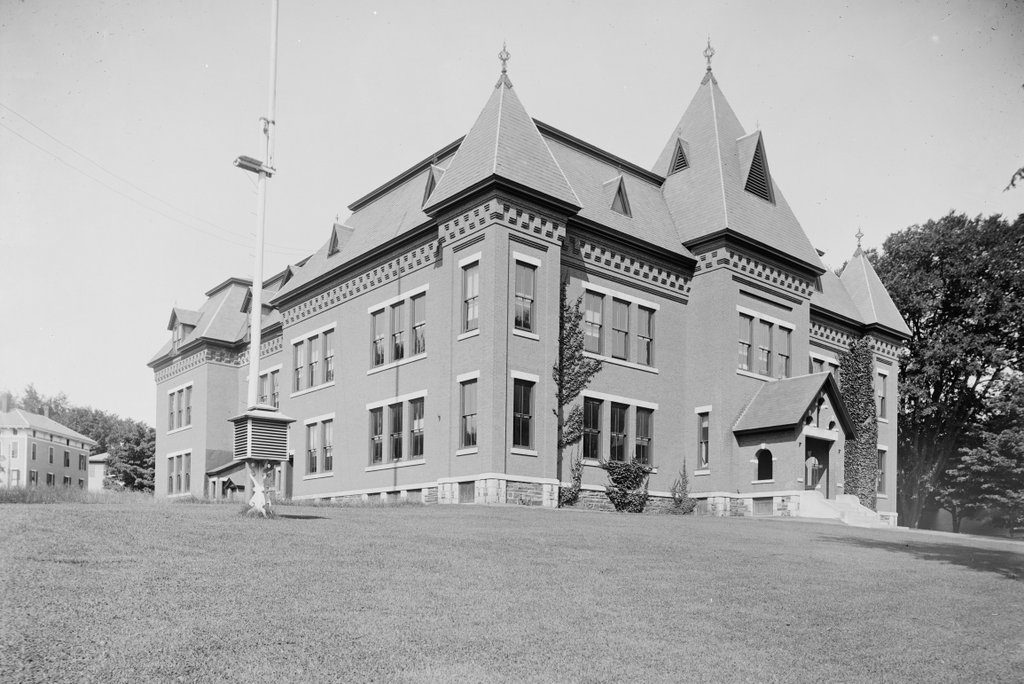 The scene in 2017: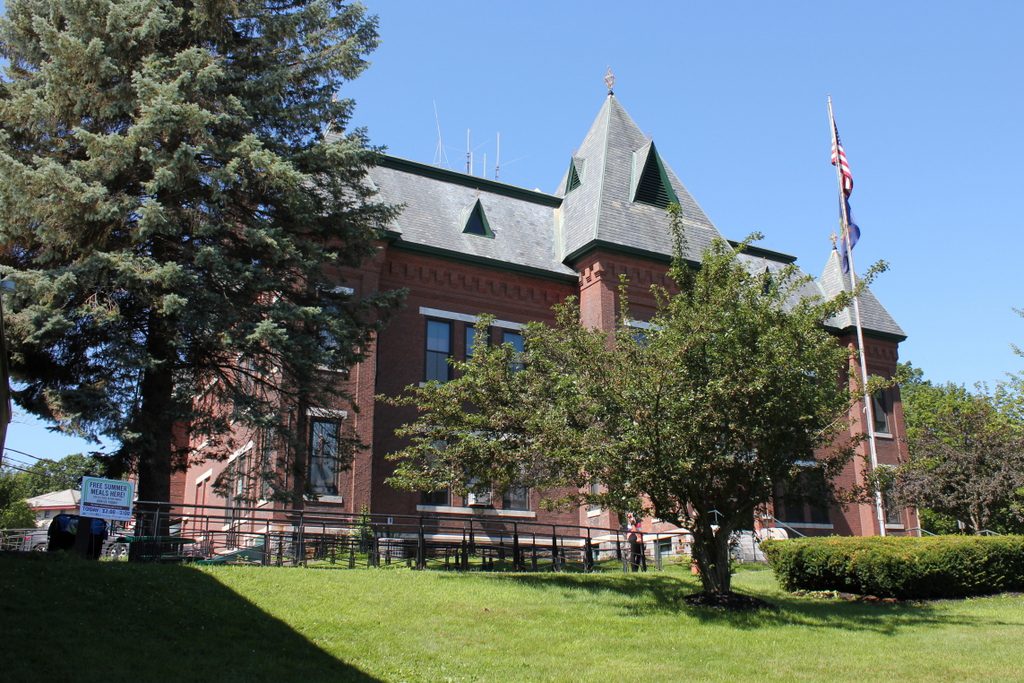 This school was built in 1884, replacing an earlier wooden high school building that had been used since 1832. Its design is a somewhat more subdued version of the High Victorian Gothic style that was popular in the 1860s and 1870s, and features a brick exterior with contrasting marble trim, pointed dormer windows on the roof, and three turrets on the front of the building. It was built at a cost of $48,000, and served the needs of a growing town that, by the 1890 census, had a population of over 6,800, more than triple the size of the town from when the old high school building had opened in 1832.
When this new school opened, the principal was Benjamin F. Bingham, an educator who served in this capacity from 1863 until his death in 1889, at the age of 65. The 1921 book Annals of Brattleboro, 1681-1895 includes a description of Bingham and his tenure at the school, describing how:
Every year there came up under Mr. Bingham's hand a new class of boys and girls, many of them timid and shrinking and watching with half-scared eyes his quick, alert movements and his ominous eyebrow. On some of these he inflicted severe discipline; some he admonished with all a father's tenderness; the obstinacy and conceit of others he pierced with a ridicule that was worse than blows; but everyone was loyal to the High School where truth and honor were taught by precept, discipline and example in the original methods employed by Benjamin F. Bingham to develop the mental character of his pupils.
This building was used as Brattleboro High School until the mid-20th century, and during this time the school had several notable graduates. George Aiken, who may have been a student when the first photo was taken, graduated in 1909, and went on to become governor from 1937 to 1941, and a U.S. Senator from 1941 to 1975. Another graduate was Aiken's political ally, Ernest W. Gibson, Jr., class of 1919, who served as a U.S. Senator from 1940 to 1941, governor from 1947 to 1950, and a federal judge from 1949 until his death in 1969. Aside from politics, other noted graduates included Major League Baseball pitcher Ernie Johnson, who graduated in 1942 and played for the Boston Braves, Milwaukee Braves, and Baltimore Orioles before starting a long career as a radio and television broadcaster for the Atlanta Braves.
The school finally closed in 1951, upon completion of the present-day Brattleboro Union High School in the southern part of the town, at the site of the old fairgrounds. This new location allowed for more expansion as the student population grew, compared to the relatively confined space here in the center of town, and there was also room for athletic fields. Following this move, the old school building was converted into town offices. The exterior remained essentially unchanged, though, and today it remains in use as the Brattleboro Municipal Center, with hardly any noticeable difference between the two photos.