The Kennedy Block, at the corner of Main and Taylor Streets in Springfield, around 1938-1939. Image courtesy of the Springfield Preservation Trust.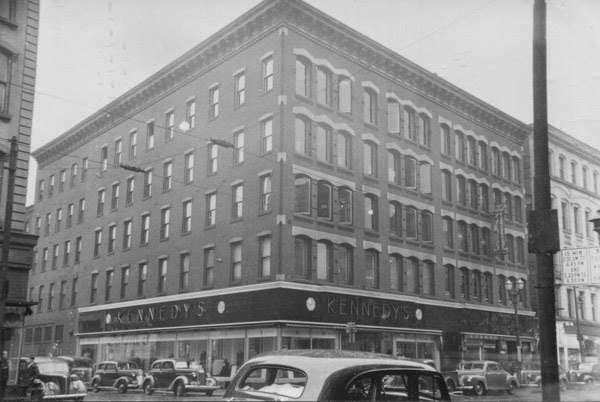 The scene in 2017: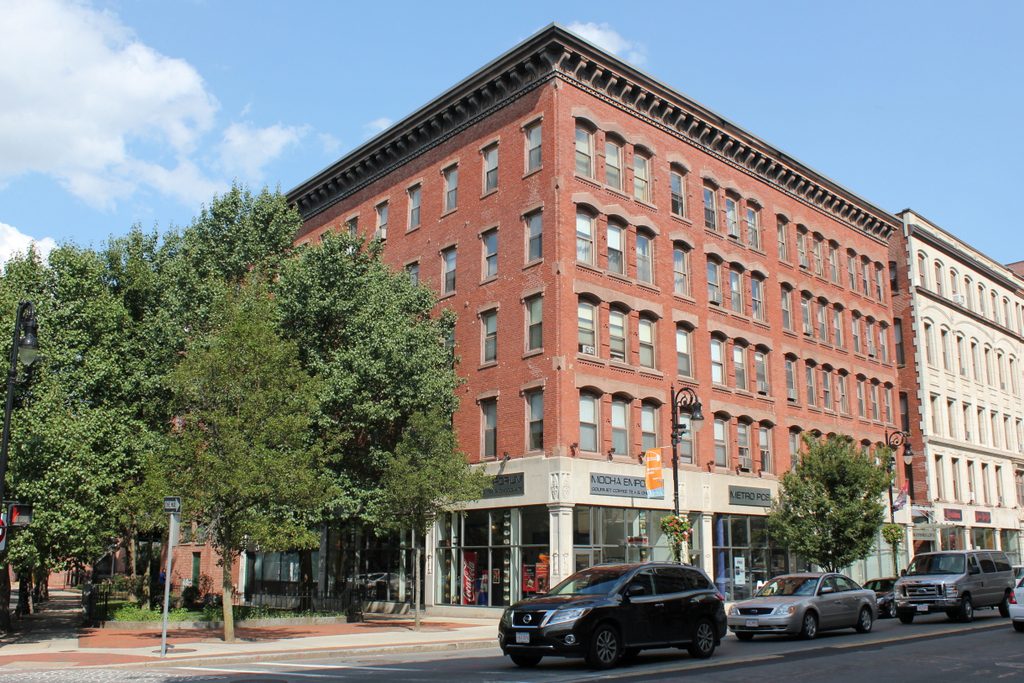 This large commercial block was built in 1874, and was owned by businessmen Warren H. Wilkinson and Emerson Wight. It was part of the commercial and industrial development that was occurring in downtown Springfield during the mid-19th century, spurred by the presence of the Boston & Albany Railroad just a few blocks to the north of here. Wilkinson and Wight had owned an earlier building on this site, but it burned down on January 6, 1874, and was replaced with this five-story, Italianate-style building. Wight went on to serve as mayor of Springfield from 1875 to 1878, and in 1879 he purchased Wilkinson's interest in the building, becoming the sole owner of the property.
One of the building's original tenants was the Morgan Envelope Company, which had been founded in 1864 by Springfield resident Elisha Morgan. Then, in 1873 Morgan Envelope produced the first government-issued postcards in the country, after securing a lucrative contract from the federal government. At the time, postcards were prepaid, pre-stamped cards that were issued directly by the post office, and Morgan Envelope was the lowest bidder out of 14 companies, submitting a bid of $1.39 7/8 per 1,000 postcards. The company moved into this building upon its completion in 1874, and remained here for the next decade, until moving into its own facility on Harrison Avenue in 1884.
Beginning in 1917, the ground floor of the building was the home of Kennedy's, a men's clothing store. The first photo shows the building as it appeared in the late 1930s, with Art Deco-style signage above the storefront, and Kennedy's remained here at this location until the early 1970s. Since then, many of the large 19th century commercial blocks in downtown Springfield have since been demolished, but the Kennedy Block is still standing with few significant changes to the exterior. The building is now part of the Silverbrick complex, with an interior that has been converted into apartments, and it is listed on the National Register of Historic Places, along with the neighboring Worthington Building on the right side of the scene.