The Hampden Savings Bank building at 1665 Main Street in Springfield, around 1938-1939. Image courtesy of the Springfield Preservation Trust.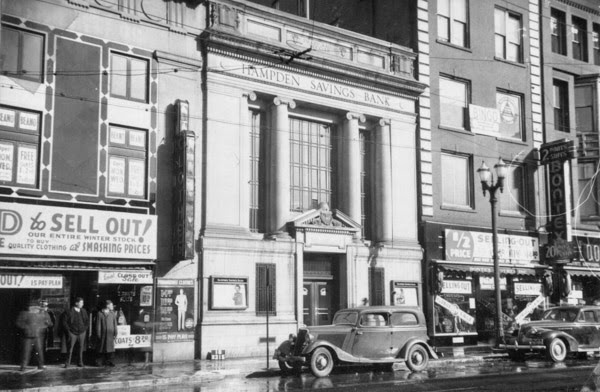 The scene in 2017: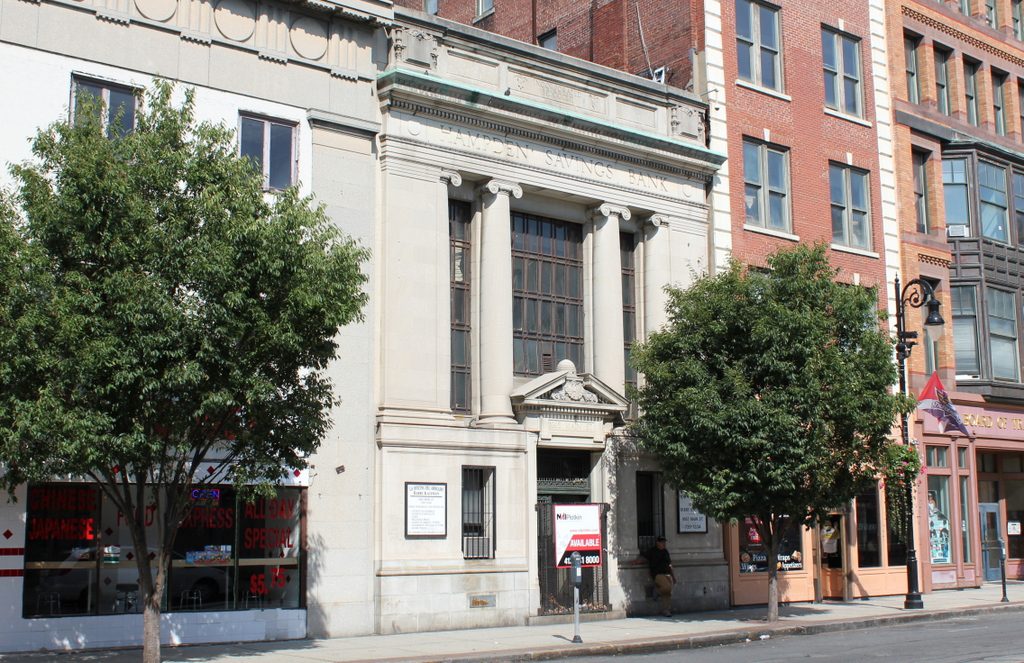 The Hampden Savings Bank was established in 1852, and its headquarters was located in several different buildings in downtown Springfield during the late 19th and early 20th centuries. From 1899 to 1918, it was in the Fort Block, at the corner of Main and Fort Streets, but in 1918 the bank moved into this new headquarters, located a block away on the other side of Main Street. The building was designed by local architect Max Westhoff, and featured a Classical Revival-style design that was popular for banks in the early 20th century.
The first photo, taken in the late 1930s, shows the Hampden Savings Bank building, along with portions of the surrounding buildings. On the far left is the Chapin National Bank, which was built in 1917 and heavily altered on the Main Street side around the early or mid-1930s. On the right side is the Olmsted-Hixon-Albion Block, which extends all the way to the corner of Taylor Street. Originally built in the 1860s and 1870s as three separate buildings, the interiors of these commercial blocks were connected in 1927. However, the exteriors remained largely unchanged, giving the appearance of three different buildings, although only two of these sections are visible in this scene.
Hampden Savings Bank was located in this building until 1952, when a new headquarters was built a few blocks away on Harrison Avenue. The bank remained there until 2015, when it was acquired by Berkshire Bank, which continues to have a branch location in the Harrison Avenue building. In the meantime, this building on Main Street was later converted into law offices, although its exterior has hardly changed since the first photo was taken almost 80 years ago. It is now vacant, but there are currently plans to restore its interior and convert it into a recreational marijuana shop.