The house at 82 Washington Square East in Salem, around 1910-1920. Image courtesy of the Library of Congress, Detroit Publishing Company Collection.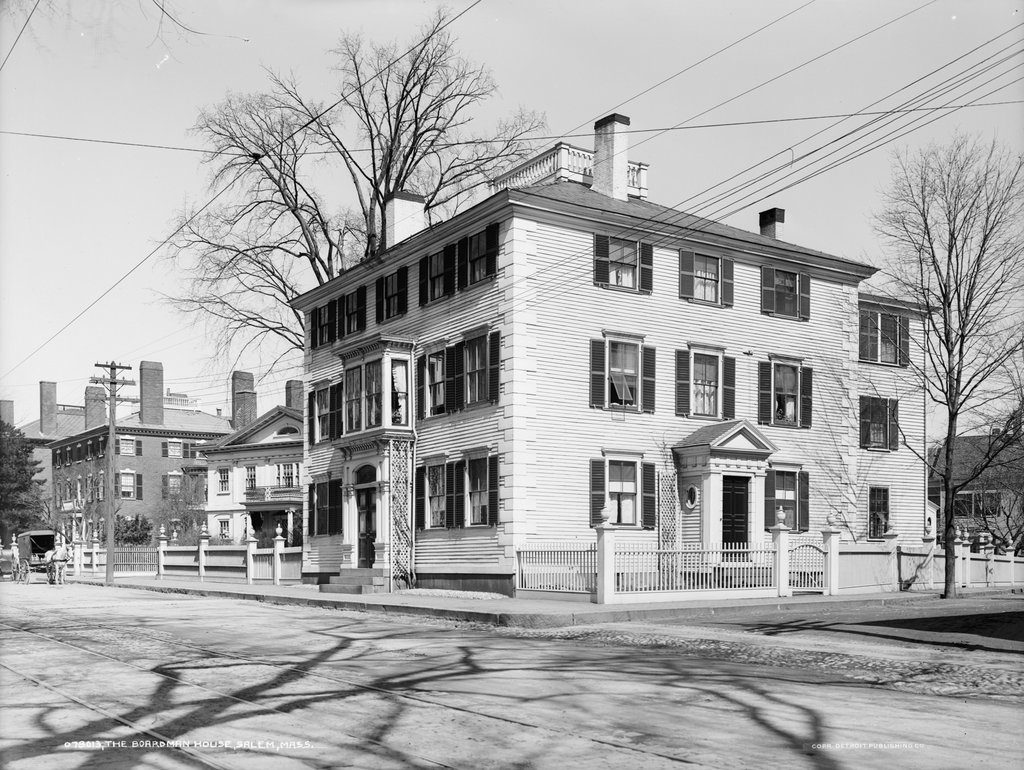 The house in 2017: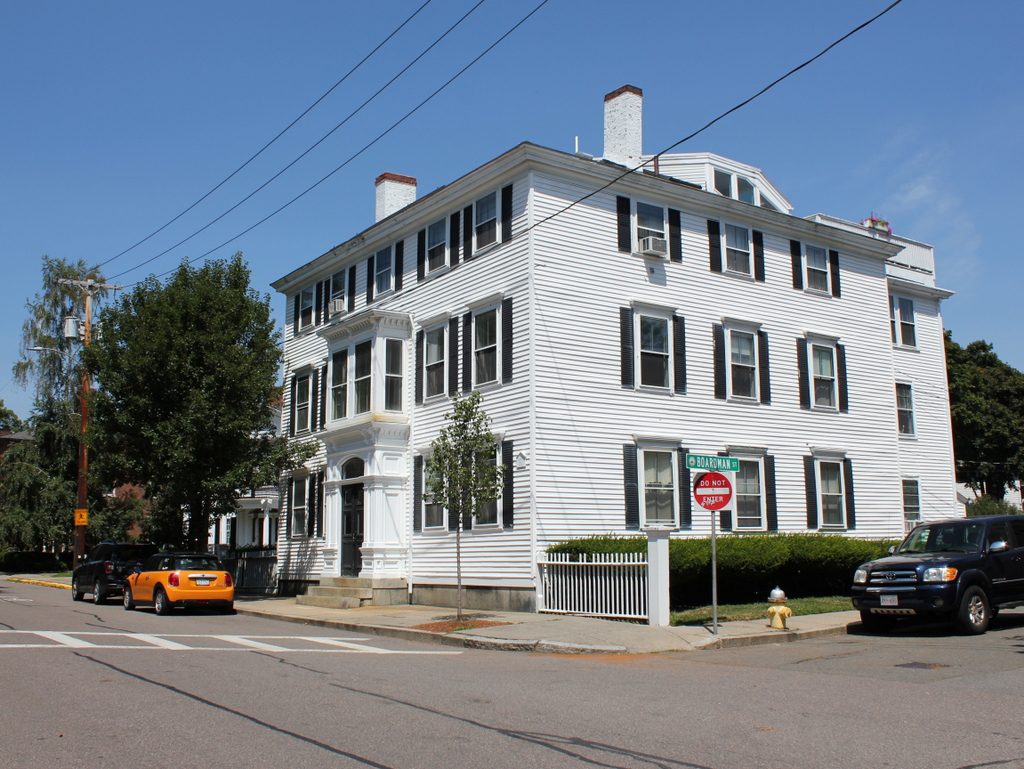 This elegant Federal-style house was built over the course of seven years, between 1782 and 1789. It was the first of many mansions that were built along what would later become the Salem Common, and it is said to have been designed by noted Salem architect Samuel McIntire and his brother Joseph. The large, ornate house reflected the wealth of its owner, Francis Boardman, a ship captain who was in his early 40s when the house was completed. He lived here with his wife Mary and their children, which included daughters Elizabeth, Mary, and Sarah, along with sons Francis and John. John died in 1791, at the age of five, and Captain Boardman died a year later while at Port-au-Prince in Haiti.
Although he died only three years after the house was completed, the house would remain in Francis Boardman's family for many years. In 1798, his daughter Elizabeth married Nathaniel Bowditch, the famous mathematician who, a few years later, published The American Practical Navigator. They lived here in this house for a short time after their marriage, but Elizabeth died just seven months later, while Bowditch was away at sea. Elizabeth's sister Mary would also marry a into a prominent Salem family when, in 1804, she married Benjamin W. Crowninshield. He would go on to have a successful career in politics, including serving as Secretary of the Navy from 1815 to 1818, and in the U. S. House of Representatives from 1823 to 1831.
Captain Boardman's youngest daughter, Sarah, married Zachariah F. Silsbee in 1810. He also came from a notable family, and was the younger brother of Nathaniel Silsbee, a merchant who served in both the U. S. House of Representatives and the U. S. Senate. Zachariah was also a merchant, working with his brother in the firm of Stone, Silsbee, & Pickman. Along with this, he was involved in other business ventures in Salem, including serving as a director for the Merchants Bank and the Newmarket Manufacturing Company, and as the president of the Salem Savings Bank.
Both Zachariah and Sarah lived here in this house after their marriage, and would remain here for the rest of their lives. Sarah died in 1852 at the age of 64, but Zachariah outlived here by more than two decades, before his death in 1873 at the age of 89. The last census before his death, taken in 1870, lists him as a retired merchant, with real estate valued at $10,000 and a personal estate of $17,000. At the time, he was living here with 41-year-old Mary Silsbee, who was presumably his daughter, and they employed three Irish-born servants who lived here in the house.
By the early 1880s, this house was owned by Lucy Bowdoin, the widow of dentist Willard L. Bowdoin. They had been married in 1867, when he was 46 and she was 30. It was the second marriage for both of them, but they were only married for a few years before Willard's death in 1870. Within a decade, Lucy had moved into this house, along with her mother, Mary Harwood, and her son from her first marriage, Abel Proctor. Lucy was still living here when the first photo was taken during the 1910s, and she would remain here until her death in 1920.
The house was over 120 years old when the first photo was taken, and the exterior was still largely in its original condition at the time. The small porch at the front entrance had been added in the late 19th century, along with the bay window above it, but overall it retained most of its Federal-style decorative elements, such as the quoins on the corners and the balustrade on the roof. These have since been removed, and there is now a rooftop deck on the rear of the house, so it has lost some of its original architecture. However, it still stands as one of the many large mansions that encircle the Salem Common, and it is a contributing property in the Salem Common Historic District, which was added to the National Register of Historic Places in 1976.