The house at 74 Washington Square East, at the corner of Forrester Street in Salem, on May 12, 1941. Image courtesy of the Library of Congress, Historic American Buildings Survey Collection.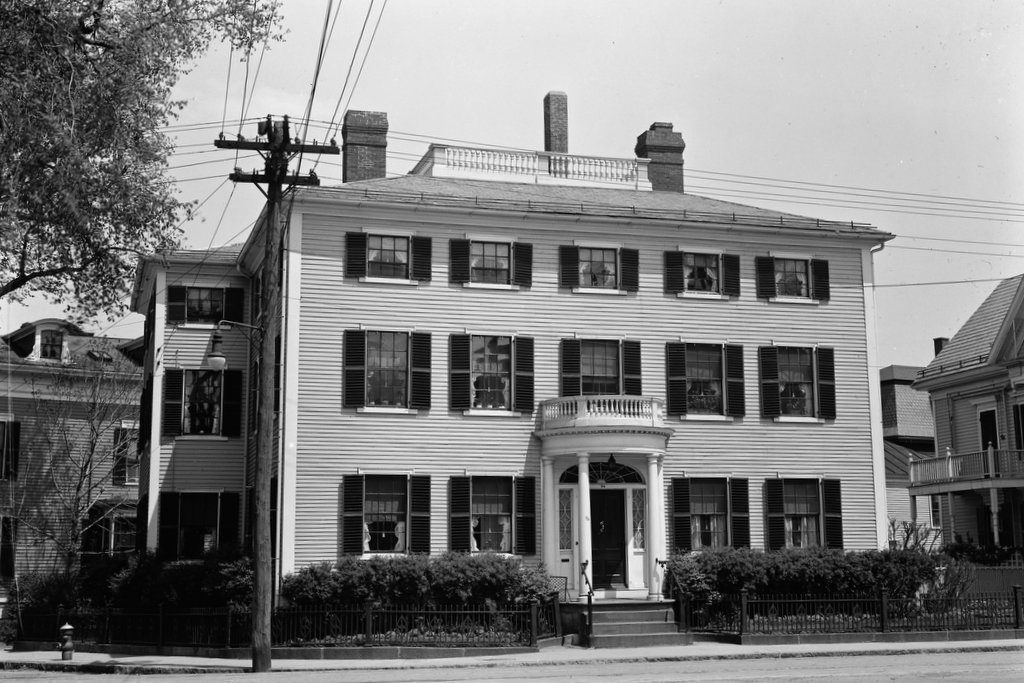 The house in 2017: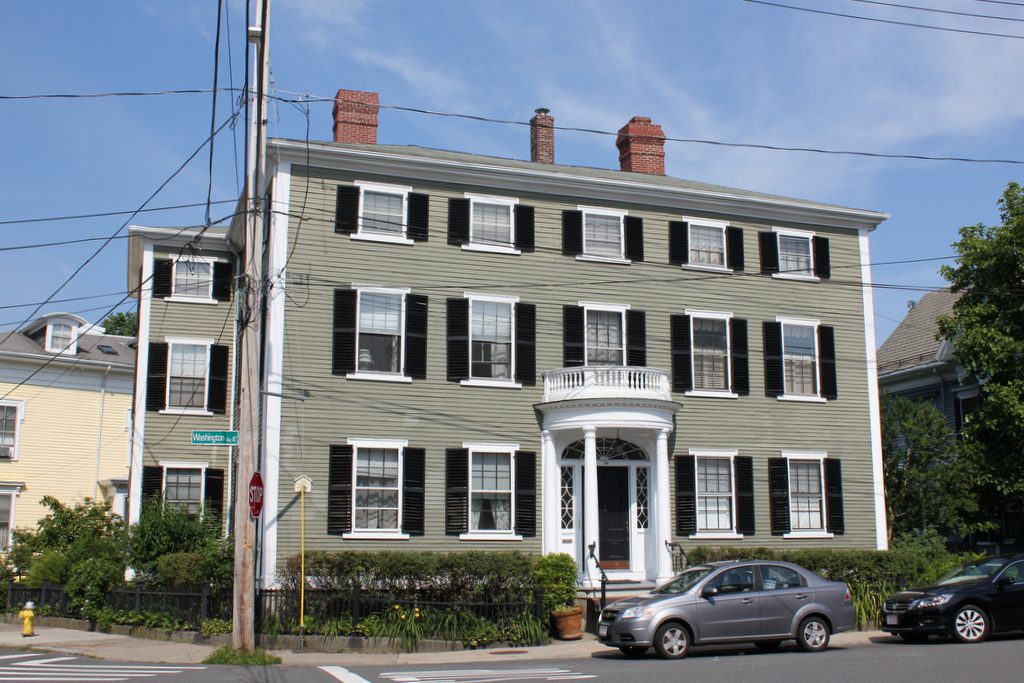 This house was built between 1804 and 1806 for Clifford Crowninshield, a merchant who was a member of one of Salem's most prominent families. It was the work of noted Salem architect Salem McIntire, and featured a Federal-style design that was typical for mansions of this period, including a symmetrical front facade, three stories, and a hip roof that was originally topped by a balustrade. Crowninshield had the house built around the same time as his marriage to Elizabeth Fisher, the daughter of Nathaniel Fisher, who was the rector of St. Peter's Episcopal Church. There was a considerable age difference between the two, with Clifford about 44 years old and Elizabeth only about 20 at the time of their marriage in 1805.
Ultimately, though, neither of them lived in this house for very long. Elizabeth died in March 1806, less than a year after their marriage and possibly before the house was even completed, and Clifford died three years later in 1809. However, their short marriage did manage to cause significant controversy within the Crowninshield family, and not necessarily because of their age difference. Writing in his diary on the day after Clifford's death, local pastor William Bentley explained the circumstances surrounding their marriage:
In this wealth & unmarried he [Crowninshield] attracted the notice of N. Fisher . . . & was persuaded to marry his only daughter, who soon deceased after marriage. This alliance was displeasing to his 6 sisters who had no advantages from education, & many of them scanty means, & an open alienation from their Brother ensued with continued three years till within a few months of his death.
Fisher had evidently hoped that Crowninshield's estrangement from his sisters would give him access to the family fortune, but Bentley went on to explain that, after he and his sisters reconciled shortly before his death,
This reconcilliation excluded the Rector & disappointed his hopes who had removed into one of the houses of his Son in Law & had indulged great expectations. In the last hours all intercourse ceased & the Rector has been left to lament his numerous indiscretions & ill placed confidence, in the serious evils of his affairs.
In the end, Crowninshield's mansion was inherited by his sister Sarah and her husband James Devereux. He was, like so many of Salem's other upper class men of the era, a ship captain and merchant. In 1799, his ship, the Franklin, became the first American ship to sail to Japan, and he subsequently developed a lucrative trading business with Europe, Southeast Asia, the West Indies, and South America. His company specialized in commodities such as coffee, pepper, and sugar, and included one 1808 voyage from which the Franklin returned with a cargo of over half a million pounds of coffee.
Sarah Devereux died in 1815, only a few years after inheriting the house from her brother, but James lived here until his death in 1846. His daughter, Abigail, then inherited the property, and lived here with her husband, William Dean Waters. They were both in their 40s at the time, and had six children, four of whom were at the house by 1850. That year's census shows their sons William, James, Edward, and Clifford, whose ages ranged from 20 to nine, and they also lived here with Abigail's sister Elizabeth and a servant.
Abigail died in 1879, followed by her husband a year later, and the house was then inherited by their son, William Crowninshield Waters. He sold the property in 1892, ending almost 90 years of ownership by the same family, and it was purchased by Zina Goodell, who was a machinist and blacksmith. Goodell made some alterations to the house, including moving it closer to Forrester Street. This made room for a second house on the lot, which was built just to the right of the house, at 72 Washington Square East.
Goodell lived here until his death in 1920, but the house would remain in his family for many years. His daughter Mary and her husband, George Patterson, were living here when the first photo was taken in 1941, as part of the New Deal-era Historic American Buildings Survey. Today, more than 75 years later, the house has since been converted into condominiums, but the exterior has not seen any substantial changes from this angle, aside from the loss of the balustrade atop the roof. It is now a contributing property in the Salem Common Historic District, which was added to the National Register of Historic Places in 1976.