The house at 27 Union Street in Salem, around 1900. Image courtesy of the Library of Congress, Detroit Publishing Company Collection.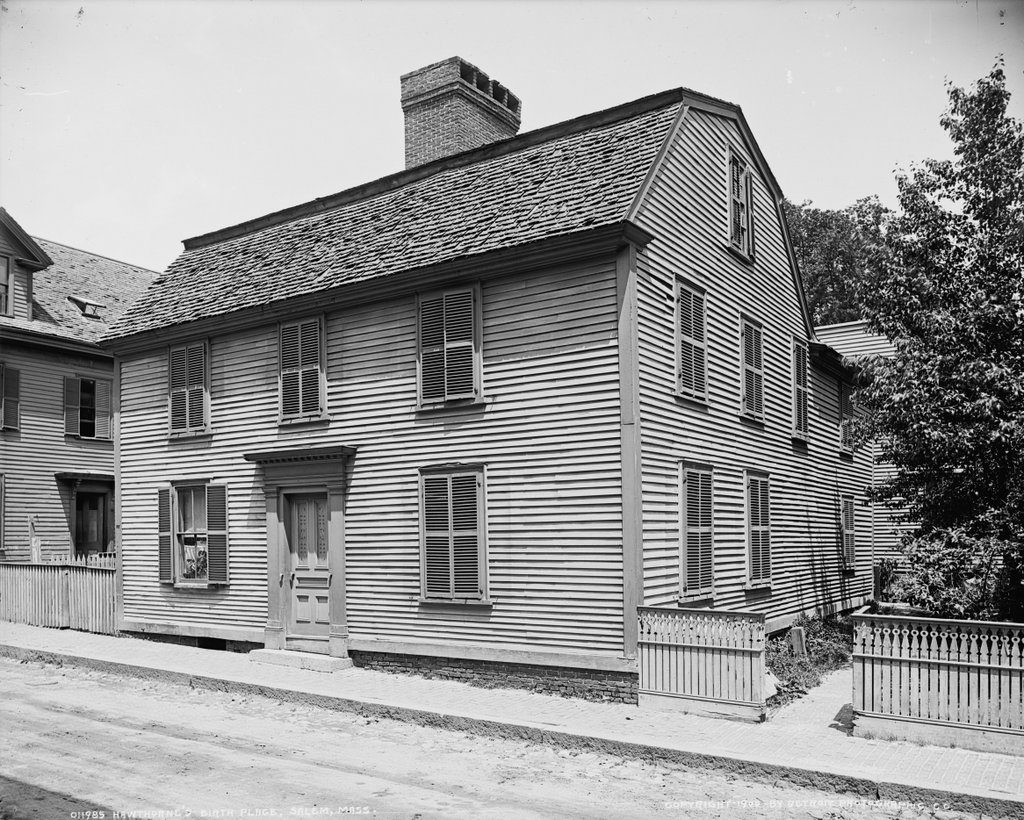 The scene in 2017: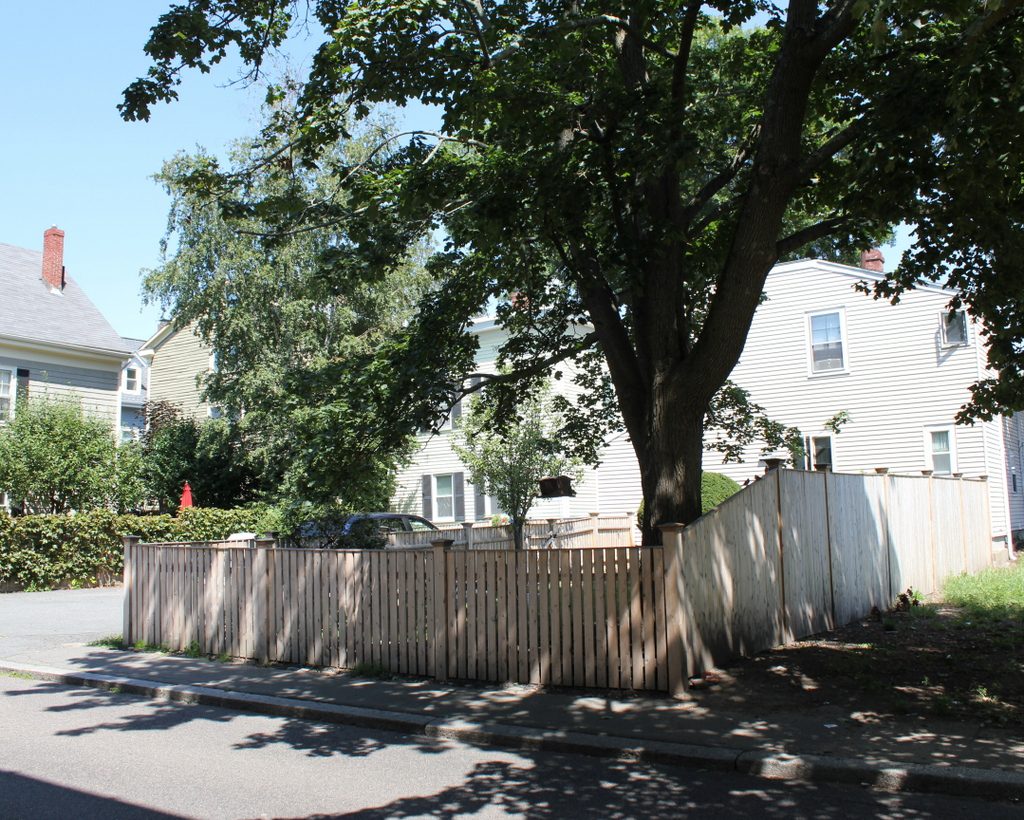 This house is known today as the birthplace of Nathaniel Hawthorne, but the house itself is actually significantly older than that. It was built sometime around the 1730s, and was originally the home of Joshua Pickman, a ship captain from Boston. He commanded a variety of merchant ships throughout the first few decades of the 18th century, and as late as 1737 he was the captain of a ship owned by Peter Faneuil, the namesake of Boston's Faneuil Hall. However, he evidently moved to Salem soon after, and lived in this house until 1745, when he sold the property to blacksmith Jonathan Phelps.
In 1756, Phelps's daughter Rachel married Daniel Hathorne, a mariner who would later serve as a privateer during the American Revolution. They would have eight children, including Nathaniel Hathorne, who was the father of the famous author. Daniel purchased this house from his father-in-law in 1772, and owned it until his death in 1796. His son Nathaniel was married a few years later, to Elizabeth Clarke Manning, and the couple lived here in this house along with Rachel. Like so many of the other members of his family, Nathaniel was also a mariner, and he was at sea on July 4, 1804, when his second child and oldest son, Nathaniel Hathorne, Jr., was born in the second floor of the house.
The Hathornes ultimately had three children, although the elder Nathaniel never saw his youngest, Maria Louisa, who was born on January 9, 1808. He had left Salem a few weeks earlier, on December 28, 1807, as captain of the Nabby, but he died of yellow fever while at Suriname in early 1808. Soon after, his widow Elizabeth and the three young children moved out of this house and into her parents' house, located on the next street over at 10 1/2 Herbert Street. It was practically in the backyard of their old home, and is still standing in the present-day scene – it is the three-story house on the left that is partially hidden behind a tree.
The Hathornes lived with the Manning family in the Herbert Street house, on and off, for many years. Young Nathaniel, who would later change the spelling of his last name to Hawthorne, spent much of his boyhood there, aside from a few years living in Maine with his uncles. It was a modest house, crowded with many of his relatives, and Nathaniel had a room on the third floor, with a window that overlooked his birthplace. He would later refer to the Herbert Street house as "Castle Dismal," although it was also the place where he wrote many of his early works. Writing in 1840, when he was still in the midst of establishing himself as an author, he described his room in the house with his characteristic dark and gloomy tone:
Here I have written many tales—many that have been burned to ashes, many that have doubtless deserved the same fate. This claims to be called a haunted chamber, for thousands upon thousands of visions have appeared to me in it; and some few of them have become visible to the world. If ever I should have a biographer, he ought to make great mention of this chamber in my memoirs, because so much of my lonely youth was wasted here, and here my mind and character were formed; and here I have been glad and hopeful, and here I have been despondent. And here I sat a long, long time, waiting patiently for the world to know me, and sometimes wondering why it did not know me sooner, or whether it would ever know me at all—at least till I were in my grave.
In the meantime, while Hawthorne was in the process of becoming one of the greatest American writers of the 19th century, his birthplace here on Union Street had a variety of residents. By the time the first photo was taken around 1900, it had been nearly a century since four-year-old Nathaniel and his family had moved out of the house. It was owned by William White, a 60-year-old Irish immigrant who worked as a day laborer. He had owned the house since at least 1897, and the 1900 census shows him living here with his wife Margaret, their adult children Robert, William, and Mary, and his sister, Ellen Grady. They also rented a portion of the house to shoe repairer David Pierce and his wife Elizabeth.
The house would remain in the White family throughout the first half of the 20th century. By 1940, it was the home of William's younger son, William, Jr., and his wife Catherine. William died later that year, but Catherine continued to live here until her death in 1957. The house was subsequently purchased by The House of Seven Gables Settlement Association, and in 1958 it was moved about a quarter mile east of here to Hardy Street. There, it joined several other historic houses, including the House of Seven Gables, which had been made famous by Hawthorne's 1851 novel of the same name.
More than 60 years later, Hawthorne's birthplace is still open to the public as a museum, at its new location on Hardy Street. Its exterior has been well-preserved, and it does not look significantly different from its appearance when the first photo was taken, although the rear ell – partially visible on the right side in the first photo – was not moved with the rest of the house. During this time, though, the former site of the house here on Union Street has remained vacant, and it is now part of the backyard of a house on Herbert Street.