Looking south on Broadway toward the corner of Spring Street in Newport, around 1885. Image courtesy of the Providence Public Library.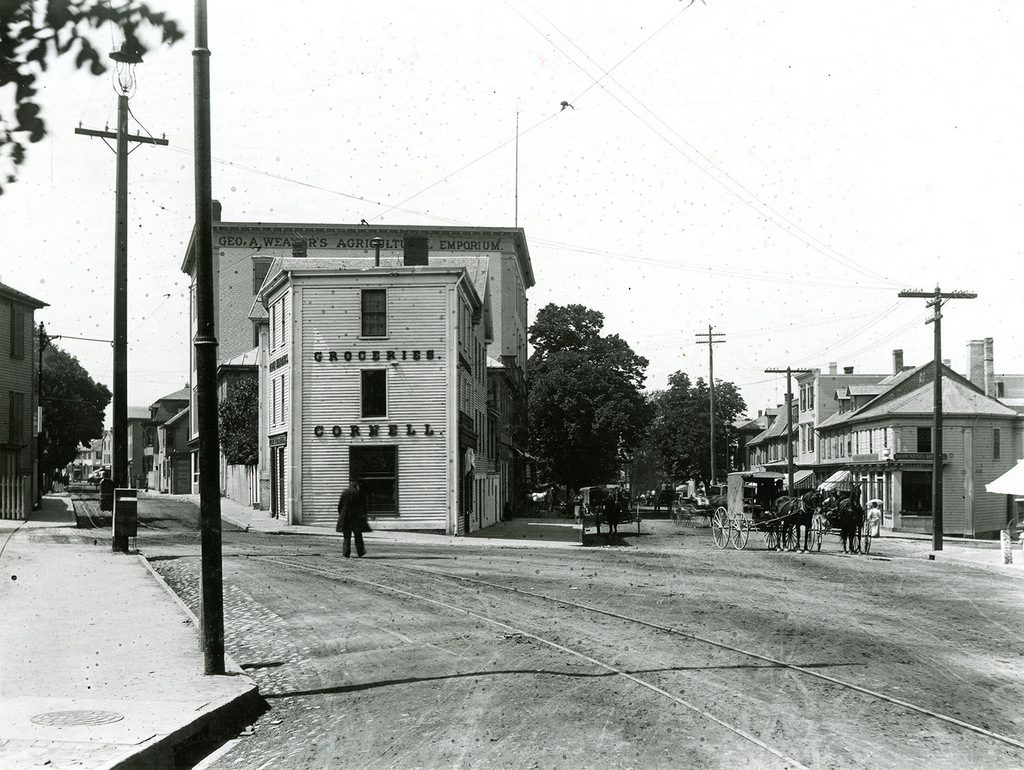 The scene in 2017: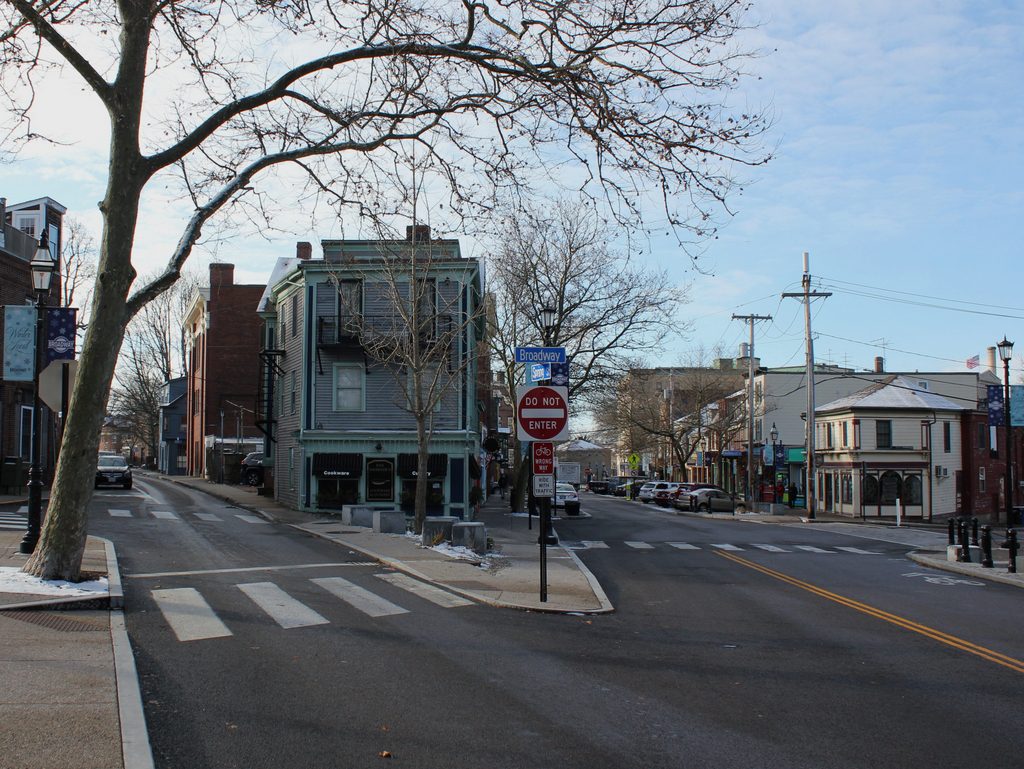 These two photos were taken more than 130 years apart, yet they show remarkably little change. In fact, many of these buildings were already old by the time the first photo was taken. Newport had been a prosperous seaport throughout much of the 18th century, but its economy was hit hard by the American Revolution. Its shipping industry never fully recovered, and the city saw very little growth during the first half of the 19th century. The first federal census, taken in 1790, shows 6,719 residents living here, and over the next 50 years Newport saw only a very modest increase in population, with 8,333 by 1840.
This long period of stagnation hurt Newport's economy, and there was very little new construction during this time. By the time the first photo was taken around 1885, Newport had reinvented itself as a Gilded Age summer resort, with most of this development occurring to the south of the downtown area. As a result, downtown Newport remained remarkably well-preserved, and it now boasts one of the largest collection of 18th and early 19th century buildings in the country, many of which are visible in this scene.
Along with the buildings themselves, Newport has also retained its colonial-era street network, complete with narrow streets, sharply-angled intersections, and oddly-shaped building lots. These photos show the view looking south on Broadway, at the complex intersection of Broadway, Spring Street, Bull Street, and Marlborough Street. Both Spring Street, to the left, and Marlborough Street, on the extreme right, intersect with Broadway at sharp angles, creating triangular-shaped lots on either side of Broadway.
The narrower of these two lots is on the left, between Broadway and Spring Street. Long before the Flatiron Building was constructed on a similarly-shaped plot of land, a small three-story, wood-frame commercial building was built here. It appears to date back to the late 18th or early 19th centuries, and by the time the first photo was taken it was occupied by Cornell & Son, a grocery store operated by William Cornell and his son Rodman. William also lived here in the building, and the 1880 census showed him here with his wife Sarah and their daughter Ellen.
Today, this scene has not undergone few significant changes, and many of the buildings from the first photo are still standing, including the former Cornell building. Newport remains a popular summer resort, and the storefronts in this scene are now filled with a variety of shops and restaurants that cater to tourists and seasonal residents. Because of its level of preservation, and its high concentration of historic buildings, the downtown area now forms the Newport Historic District, which was designated as a National Historic Landmark in 1968.