Looking northwest on Hampden Street from the corner of High Street in Holyoke, around 1892. Image from Picturesque Hampden (1892).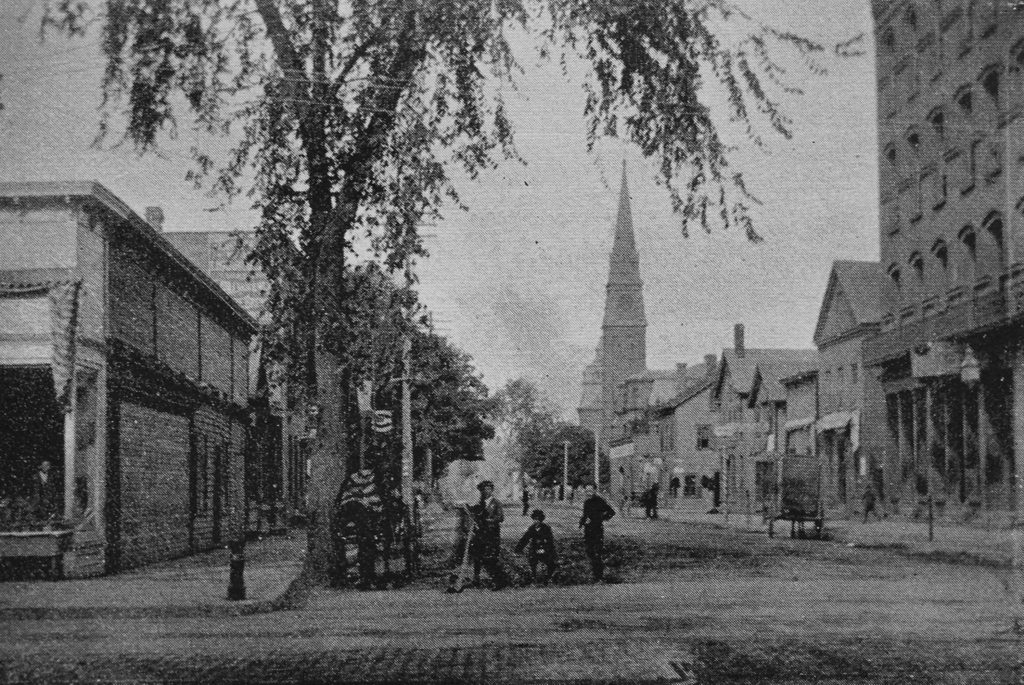 The scene in 2017: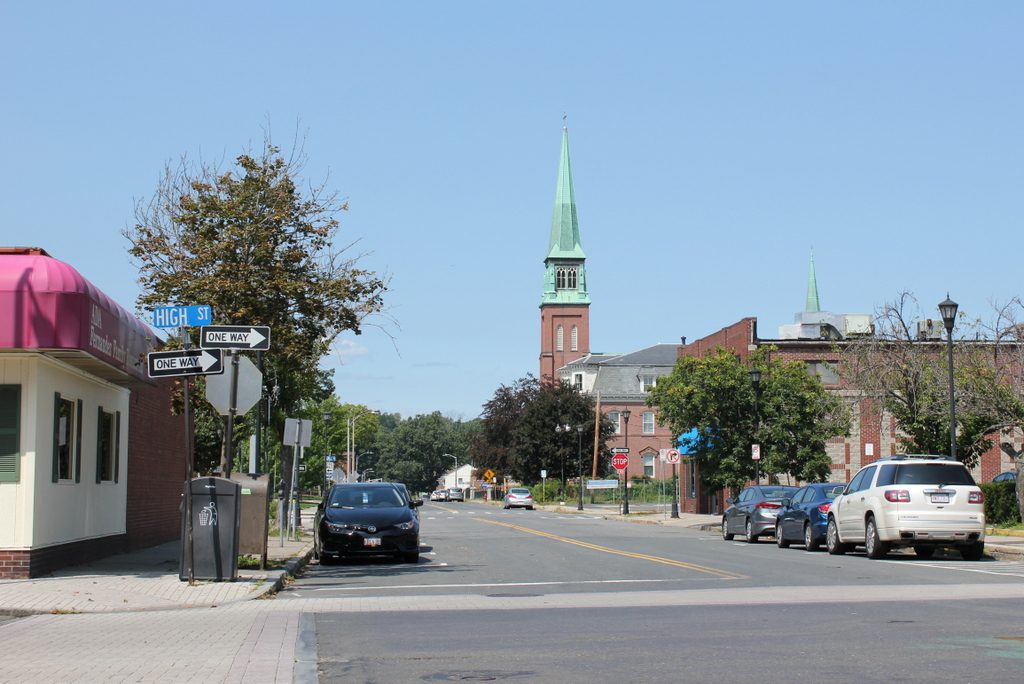 The first photo shows downtown Holyoke during the height of the city's prosperity. At the time, Holyoke included a number of factories along its extensive canal system, and it was a leading producer of paper and textiles. Further up the hill was High Street, which was the main commercial center of the city. It was part of the city's street grid – a rarity among New England's otherwise largely unplanned cities and towns – and was intersected by cross-town streets that led further up the hill to the residential neighborhoods. The names of these streets alternated between those of prominent early industrialists (Lyman, Dwight, Appleton, etc.) and those of Massachusetts counties (Suffolk, Essex, Hampshire, etc.).
Hampden Street, shown here in these two photos, was named for Holyoke's own county, and, perhaps not coincidentally, is the longest of all these county streets, extending all the way up the hill to Easthampton Road. Here in the center of Holyoke, probably the most notable landmark along the street is St. Jerome's Church, which stands at the corner of Chestnut Street, near the center of both photos. It was built in 1858, in the early years of Holyoke's development, and it was the first of many Roman Catholic churches that would be built in the city, in order to serve the predominantly Catholic immigrants who worked in the factories. By the time the first photo was taken, the area around the church included a number of other parish buildings, including the Second Empire-style rectory, which is visible in front of the church.
Today, around 125 years after the first photo was taken, Holyoke has undergone some significant changes, most notably the loss of most of its industrial base in the mid-20th century. Much of the downtown area has remained remarkably well-preserved, but this particular scene along Hampden Street is the exception. The brick commercial block on the far right is gone, as are all of the other buildings in the foreground on the right side. On the other side of the street, the one-story building on the far left could plausibly be the same one from the first photo, but if so it has been altered beyond recognition. Otherwise, nothing is still standing from the left side, and the only surviving buildings from the first photo are the church and rectory in the distance.