Looking northwest up Hampden Street, toward High Street in Holyoke, around 1892. Image from Picturesque Hampden (1892).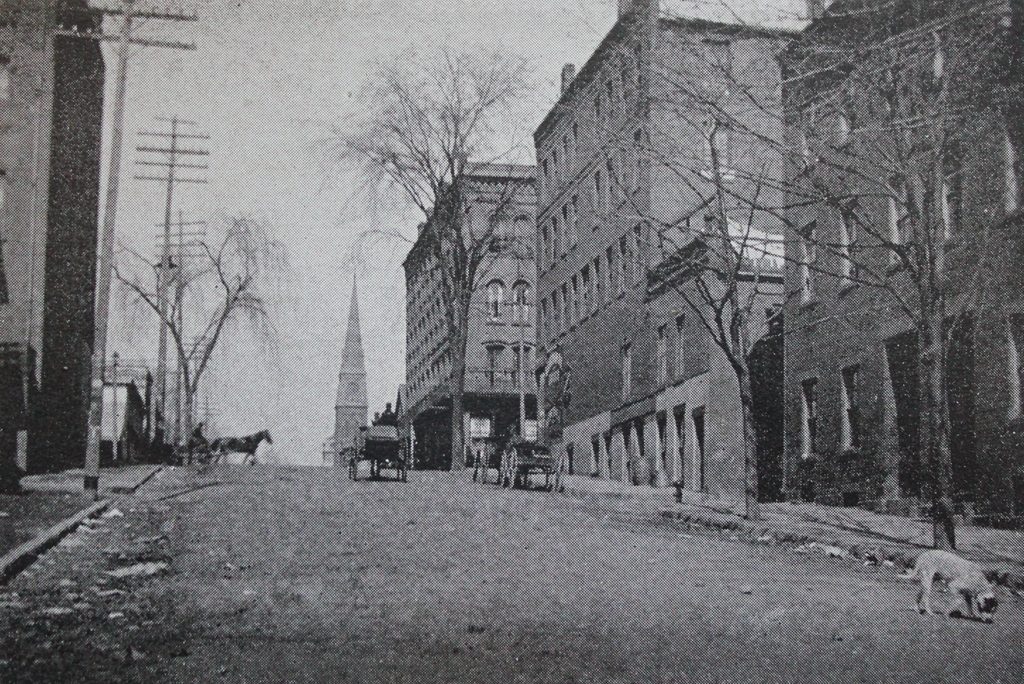 The scene in 2017: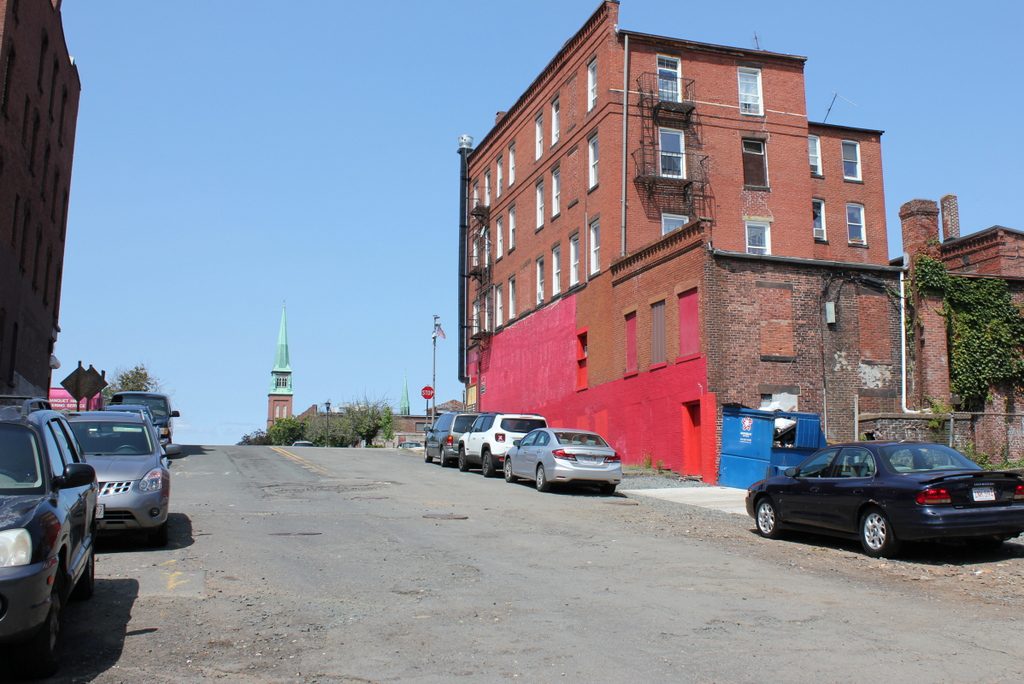 These two photos show Hampden Street, just down the hill from where the photos in the previous post were taken. However, while the other post shows the view looking straight down the street, this view provides a better look at the buildings on the north side of Hampden Street. On the far right side of the first photo is one of the many tenement houses that were built in this area for the workers of the Lyman Mills. Just to the left of it, the building at the corner of High Street was built around the early 1860s by W. L. Martin, a coal, wood, and flour dealer who had his store here in the building. On the other side of High Street is a similar four-story brick commercial block, probably dating to the 1860s or early 1870s, and further in the distance is the tower of St. Jerome's Church, located at the corner of Chestnut Street. The first photo also shows some of the traffic on the streets, with several horse-drawn carriages near the top of the hill and a stray dog in the foreground on the right.
Today, about 125 years later, this scene is still recognizable from the first photo, although several of the buildings are gone. The building on the right, along with the rest of the Lyman Mills tenements, was demolished in the late 1930s as part of an early urban renewal project. The bricks were saved, though, and were incorporated into the apartments that now occupy the site. The building on the other side of High Street is also gone, and the site is now a surface parking lot. However, the W. L. Martin Block is still standing, without many exterior changes from this angle. In the background, St. Jerome's Church is also still there, although most of the interior had to be reconstructed after a major fire in 1934. Both the church and the Martin Block are now contributing properties in two different historic districts on the National Register of Historic Places, with the church in the Hampden Park Historic District, and the Martin Block in the North High Street Historic District.