The northwest corner of Spring and Cannon Streets in Newport, around 1925. Image courtesy of the Providence Public Library.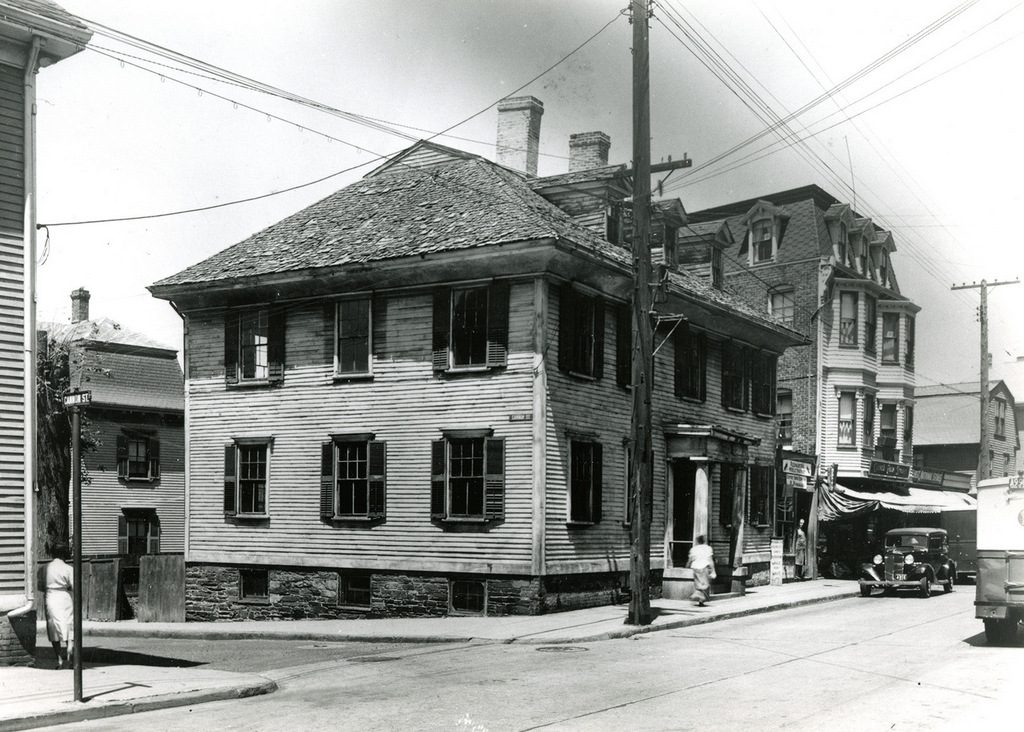 The scene in 2017: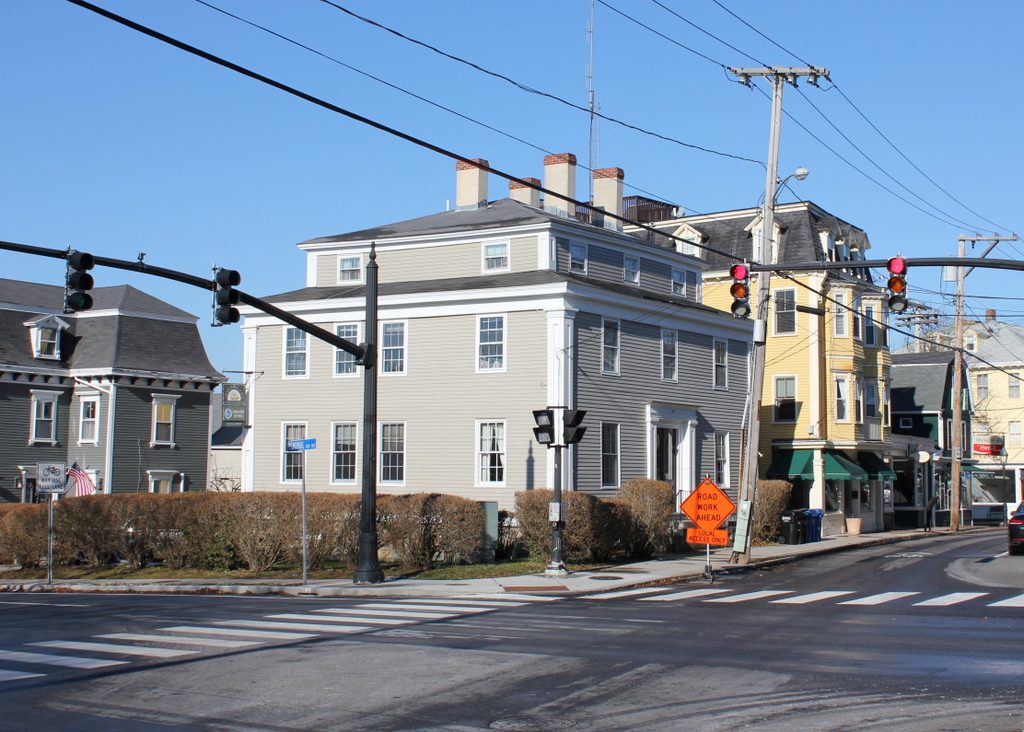 The first photo shows a somewhat dilapidated building that stood at the corner of Spring and Cannon Streets. It was probably built sometime in the late 18th or early 19th centuries, and by the time the first photo was taken it was a two-family home. The 1920 census, which had been done a few years later, shows Danish immigrant Andrew Christensen living in one unit with his wife Katherine and their three children. The other unit was rented by French-Canadian immigrant Hector Renaud, his wife Louise, and their daughter Alice. Both men were employed by the navy, with Christensen serving as a chief boatswain's mate in the navy, and Renaud as a machinist at the U. S. Naval Torpedo Station.
By the time the first photo was taken around 1925, the house appears to have been in poor condition, particularly the roof. It was evidently still occupied, though, because the city directories of the mid-1920s continue to list tenants here. By the 1930 census, it was rented by two more immigrant families, with Italian-born shoe repairer Pasquale Panaggio in one unit with his wife Sarah and four children, and Irish-born gardener Florence C. Sullivan in the other one with his wife Mary and two children.
Today, the old house from the first photo is no longer standing, and was presumably demolished at some point in the mid-20th century. However, there is a different historic building that is still standing on the site. The Newport Historic District building inventory lists it as the Jeremiah J. Sullivan House, with an estimated construction date of 1836-1839. Since this is clearly not the same building that was standing here when the first photo was taken, it must have been moved to this site at some point after the other building was demolished.
The streets have also changed since the first photo was taken. Cannon Street, once a narrow one-block street between Thames and Spring Streets, was significantly expanded in the mid-20th century, becoming part of Memorial Boulevard West. All of the buildings on the south side of the street were either moved or demolished, but the ones on the north side were largely unaffected. As a result, the other buildings from the first photo are still standing today, including the c.1894-1907 J. P. Ancaster House on the left, the c.1859-1876 Patrick Tiernan Building to the right, and the c.1758-1772 James Pitman House further to the right. All three buildings, along with the Sullivan House, are contributing properties in the Newport Historic District, which was designated as a National Historic Landmark in 1968.