The house at 60 School Street in Springfield, around 1938-1939. Image courtesy of the Springfield Preservation Trust.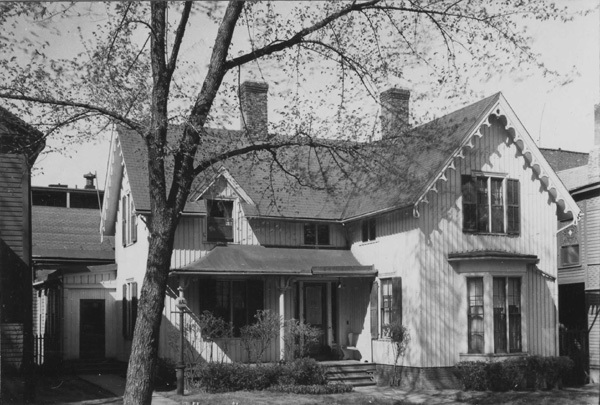 The house in 2019: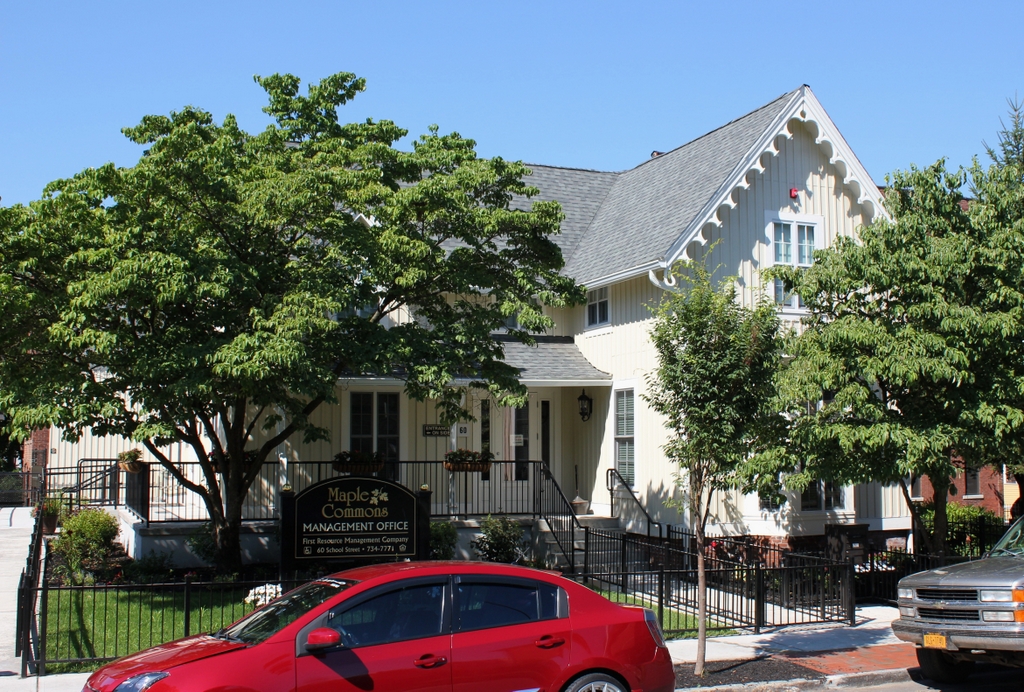 This house is one of the few Carpenter Gothic-style homes in Springfield. The style was most often seen in rural settings, most famously in Grant Wood's American Gothic painting, but there were several here in Springfield, including one that still stands at 357 Maple Street. This one here on School Street is somewhat more modest in size, but it features many classic Gothic-style details, including board-and-batten siding on the exterior walls and decorative bargeboards under the eaves.
The history of this house does not appear to be well-documented, but it was probably constructed sometime around the 1860s. By the early 1870s it was owned by Robert O. Morris, a prominent local figure who served for many years as clerk of courts. He owned the property until at least the early 1880s, but he likely did not live here much, if at all. The 1873 city directory lists this house as his address, but by the following year he was living nearby on Temple Street. He listed the house for sale in 1875, with a classified ad in the Springfield Republican that described it as "centrally located, nicely fitted up with the modern improvements. Good water and sewerage." However, it evidently did not sell, because by the following year he was placing classified ads looking to rent the house.
Morris had several different tenants who lived here over the next few years. In 1876 it was the home of Henry M. Burt, a publisher whose company, H. M. Burt & Co., produced the New England Homestead and the Sunday Telegram. Burt would also go on to write several local history and genealogy books, including The First Century of the History of Springfield, which was published in two volumes in 1898. However, he was only in this house for about a year, because by 1877 he was listed at 15 Oak Street.
By the late 1880s, the house was the home of three sisters: Harriet, Flora, and Mary White. Together, they ran a school here in the house, which was listed as the Misses White's School. However, this school evidently did not last very long, because both it and the White sisters left here by the early 1890s. Starting around 1893, it was occupied by Wallace M. Burt, a lawyer and real estate agent. He was still living here during the 1900 census, along with his wife Bertha, their two daughters, his parents, and a servant. Wallace had his law offices here, while Bertha ran a dance school here in the house as well. They probably lived here longer than any of the other late 19th century residents, remaining until around 1908, when they moved to Woburn.
The house was subsequently owned by Jeremiah J. Haggerty, a violinist who lived here with his wife Susan. For many years he was the leader of the Court Square Orchestra here in Springfield, and he also taught violin lessons. However, he died of pneumonia in 1919, at the age of 45. Susan remained here at this house, though, and the 1920 census shows here living here with her sister, Mary O'Grady. Like her husband, Susan was also an accomplished musician, and she similarly worked as a music teacher.
Susan was still living here when the first photo was taken in the late 1930s. Mary had died in 1935, but another sister, Eleanor O'Grady, was here during the 1940 census. At the time, the home was valued at $10,000 (equivalent to just under $200,000 today), and Susan had evidently retired, although Eleanor was listed as working as a public school teacher. Susan would go on to live here until her death in 1947, and Eleanor was here until at least the early 1950s.
Today, about 80 years after the first photo was taken, the exterior of the house is not dramatically different, aside from the loss of the chimneys. It is now used as the management office for a group of nearby apartment buildings, but it has been well-preserved, and it stands as a good example of residential Gothic architecture. Like the other surrounding buildings in this neighborhood, it is now part of the city's Lower Maple Local Historic District.