The building at 60-62 High Street, near the corner of School Street in Springfield, around 1938-1939. Image courtesy of the Springfield Preservation Trust.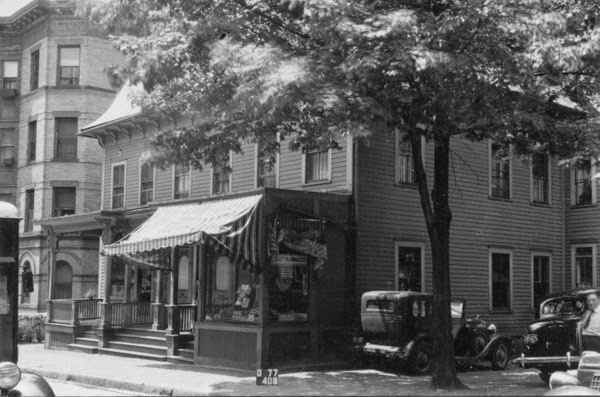 The building in 2018: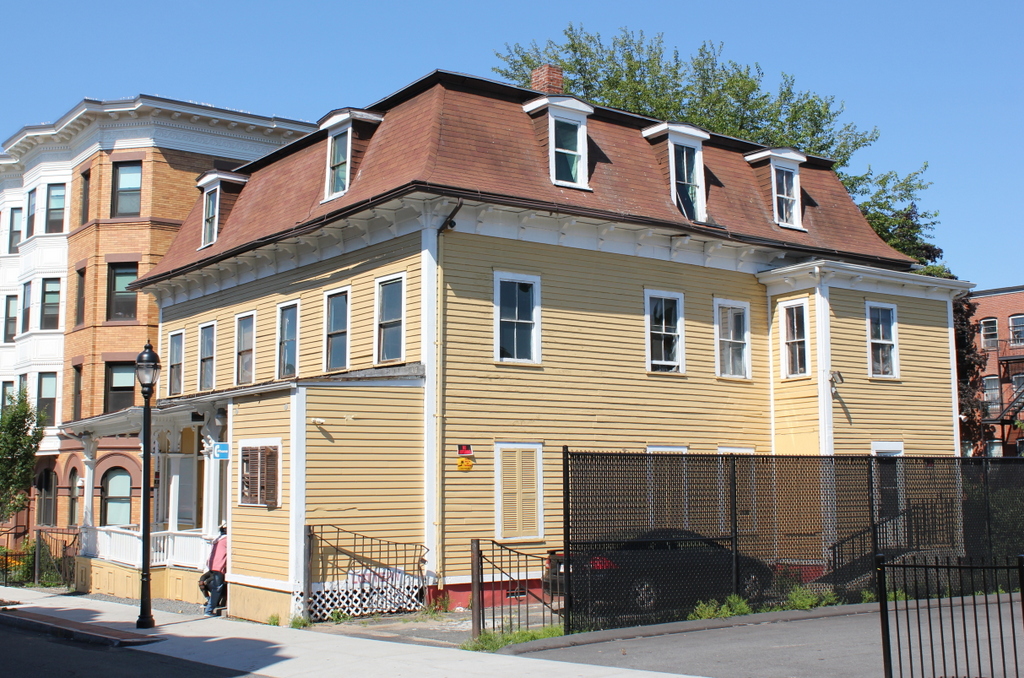 This wooden Second Empire-style two-family home was constructed around 1869, and it was originally owned by Albert T. Folsom, who lived in the unit on the right at 62 High Street. Folsom was a prominent Springfield resident who served as city clerk and treasurer from 1862 until 1887, and as a state representative from 1897 to 1899. In addition, he was a director of the Second National Bank for 20 years, including six years as president. He lived here from about 1869 until his death in 1909, and he and his wife Mary raised their four children in this house.
The left side of the house, at 60 High Street, had several different residents during Folsom's time here. The longest of these appears to have been George I. Hodskins, a clerk who ran the linen department in the dry goods firm of Smith & Murray. The 1880 census shows him living here with his wife Nancy, their daughter Georgia, and two boarders, and he continued to live here throughout the rest of his life, until his death in 1903 at the age of 70.
By 1910, Mary Folsom was still living here at 62 High Street, along with her son Robert, a servant, and two roomers. She owned the entire building, and rented the other half to William E. Davis, a physician who lived here with his wife Louisa and a roomer. Mary continued to live here for several more years, but by 1915 she was living two buildings away, in an apartment block at 52 High Street. Her old house here at 60-62 High Street subsequently became a rooming house, with the 1920 census showing ten roomers living here, including a chauffeur, several machinists, and a foreman in an auto factory.
The first photo was taken in the late 1930s, and by this point the building was owned by Oscar Fine, a Russian immigrant who ran a grocery store on the ground floor of the building. He and his wife Ruth were living here with their children Shirley and Harold, and he also rented space here to three other families, two of whom sublet their units to roomers. The 1940 census shows a total of 18 residents living here, including the Fine family, and they generally held low-wage jobs, including a waitress, seamstress, maid, painter, and laborer.
Today, some 80 years after the first photo was taken, the exterior of the building is not significantly different, aside from some alterations to the storefront, and it is now part of the Lower Maple Local Historic District. Most of the windows had been boarded up in the recent past, but by the time the second photo was taken these had been removed, and the building received a new coat of paint. However, most of the building appears to still be vacant, with a number of "No Trespassing" signs posted on the property.