The front gates of the Old Newgate Prison in East Granby, around 1895. Image from The Connecticut Quarterly (1895).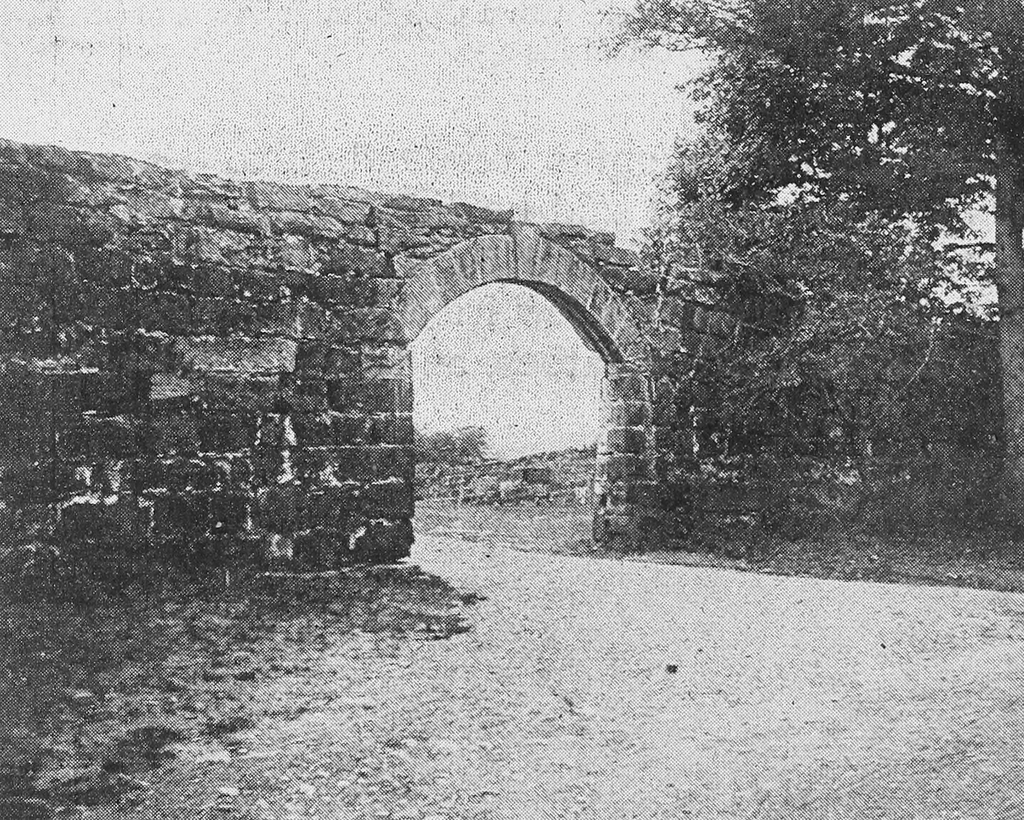 The scene in 2018:
The Old Newgate Prison opened in 1773, in an abandoned copper mine in Granby – now present-day East Granby – Connecticut. The prisoners were housed underground in the old mine tunnels, with the idea that this would be a virtually escape-proof facility. However, the prison proved far less secure than its proponents had anticipated, and it was practically a revolving door in its early years, with some prisoners escaping almost as soon as they arrived.
During its first nine years in operation, more than half of the inmates who were confined here had reportedly escaped, and the above-ground buildings were burned on three separate occasions as part of escape attempts. Nonetheless, the facility remained in use, and in 1790 it became a state prison. A number of new buildings were constructed in the following years, and a new wooden fence was constructed around the perimeter of the prison yard in 1790. However, this was replaced by a more substantial stone wall in 1802, as shown here in these two photos.
The prison ultimately closed in 1827, and all of the inmates were transferred to the newly-built state prison in Wethersfield. This site was subsequently used again for copper mining, in the 1830s and 1850s, but neither attempt was particularly successful. In the meantime, most of the old prison buildings fell into ruin. By the time the first photo was taken in the 1890s, only two of the buildings were substantially intact, and one of these ultimately burned down in 1904.
Newgate had already become recognized as an important local landmark by the turn of the 20th century, and it was a popular destination for curious visitors. The site was eventually acquired by the state of Connecticut in 1968, and it was converted into a museum. Since then, the ruins have been stabilized, and Newgate has been preserved as a National Historic Landmark. As shown in these two photos, the 1802 stone wall has remained particularly well-preserved, and this view of the front gate still looks much the same as it would have to the prisoners who arrived here more than two centuries ago.