Looking west on Mount Vernon Street from near the corner of Walnut Street in Boston's Beacon Hill neighborhood, around 1860. Image courtesy of the Boston Public Library.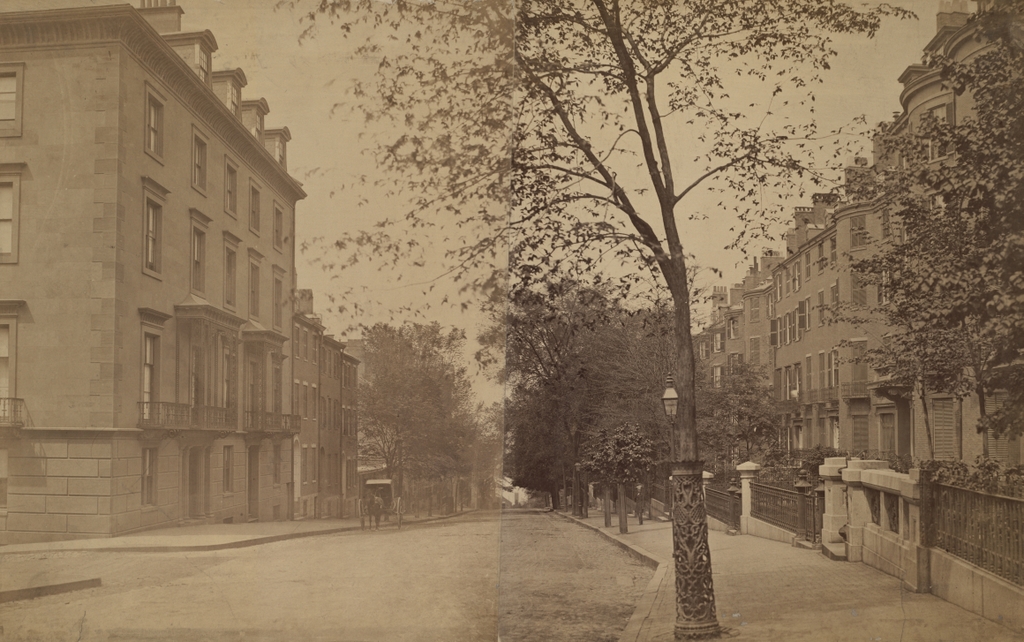 The scene in 2021: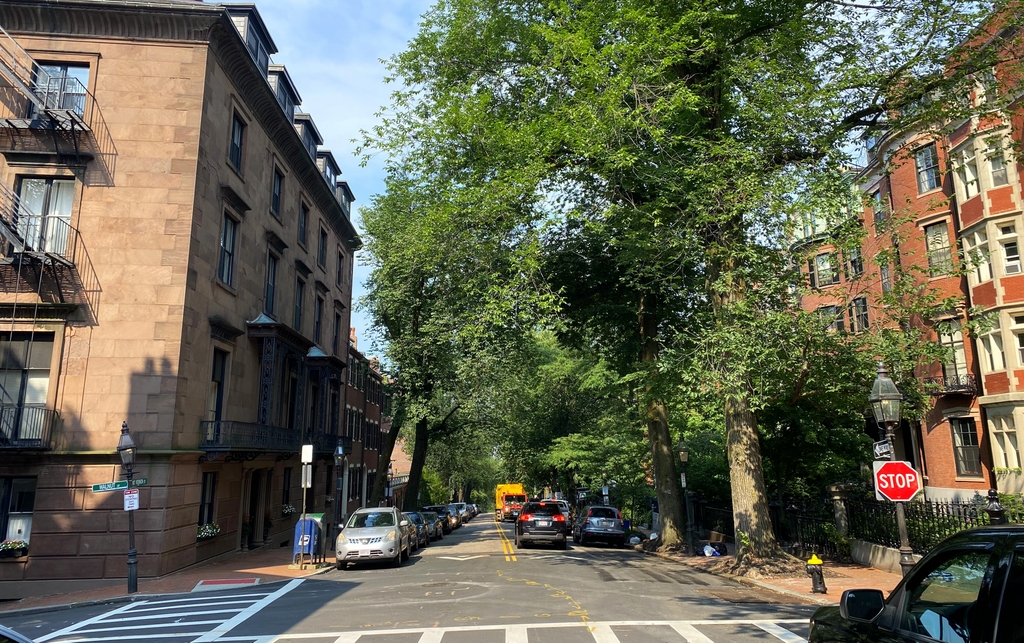 For more than two centuries, Beacon Hill has been one of the most desirable residential neighborhoods in Boston. During the colonial period, this area was primarily hilly pastureland on the outskirts of town, but in 1798 it became the site of the Massachusetts State House, which still stands at the southeastern corner of the neighborhood. Residential development soon followed, consisting largely of brick, Federal-style row houses. Over the years, many prominent people have lived here on Beacon Hill, and it remains a remarkably well-preserved early 19th century neighborhood.
These two photos show the view looking west on Mount Vernon Street from the corner of Walnut Street, near the crest of the hill. Nearly all of the buildings from the first photo are still standing more than 160 years later, with the exception of the one on the far right, which was demolished around 1905-1910 in order to build the current Tudor Revival-style building. Aside from this one, the other houses on the right side of the street in this scene all date back to the first half of the 19th century. The two closest to the foreground, just past the Tudor-style building, were both built in the 1830s, and the both feature a bowed front façade, which is a distinctive feature on many Beacon Hill homes.
On the left side of the street, the most distinctive houses are the two brownstone homes in the foreground at 40 and 42 Mount Vernon Street. These were among the first houses in the neighborhood to be built of brownstone rather than brick, and they were both designed by architect George Minot Dexter. Both were built for prosperous merchant Augustus Hemenway, who lived in the house at the corner, at 40 Mount Vernon Street. He was still living here when the first photo was taken around 1860, and both houses remained in his family until the early 20th century.
Just past these houses are three comparatively modest brick rowhouses, which were built around 1825, and further in the distance are three single-story buildings. These are probably the oldest buildings in this scene, dating back to 1804 when they were built as carriage houses for homes on nearby Chestnut Street. Despite their small size and humble origins, all three have survived to the present day, and have since been converted into residences.
Overall, with the exception of the present-day cars and paved roads, very little has changed in this scene since the first photo was taken. This is generally true throughout much of the neighborhood, and because of this level of preservation, Beacon Hill was designated as a National Historic Landmark district in 1962.