The houses at 61 and 63 Mount Vernon Street in Boston, on March 20, 1909. Image courtesy of the City of Boston Archives.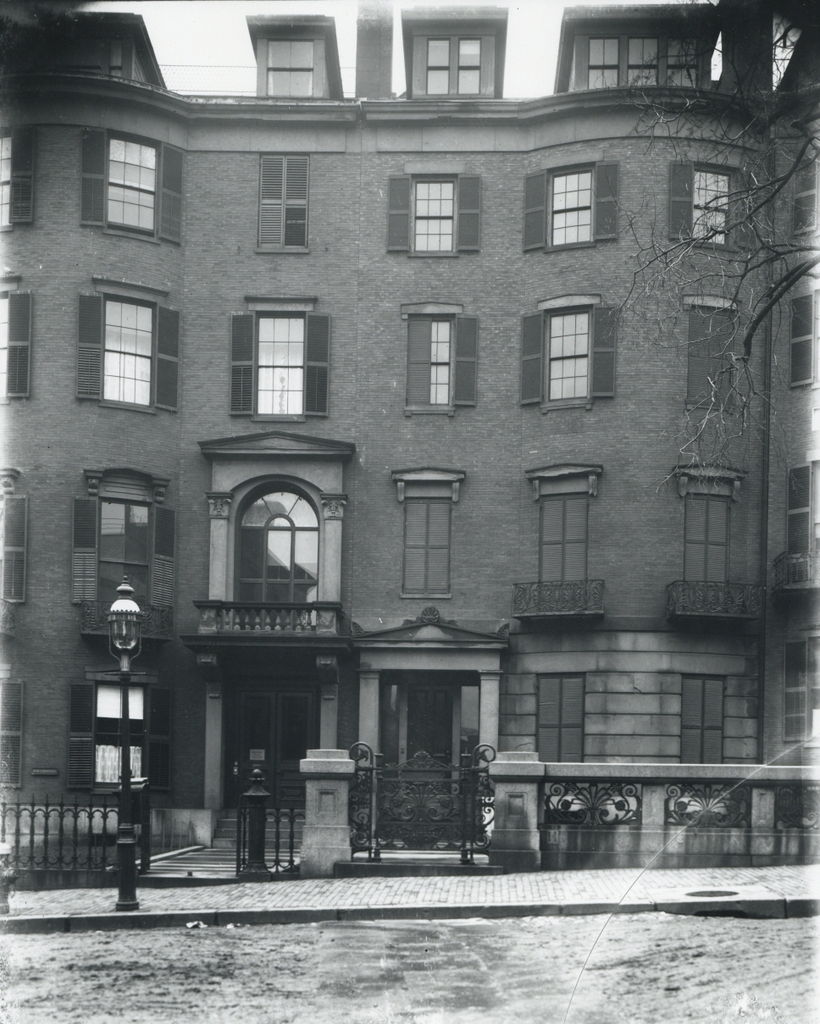 The buildings in 2021: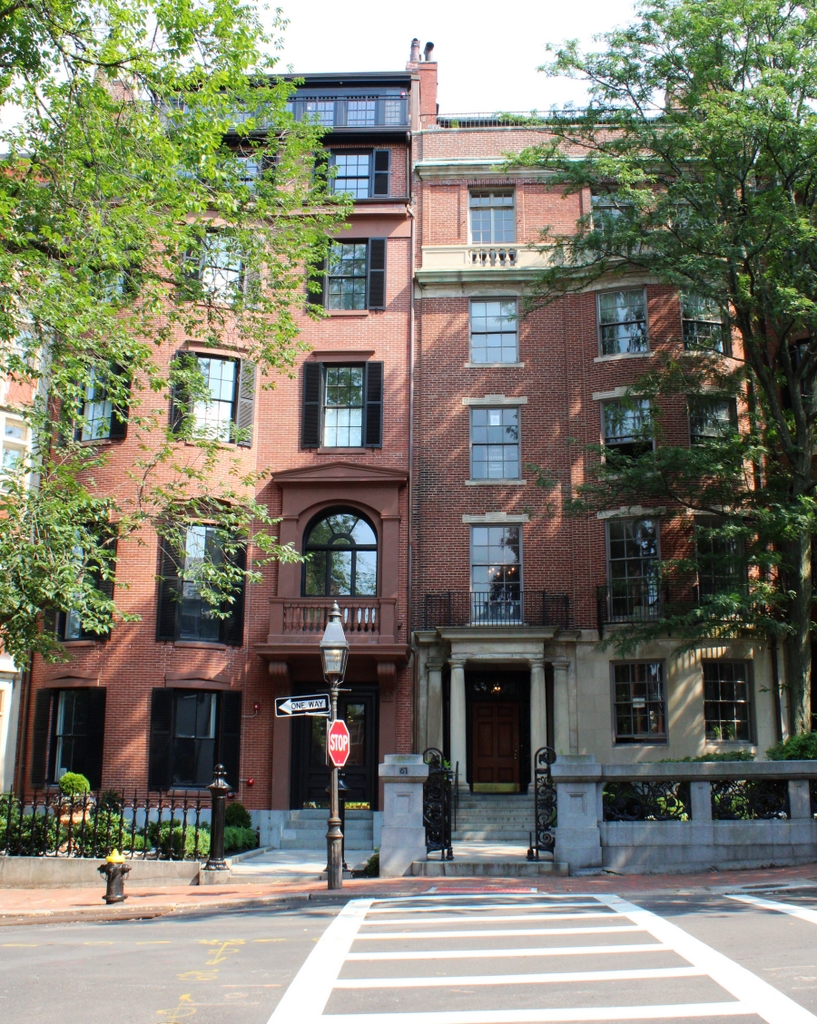 These two photos were taken near the same spot as the ones in the previous post, and they show two rowhouses on Mount Vernon Street in Boston's Beacon Hill neighborhood. This area was developed in the early 19th century, and these two lots were once part of a much larger property owned by Senator Jonathan Mason. After Mason and his wife Susan died in the 1830s, their mansion was demolished and the land was subdivided into smaller lots for new houses. Among the housed built here were the two in the first photo, at 61 and 63 Mount Vernon Street. Built around 1837, their design was typical for Beacon Hill homes of this period; they were brick, four stories in height, with a bowed front façade and three window bays.
The house on the left, at 63 Mount Vernon Street, was originally owned by merchant William Sawyer. Subsequent owners included William Mason, the son of Jonathan Mason, but the most prominent resident here was William Claflin, who lived here from around 1870 until his death in 1905. Claflin was a shoe manufacturer and politician who served as lieutenant governor from 1866 to 1869, and then as governor from 1869 to 1872. He was also involved in national politics, serving as chairman of the Republican National Committee from 1868 to 1872, and he served two terms in the U.S. House of Representatives from 1877 to 1881. In addition to this, he was a major donor and namesake of Claflin University, a historically black university in South Carolina, which was established to educate recently-emancipated former slaves.
As for the house on the right, at 61 Mount Vernon Street, it was built around the same time as its neighbor, but it does not appear to have had any particularly prominent residents. According to the state's MACRIS inventory form on this house, its original owner was Jonathan Phillips, but over the course of the 19th century its subsequent residents included William Minot, John C. Gray, and John C. Bancroft. The house was still standing when the first photo was taken in 1909, but it was demolished soon after. Its replacement, which is shown in the 2021 photo, was built in 1911, and it is of similar size and appearance to its predecessor, although with more Classical Revival-style features.
Today, the house at 63 Mount Vernon Street is still standing, although it has been altered since the first photo was taken, most significantly with the addition of a fifth floor. Overall, though, the house retains much of its historic exterior appearance, and even the newer house next door at 61 Mount Vernon Street fits in well with its surroundings, despite the different architectural details. Both houses are now part of the Beacon Hill Historic District, which was designated as a National Historic Landmark district in 1962.