The monument to George and Elizabeth Bancroft in Rural Cemetery in Worcester, Massachusetts, around 1895. Image from Picturesque Worcester (1895).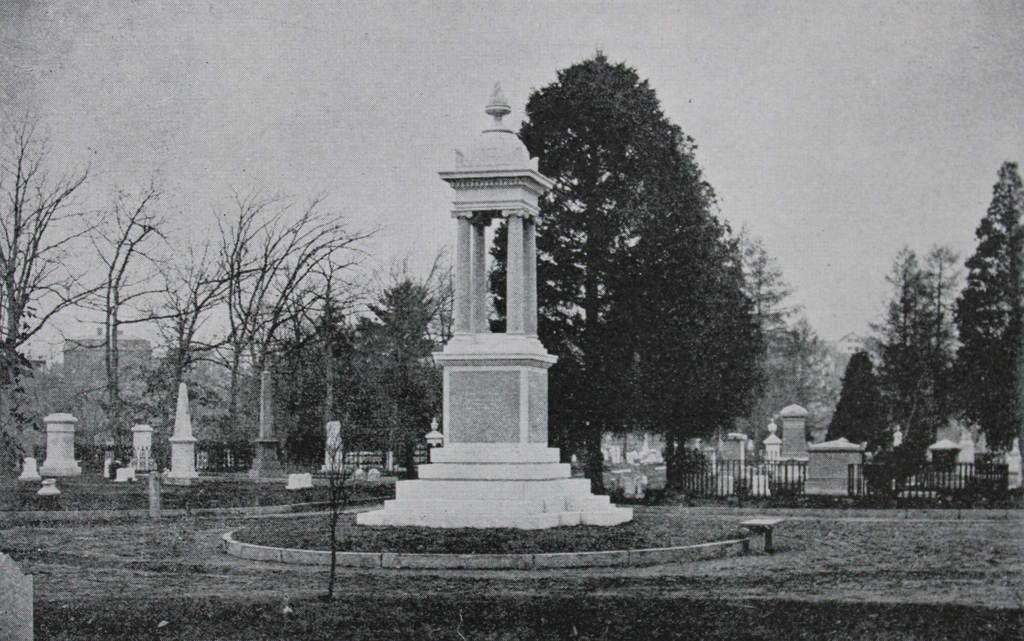 The scene in 2021: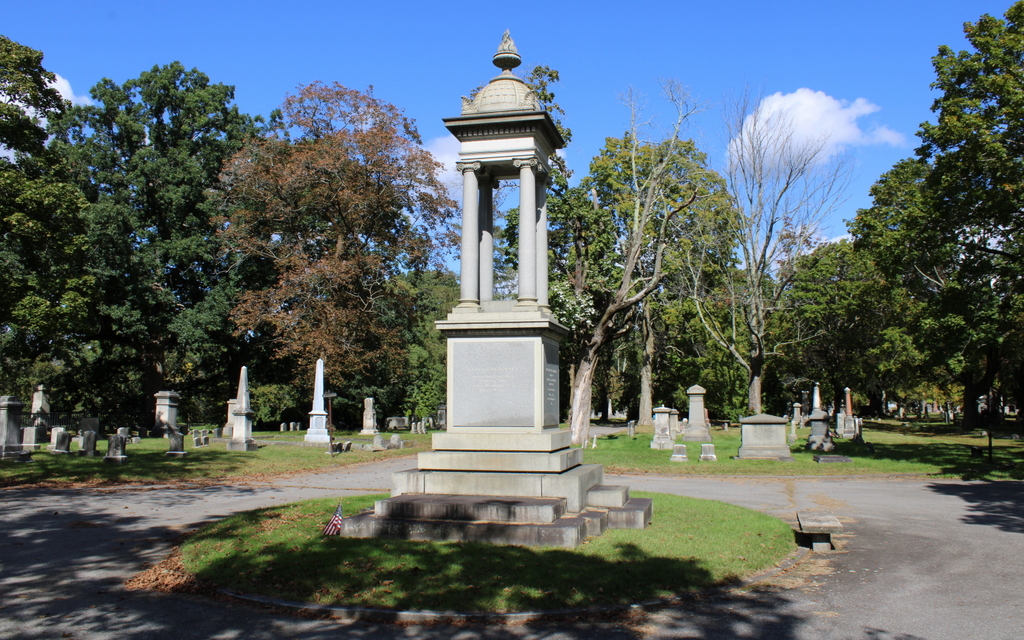 These two photos show the final resting place of historian and politician George Bancroft and his wife Elizabeth. Although he spent much of his life elsewhere, George Bancroft was a native of Worcester and was born here in 1800. He died in 1891, and his body was subsequently returned to his hometown, where he was buried here in Rural Cemetery. Then, two years later a large granite monument was constructed on the plot, as shown here.
As a historian, Bancroft's magnum opus was his extensive multi-volume History of the United States of America, from the Discovery of the American Continent. However, he also had a successful career in politics and diplomacy. He served as Secretary of the Navy under James K. Polk from 1845 to 1846, and during this time he established the United States Naval Academy in Annapolis. He then served as the U.S. Minister to the United Kingdom from 1846 to 1849, and he was later the U.S. Minister to Germany from 1867 to 1874.
George Bancroft's first wife was Sarah Dwight, from the prominent Dwight family of Springfield. They lived in Northampton and later in Springfield, where Sarah died in 1837. He subsequently remarried in 1838 to Elizabeth Davis Bliss, and they were married for nearly 50 years until her death in 1886. She was interred here in Worcester, as was her husband after he died five years later.
Their grave monument is one of the largest in Rural Cemetery, and it was designed by prominent architect Paul J. Pelz, whose most famous work was the Library of Congress building in Washington, D.C. The monument is 22 feet high, made of Vermont granite, and it features four large pillars with a dome above them. The original intent was for a bust or statue of Bancroft to be placed in the center of this space between the pillars, but this evidently did not happen. In total, the monument cost $7,000, and it was installed here in November 1893.
The first photo was taken within about a year or two after the monument was installed, and not much has changed in this scene since then. There have obviously been more burials since the 1890s, but overall this particular section of the cemetery remains essentially the same, including the same gravestones from the first photo. Aside from Bancroft, other prominent burials here in this scene include Bancroft's sister Eliza and her husband John Davis. He had a lengthy political career in the first half of the 19th century, including serving as a U.S. representative, governor of Massachusetts, and U.S. senator. They are buried beneath the rectangular gravestone near the road on the right side of the scene.