The Halfway House on the Mount Washington Carriage Road in New Hampshire, around the 1870s. Image courtesy of the Mount Washington Auto Road.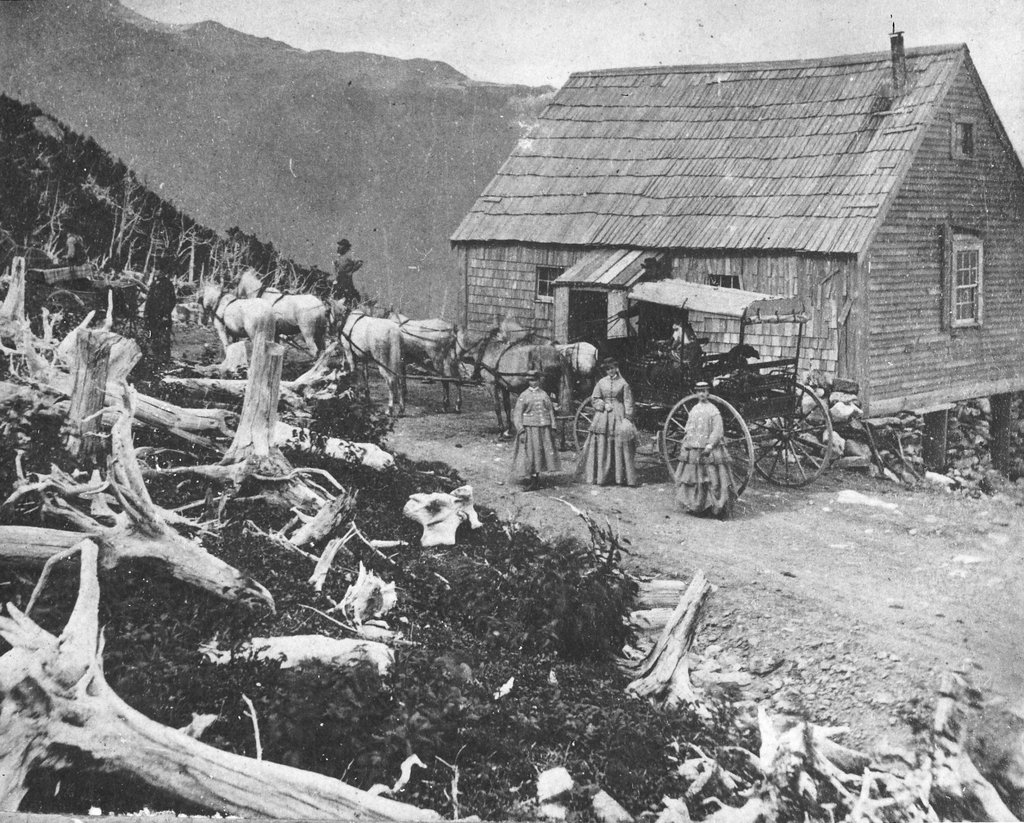 The scene in 2016:

Mount Washington is the tallest peak in the northeastern United States, and it has been a popular tourist destination since the mid-19th century. By the end of the 1860s, the mountain had a hotel at the summit, along with both a cog railway and a carriage road to bring visitors to the top. The nearly eight-mile long carriage road opened in 1861, and this small building along the side of the road served an important purpose for early travelers. Known as the Halfway House, it was located about four miles up the road, hence the name, and it was used as a toll house. It was also a good resting place during the four-hour carriage ride up the mountain, and when necessary its location just below the treeline made it a refuge from the unpredictable and often dangerous weather in the alpine zone.
The building in the first photo was later replaced with a more substantial two-story structure. This one served the same purpose as the original, but over time it suffered from vandalism because of its isolated location, and it was finally destroyed by a fire in 1984. Today, the carriage road is now the Mount Washington Auto Road, and aside fro cars replacing horses, not much has changed about the road, which still follows the same route that was laid out in the 1850s. The drive to the summit now takes about 30 minutes, and while the Halfway House no longer stands here, the site is still used as a stopping place. It is no longer necessary to rest horses here, but the climb is still taxing for cars, so the site here is used by drivers heading up the mountain to cool their radiators, and by those heading down to cool their brakes.