The First Swedish Methodist Episcopal Church at 57 Bay Street in Springfield, around 1938-1939. Image courtesy of the Springfield Preservation Trust.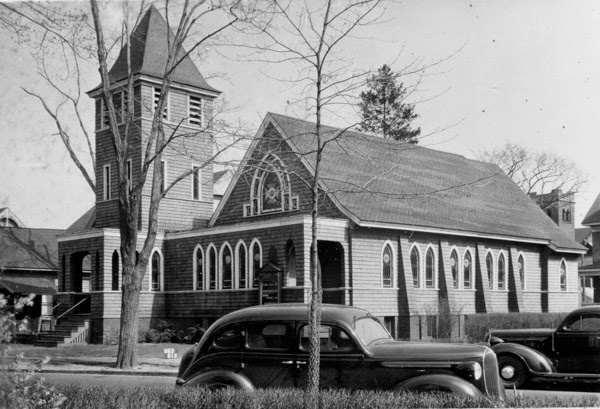 The church in 2017: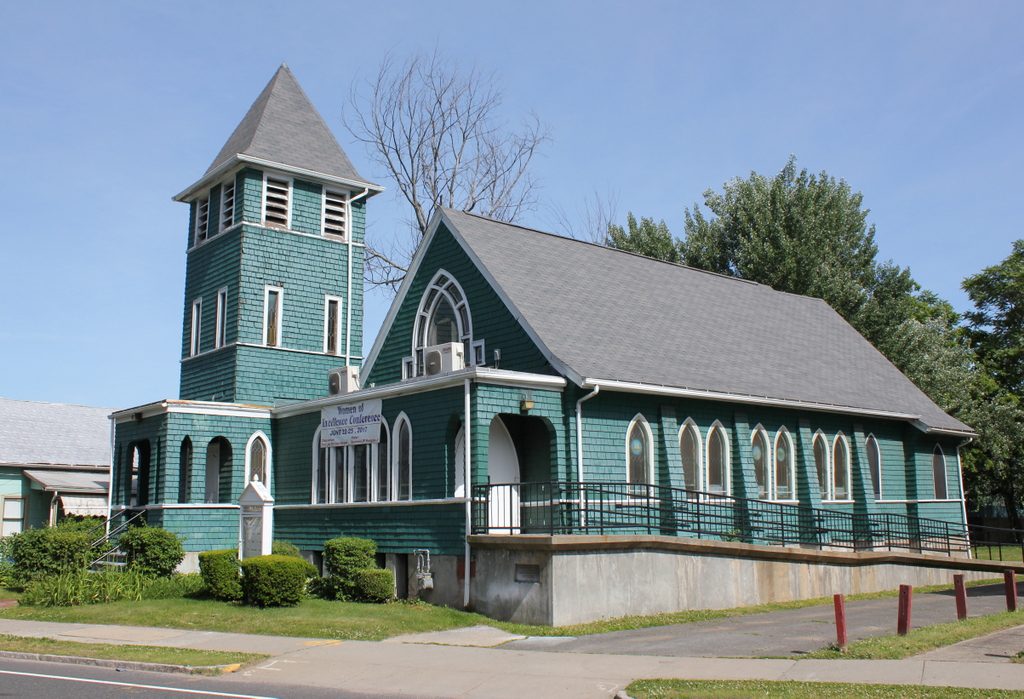 During the 19th century, Springfield experienced significant population growth as it developed into a major industrial and commercial center. From its 1800 population of 2,312, it grew to over 62,000 by 1900, and with many new residents bringing new languages, cultures, and religious beliefs to the city. At the start of the 19th century, Springfield's only religious institution was a single Congregational church, but over time Baptists, Methodists, Episcopalians, Catholics, and other denominations would all establish churches in the city.
By the turn of the 20th century, many of these churches served specific ethnic groups, particularly recent immigrants. The early Catholic churches were predominantly Irish, but other parishes were later established for French, Italian, and Polish Catholics. In addition, there were six Protestant churches that held their services in a language other than English, including one German, one Italian, one French, and three Swedish churches. Of the Swedish churches, there was one Congregational church, one Lutheran church, and a Methodist church, which was located here on Bay Street.
The First Swedish Methodist Episcopal Church was established in 1893, and in its early years it held services in a hall above the First National Bank on Main Street, opposite Court Square. However, in 1901 the congregation built this church building, near the corner of Bay and Pleasant Streets in Springfield's McKnight neighborhood. Its Shingle-style design reflected architectural tastes of the era, although its windows, with their pointed arches, give it somewhat of a Gothic appearance as well.
In the late 1930s, around the time that the first photo was taken, the church was renamed the Bay Street Methodist Church. The congregation continued to use this building for the next decade or so, until it merged with the Asbury First Methodist Church in 1952. The new church held its services in the Asbury church building at the corner of Hancock and Florence Streets, and this property on Bay Street was sold in 1953 to the Church of the Nazarene. This church would remain here for the next 13 years, until moving to a new building on Wilbraham Road in Sixteen Acres in 1966.
Later in 1966, the building was sold to the Holy Trinity Church of God in Christ, which remains an active congregation here more than 50 years later. During this time, the exterior of the building has remained well-preserved, and the only significant change in this scene has been the addition of a wheelchair ramp on the right side of the building. It stands as a good example of Shingle-style church architecture, and it is a contributing property in the McKnight Historic District on the National Register of Historic Places.