A mixed-use commercial and residential building on Boston Road in Springfield's Pine Point neighborhood, on October 12, 1938. Image courtesy of the Springfield Preservation Trust.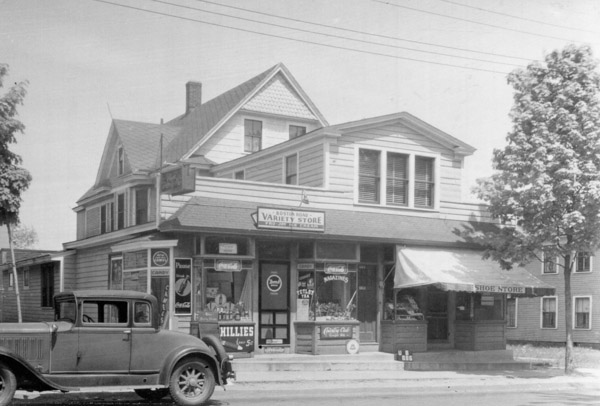 The building in 2015: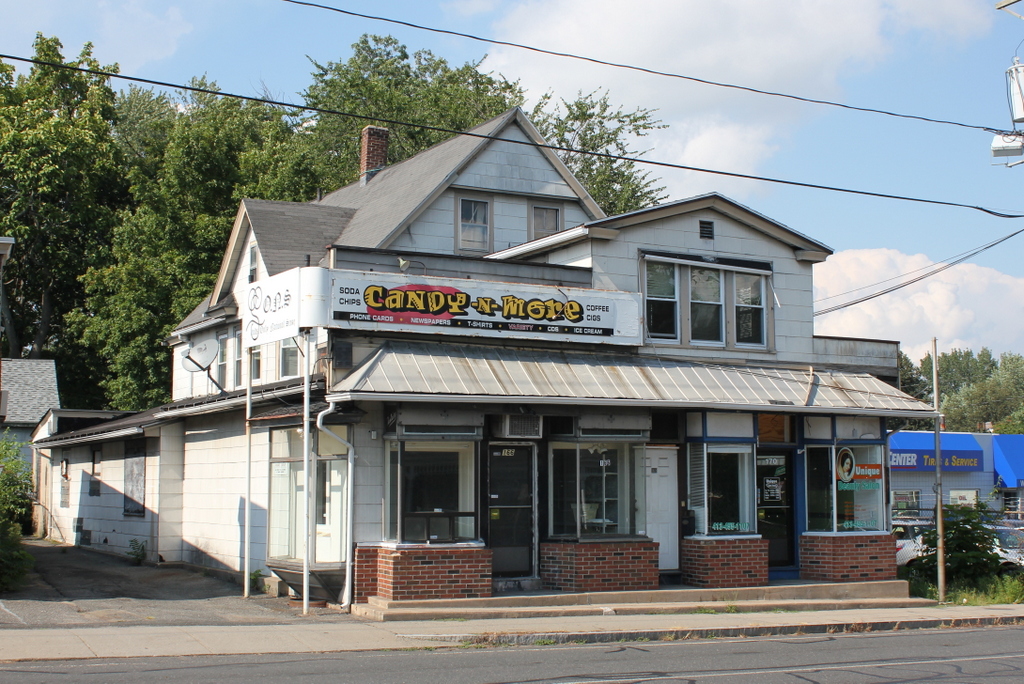 This building is probably best known as the longtime home of Nora's Variety Store, but on a more personal note it is also where my grandmother was born. It was built sometime between 1899 and 1910, when the Pine Point neighborhood was first being developed, and it was apparently a two-family home. My great grandparents, Frank and Julia Lyman, moved here around 1915, and they lived here for about two years.
Frank was originally from Wilbraham, and he attended Wesleyan Academy before becoming a machinist. He worked for Pratt and Whitney in Hartford, and later for the Otis Elevator Company in Springfield, and he also spent some time in New York City, where he met his wife Julia Brown. She was the daughter of Irish immigrants, and prior to her marriage she worked in the biographical department for the New York World newspaper. By the time they moved to Springfield they had two young children, Elizabeth and Edith, and their third child, my grandmother Evelyn, was born here in 1917. Soon after, the family moved nearby to a house at 37 Coleman Street, where they lived for many years.
During the 1920s the house had a number of different tenants, who rarely seem to have lived here for longer than a year or two. Then, as this section of Boston Road became increasingly commercial, the house was altered with the addition of two storefronts, as shown in the first photo (an earlier photo on a different blog post, taken from a different angle, shows a the front of the house prior to this addition). This photo was taken in 1938, and by this point the storefronts were occupied by the Boston Road Variety Store—which later became Nora's Variety Store—on the left, and a shoe store on the right.
Today, nearly 80 years after the first photo was taken, much has changed on Boston Road. Many of the late 19th and early 20th century homes have been demolished over the years, including the one on the far right side of this scene, where a car dealership is now located. Nora's Variety Store was located here in this building for many years, but it ultimately closed in the early 2000s, and the storefront is now vacant. The building itself has also changed, including the addition of artificial siding, which probably occurred sometime during the mid-20th century. However, the building is still easily recognizable from the first photo, and it stands as a reminder of the days when Boston Road was still predominantly a residential street.