The house at 178 Boston Road in Springfield, around 1938. Image courtesy of the Springfield Building Department.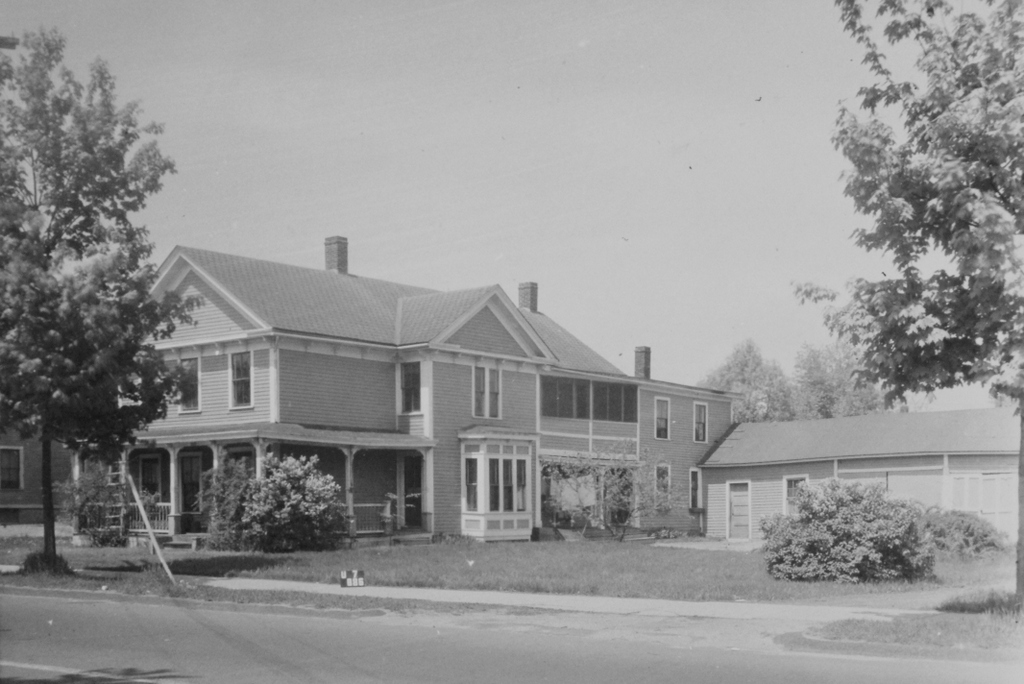 The scene in 2019: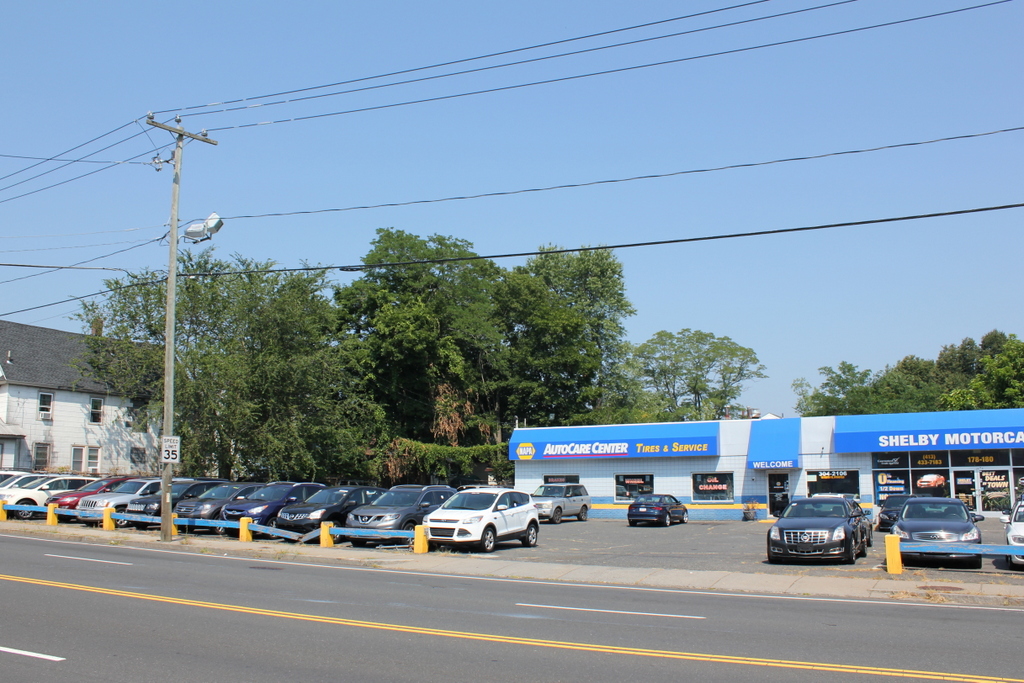 As discussed in the previous post, Boston Road in Springfield was a sparsely-settled area prior to the turn of the 20th century. Most city maps throughout the 19th century show fewer than 20 houses along its entire 3.3-mile length from present-day Berkshire Avenue to the Wilbraham town line. This house, which was probably built around the mid-19th century, was one of those widely scattered houses, standing along Boston Road in what would eventually become the Pine Point neighborhood.
The early history of this house is difficult to trace because the outlying parts of the city did not have street numbers at the time, but a house appears near this spot on the 1835 map of Springfield. It was owned by John Butler, but it does not seem clear as to whether this is the same house from the first photo, because it is not shown on the 1855 county map. Probably the best indicator for the house's age is its architecture, which features a blend of Greek Revival and Italianate elements. This style was particularly popular here in Springfield prior to the Civil War, so the house likely dates back to around the 1850s.
The first verifiable owner of this house was Ambrose O. Smith, who was living here by 1866. Born in Middlefield Massachusetts in 1829, Smith moved to Springfield in the mid-1860s, and during the 1870 census he was living here with his mother Nancy and his sister Mary C. Otis. He and his family lived here until at least 1872, but by 1873 he had moved to a house at 46 Walnut Street, where he was listed in the 1880 census as being a milk dealer. However, he continued to own this house for many years. He moved back here by the mid-1880s, and soon after he became one of the first landowners in this part of the city to subdivide his property into new streets and house lots.
Prior to the late 19th century, this area, which is located three miles east of downtown Springfield, was not a particularly desirable place to build houses. But, as the city grew in the post-Civil War era, developers began creating new residential neighborhoods to meet the increased demand for single-family homes. This was aided in part by the opening of trolley lines across the city, and by the 1890s one of these lines passed through modern-day Pine Point, connecting downtown Springfield to Indian Orchard.
Likely motivated by his land's proximity to the trolley line, Ambrose O. Smith turned his Boston Road farm into a residential subdivision. His property extended behind this house as far north as Berkshire Avenue, and he also owned the land across the street on the south side of Boston Road, as far south as the North Branch of the Mill River. The 1899 city atlas shows a number of streets that had been laid out across his property, with Jasper Street on the north side, and Ambrose, Boyer, Coleman, Denver, Embury, and Falmouth (now Devonshire) streets on the south side. The land along these streets was divided into individual lots, although very few of them had been developed at this point. Aside from a handful of houses on Coleman Street, nearly all of these lots were still vacant in 1899.
Smith was still living in this house in 1899, but by the 1900 census he was on Lenox Street in Forest Park, and he died in 1904. The next long-term resident of this house was Joseph M. LaRiviere, who was living here as early as 1901. During the 1910 census he was 54 years old, and he lived here with his 44-year-old wife Evalena and their 23-year-old son Victor. Around this time, he sold postal cards in a shop on Main Street, while Evalena was a dressmaker and Victor worked as a clerk in Indian Orchard.
The LaRiviere family was still living here a decade later during the 1920 census, but by this point they had apparently divided the house into several different apartment units, because the census also shows two other families living here. They moved out soon after, though, because the 1921 city directory shows Joseph and Evalena living in a house on Douglas Street in the North End.
By the 1930 census, three families were renting apartments in this house, and their monthly rents ranged from $20 to $28. In one unit was Corinne LaTaille, a 36-year-old widow who lived here with her three children. Five years earlier, while living in a house on Denver Street, her husband Frank had committed suicide. According to contemporary newspaper accounts, this was likely caused by his recent two-month jail sentence for driving under the influence of alcohol, along with unspecified "family troubles." The latter may have been related to the fact that, just two weeks after his death, Corinne gave birth to twin boys.
The other two families living here in 1930 included 44-year-old Charles and Annie Edson, who lived in an apartment with their six young children. Charles worked as a machine operator in a factory, and the family's stay here was evidently short, because in 1929 they had been in a house on Denver Street, and within a few years they had moved elsewhere. The third tenant here in 1930 was George E. Miller, a 57-year-old radio mechanic who lived here with his 63-year-old wife Idella and their 29-year-old son George.
The first photo was taken in 1938, and two years later the 1940 census shows three more families living here. The rents had declined somewhat since 1930, likely because of the Great Depression, and all three tenants paid $20 per month. In one unit was John and Flora Kenney, in the second was Adele Rieck and her son Royal, and in the third was Arthur and Anna Allen and their young children Dorothy and George. Of all the residents here, Arthur was the only one who had been employed full-time in the previous year, earning $1,560 while working in a hotel laundry. During that same time, John Kenney worked for eight weeks as an inspector at the Armory, earning $203, while Royal Rieck earned $20 for two weeks as an elevator operator.
It is difficult to trace the subsequent fate of this house, but it appears to have still been occupied by residents as late as the early 1950s. However, by the mid-1950s this lot had become the junkyard of City Towing Service, although it seems unclear whether or not the house was still standing on the site. Then, in 1963 the property became the Pine Hill Motors car dealership. Its name has changed several more times since then, but this site continues to be a car dealership, and today the only surviving remnant from the first photo is the adjacent house on the far left at 168 Boston Road, which is still standing.