Chateau-sur-Mer on Bellevue Avenue in Newport, around 1903. Image from Seventy-five Photographic Views of Newport, Rhode Island (1903).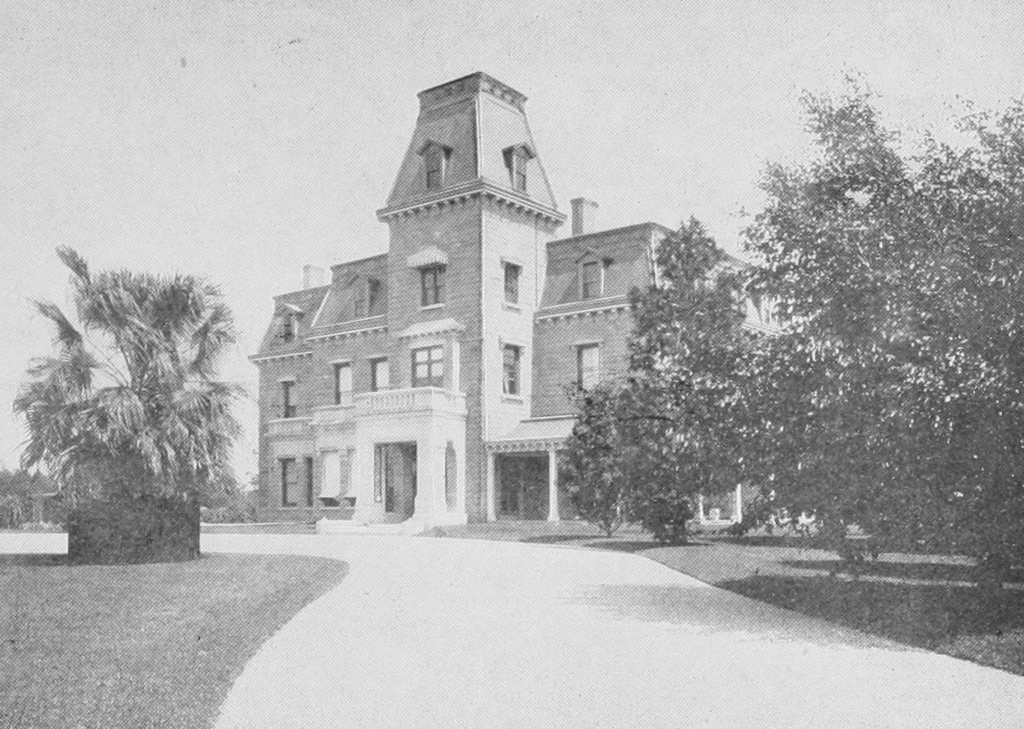 The scene in 2018: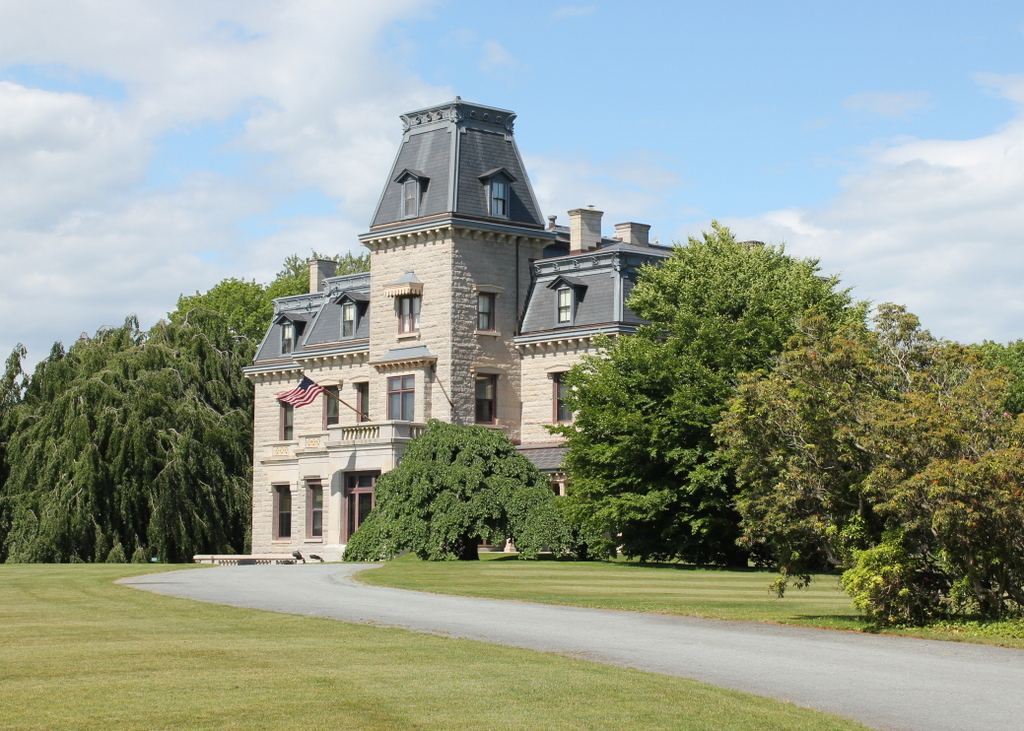 Beginning in the mid-19th century, Newport underwent a dramatic transformation from a sleepy colonial-era seaport into one of the most desirable summer resort communities in the country. Bellevue Avenue, and the surrounding area here at the southern end of the island, would eventually become famous for its many Gilded Age mansions, which served as summer residences for prominent families such as the Astors, Vanderbilts, and Belmonts.
Among the first of these grand mansions was Chateau-sur-Mer, which was located on the east side of Bellevue Avenue, near the corner of what is now Shepard Avenue. Its Italianate-style design was the work of local architect Seth Bradford, who designed several other mid-century summer homes in Newport, and the exterior was constructed of granite from nearby Fall River, Massachusetts. The original owner of the house was William S. Wetmore, a prosperous merchant who had made his fortune in the Old China Trade. Wetmore had retired from active business in 1847 when he was just 46 years old, and by this point he had accumulated a net worth of around a million dollars, or about $27 million today.
Wetmore lived here at Chateau-sur-Mer until his death in 1862. He and his wife Anstiss had three children, although their oldest, William, Jr., had died in 1858. Of their two surviving children, their son George inherited this house, while their daughter Annie received a parcel of land on the southern side of the estate, where she and her husband William Watts Sherman would later build a house of their own.
George Peabody Wetmore married his wife Edith in 1869, and beginning the following year the house was renovated and expanded by prominent architect Richard Morris Hunt. His work was inspired by the French Second Empire style, which was popular in America during this time, and it reflected his training in France at the École des Beaux-Arts. By this point, Hunt was already a well-established architect in Newport, but he would subsequently go on to design some of its largest, most opulent mansions, including The Breakers, Marble House, Ochre Court, and Belcourt.
Wetmore went on to have a successful career as a politician. Unlike most of the other wealthy Newport residents, who only lived here during the summer months, he was a year-round resident, and was a prominent figure in Rhode Island politics. He served as governor from 1885 to 1887, and represented the state in the U. S. Senate from 1895 to 1907, and 1908 to 1913. In addition, he was involved in a variety of civic organizations, including serving as a trustee of the Peabody Museum of Natural History at Yale and the Redwood Library and Athenaeum here in Newport, and as president of the Newport Casino.
In the meantime, Chateau-sur-Mer would continue to see renovations to both the interior and exterior, including work by noted architects Ogden Codman and John Russell Pope in the early 20th century. George Wetmore lived here until his death in 1921, and his wife Edith died in 1927. Their two daughters, Edith and Maude, also went on to live here for the rest of their lives. Like her father, Maude was also involved in politics, and although she never held elected office, she was very active within the Republican Party, including serving as president of the Women's National Republican Club and as a delegate to several National Conventions. She and her sister Edith were also advocates for historic preservation here in Newport, and worked to help preserve several important historic buildings.
Chateau-sur-Mer was one of the first of the grand mansions, and it was also one of the last to still be owned by its original family. Maude Wetmore died in 1951, leaving the house to Edith, who died in 1966. Neither of the sisters had married, so there were no other Wetmore heirs to inherit the property. Even if there had been, these types of summer homes had long since fallen out of fashion, and were generally regarded as expensive white elephants from a bygone era.
Many of the grand Newport mansions were demolished during the mid-20th century, while others were converted into institutional use, such as the nearby estates that now form the campus of Salve Regina University. However, Chateau-sur-Mer was ultimately preserved in its historic appearance, both on the interior and exterior, and in 1969 it was acquired by the Preservation Society of Newport County. It is now one of nine historic properties that are owned by the organization and open to the public for tours, and, as these two photos show, very little has changed in this view since the first photo was taken nearly 120 years ago. Because of its historic and architectural significance, the house was designated as a National Historic Landmark in 2006, becoming one of 18 individual buildings in Newport to be recognized as such.