The William Watts Sherman House on Shepard Avenue in Newport, sometime in the late 1870s. Image courtesy of the Cornell University Library, Andrew Dickson White Architectural Photographs Collection.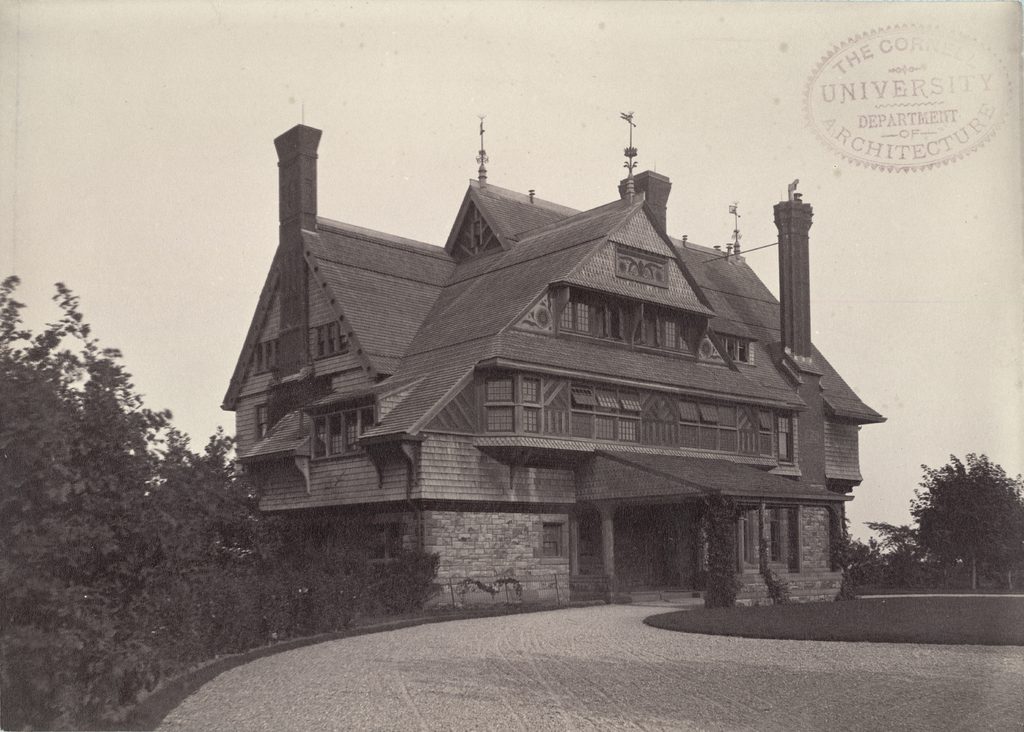 The house in 2017: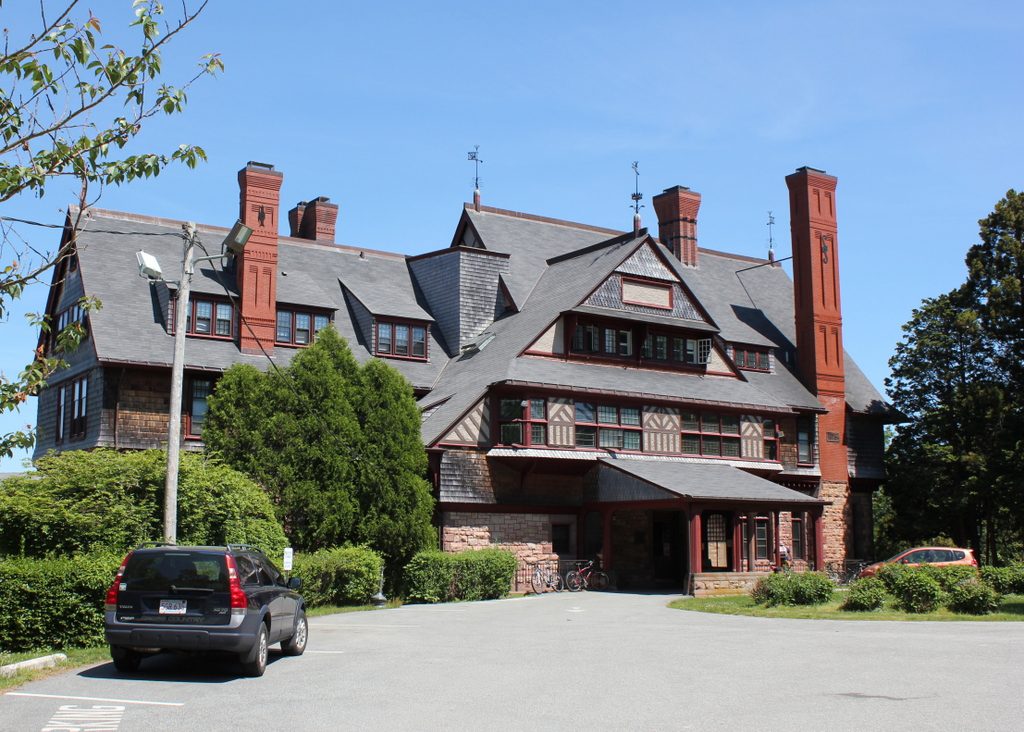 William Watts Sherman was born in Albany in 1842, and later moved to New York City, where he became a physician. However, he left the medical practice to enter his father's banking firm of Duncan, Sherman & Company, and became a wealthy businessman. In 1871 he married Annie Wetmore, the daughter of prominent merchant William Shepard Wetmore. Originally from Vermont, Wetmore had been among the early summer residents in Newport, and built his Chateau-sur-Mer mansion on Bellevue Avenue in 1852.
A few years after their marriage, the Shermans built their own house on part of Annie's late father's property, just to the south of Chateau-sur-Mer on the opposite side of Shepard Avenue. For the design, they hired Henry H. Richardson, a recently-established architect who was already well on his way to becoming one of the most influential in American history. He is best known for pioneering the Richardsonian Romanesque style that was prevalent throughout the late 19th century, and designed a number of churches, railroad stations, libraries, and other public buildings. He did not design many private residences, but the Sherman house would become one of his most important works and would help to inspire the Shingle style of architecture that would go on to become ubiquitous in New England resort communities such as Newport.
Completed in 1876, the Sherman house was unlike anything that had been built in Newport up to this point. Most of the earlier homes had designs that were based on Greek, Italian, or French styles, but for this house Richardson blended elements from traditional English and American architecture, giving it a unique appearance that stood out among the other summer cottages in Newport. The house's exterior, particularly the use of wooden shingles on the upper floors, proved highly influential, and the house became a prototype for Shingle-style architecture of the 1880s and 1890s. Richardson himself designed very few other houses, though, and  it would be two of his former assistants, Charles McKim and Stanford White, who would go on to create some of the finest Shingle-style homes.
Stanford White was involved in the design of the house, and he would play a larger role a few years later, when his firm of McKim, Mead & White was hired to design a large addition to the house. Built on the left side of the scene, this new wing substantially enlarged the house, while matching Richardson's original exterior. The first photo here shows the house as it originally appeared, sometime before construction on the addition began in 1879. It was completed two years later, with Stanford White providing interior designs for both a parlor and a library in this wing.
William and Annie Sherman had two daughters, Georgette and Sybil, who were born in the early 1870s. However, Annie died in 1884 at the age of 35, and the following year William remarried to Sophia Augusta Brown, the 18-year-old daughter of the late John Carter Brown II. A member of the prominent Brown family of Providence, John Carter Brown II was the son of Nicholas Brown, Jr., the namesake of Brown University, and John himself would later leave leave his mark on the university when his rare book collection became the basis for the John Carter Brown Library. Curiously, William Sherman's oldest daughter, Georgette, would later marry Sophia's older brother, Harold Brown, making William Sherman both a brother-in-law and father-in-law to his daughter's new husband.
With his new wife, William Watts Sherman had two more daughters, Irene and Mildred, and around 1890 they expanded the house again, adding a ballroom that was designed by local architect Dudley Newton. He continued to spend summers here until his death in 1912, and Sophia owned the house until her death more than 30 years later, in 1946. By this point the massive Gilded Age mansions of Newport had fallen out of fashion, and the mid-20th century saw many of these landmarks demolished or converted into other uses. In the case of the Sherman house, it became the Baptist Home of Rhode Island, a retirement home that opened in 1950.
Because of its architectural significance, the house was designated as a National Historic Landmark in 1970, and it is also a contributing property in the Bellevue Avenue Historic District, which is likewise a National Historic Landmark. In 1982, the property was purchased by Salve Regina University, whose campus includes many other historic mansions in the area. It is now a dormitory for sophomore students, and still stands as one of Newport's finest architectural treasures, with hardly any differences between these two photos aside from the 1879-1881 addition on the left side.