Looking west on Boylston Street from the corner of Gloucester Street, on August 6, 1912.  Image courtesy of the City of Boston Archives.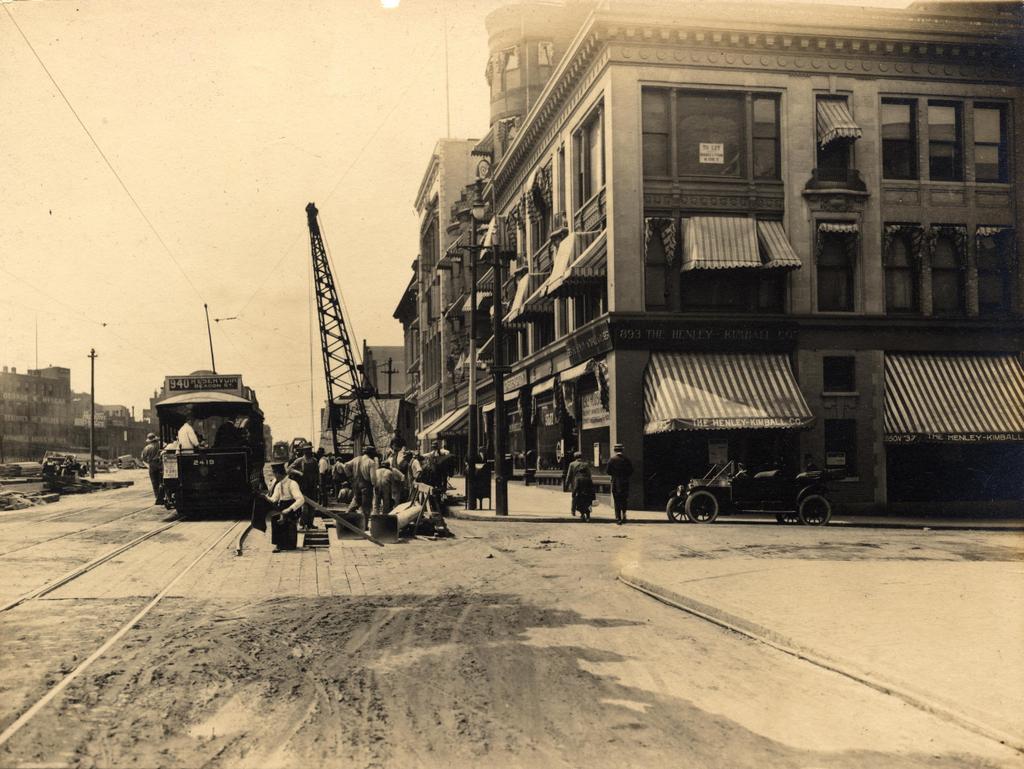 Boylston Street in 2015: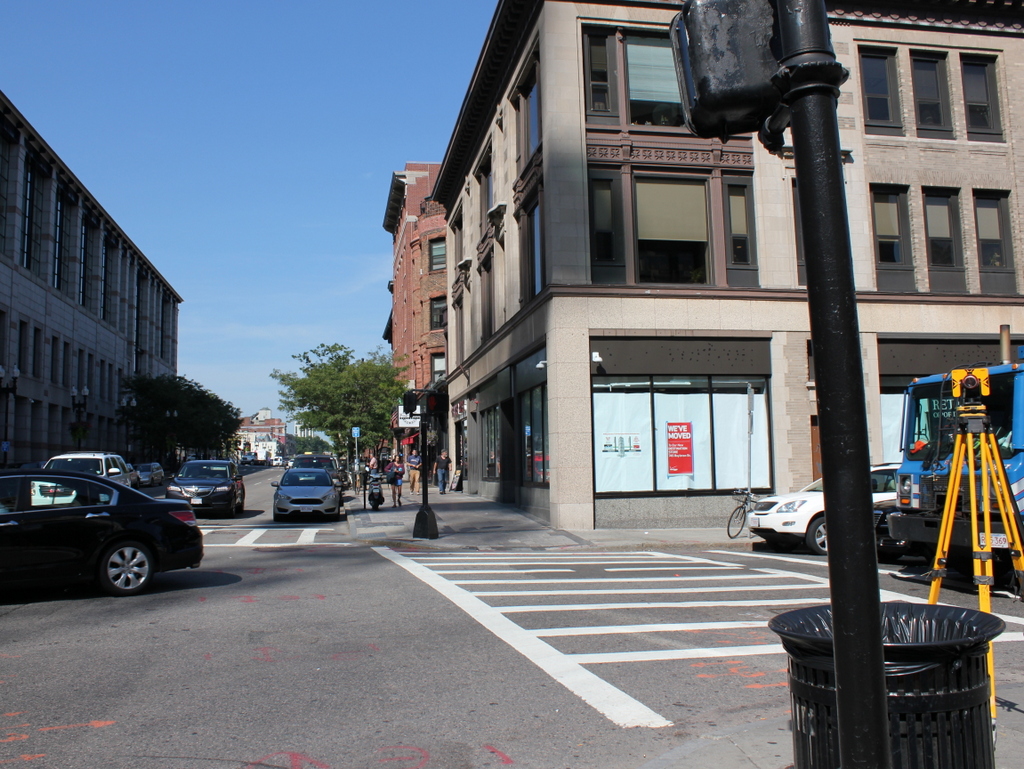 The first photo here appears to be documenting the early stages of the work on the Boylston Street Subway, today's Green Line of the MBTA.  Prior to 1912, the present-day Green Line was only underground from North Station to Arlington, emerging onto Boylston Street at the Boston Public Garden, as seen in this post.  From there, it ran through the Back Bay in the center of Boylston Street, as seen here.  Because of increasing congestion, though, the trolley line was moved underground in 1914.  The new tunnel ran from Arlington Street to Kenmore Square, where it came to the surface in the median of Commonwealth Avenue just east of the square.  I'm not entirely sure what the workers are doing here, but they appear to be doing some sort of excavation on the tunnel – notice the planks in the otherwise dirt road, which probably cover the work that was being done.  In the meantime, the trolleys needed to continue running, so the 1912 scene shows a Reservoir-bound car (today's "C" Line) passing through the construction area.
Today, Green Line trains still run under this spot in the tunnel that the 1912 workers were building, and on the surface not much has changed on the right-hand side.  Along the mile-long stretch of Boylston Street in the Back Bay, the north side of the street is primarily late 19th and early 20th century low-rise construction, while the south side is almost entirely new.  This contrast can be seen here, as nearly all of the buildings from 1912 are still standing on the right, including the three-story commercial building in the foreground.  It was built in 1905, and in the first photo the corner storefront is occupied by The Henley-Kimball Company, a car dealership that sold Hudson cars.  It was one of many car dealerships along Boylston Street; an awning further down the street advertises for Chalmers, and there are also window signs for Stutz Motor Company and Michelin Tires.
The left (south) side of Boylston Street, however, is significantly different.  In 1912, there were no buildings here; instead, this area was the site of a large rail yard for the Boston & Albany Railroad.  The yard took up the south side of Boylston for three blocks, from Exeter Street to Hereford Street, but over time the land became too valuable to simply use for a rail yard.  The Massachusetts Turnpike now runs through the site of the former yard, and a number of buildings have been built on top of it, including the Hines Convention Center, which can be seen on the far left of the 2015 photo.