The Hotel Buckminster at Kenmore Square in Boston, around 1911. Image courtesy of the City of Boston Archives.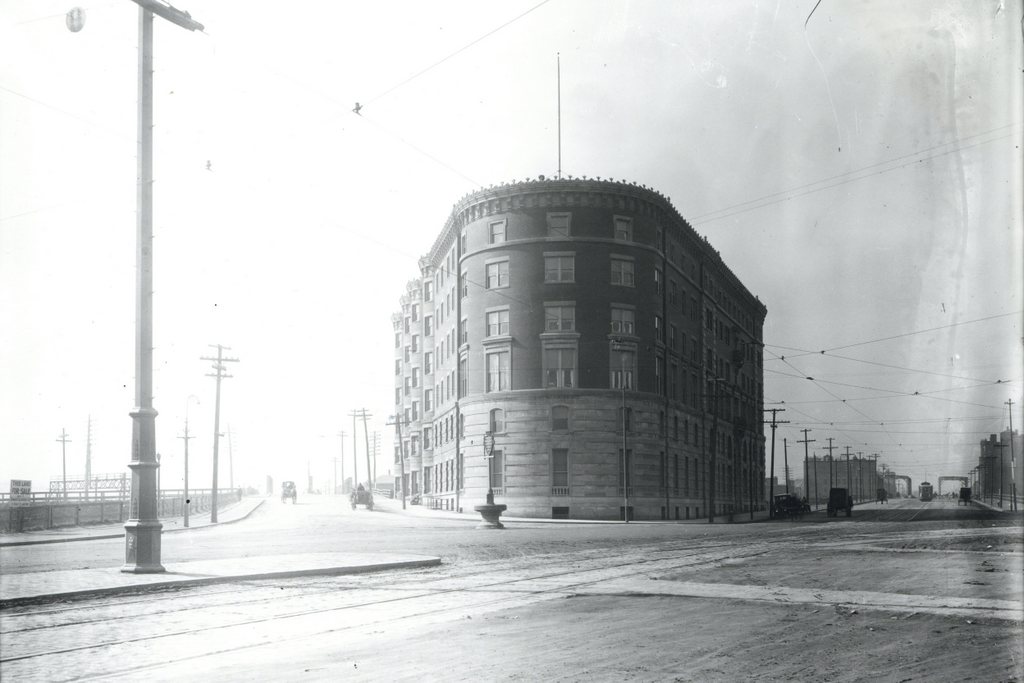 The hotel in 2015: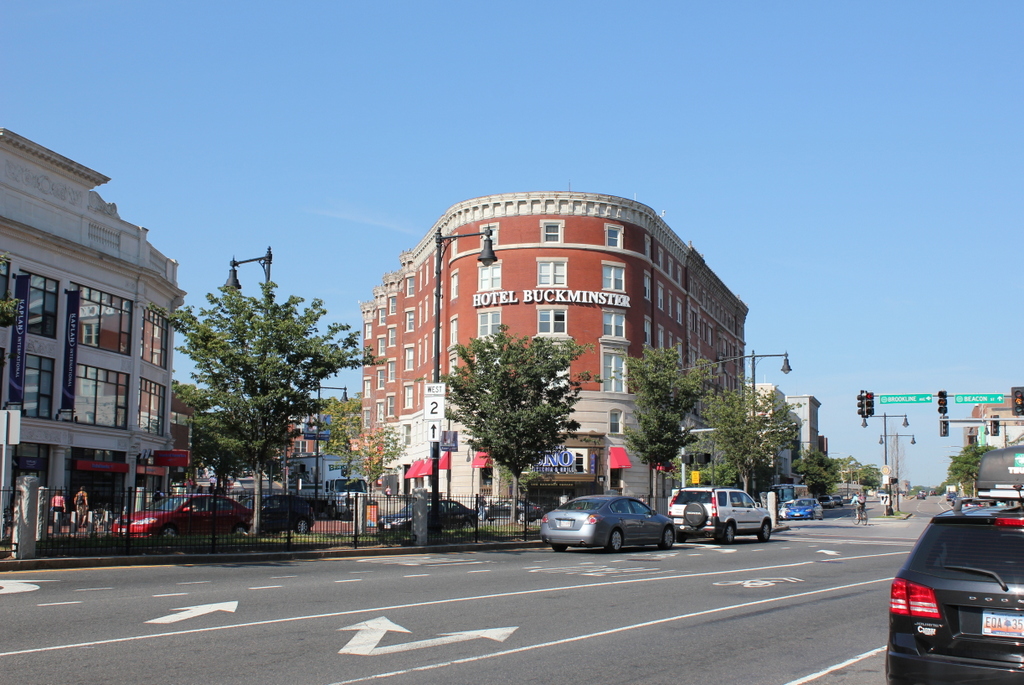 The present-day Kenmore Square area was once just swampy land along the edge of the Charles River, separated from Boston the tidal flats of the Back Bay.  Boston began to fill in this land starting in the late 1850s at Arlington Street and steadily moving west.  The landfill project in the Fenway area was completed by the 1890s, and in 1897 the Hotel Buckminster opened as the first hotel at Kenmore Square, in between Brookline Avenue to the left and Beacon Street to the right.  Even by 1911, as seen in the first photo, the neighborhood was still sparsely developed.  Just a year after the photo was taken, the Red Sox would open Fenway Park on a vacant lot just two blocks south of here along Brookline Avenue.
Because of its proximity to Fenway Park, visiting teams would often stay at the hotel while they were in town.  Babe Ruth had a favorite room on the top floor along the Brookline Avenue side that overlooked Fenway Park, and it was also here that Boston bookmaker Joseph "Sport" Sullivan met with Chicago White Sox first baseman Chick Gandil and conspired to fix the 1919 World Series.  Later on, the radio station WNAC had its studio in the hotel, and in 1929 the world's first network radio broadcast was sent from here.  From 191 to 1953, the Storyville nightclub was located in the building, and featured a number of notable jazz musicians, including Louis Armstrong, Billie Holiday, and Charlie Parker.
Over a century after the first photo was taken, the Hotel Buckminster is still around, although the neighborhood around it has grown significantly.  Although visiting teams probably don't stay at this hotel anymore, the Kenmore Square is the primary subway station for fans going to and leaving Fenway Park, and there are a number of restaurants and other businesses that benefit from the sizable gameday crowds.  It is also a major intersection, with Beacon Street, Commonwealth Avenue, and Brookline Avenue all converging here above ground, and the "B", "C", and "D" branches of the Green Line meeting underground.  State Route 2 passes through here as well, and US Route 20, the longest road in the country, ends at Beacon Street, right in front of the hotel.