Looking west on Beacon Street from the corner of Arlington Street, in 1870. Image courtesy of the Boston Public Library.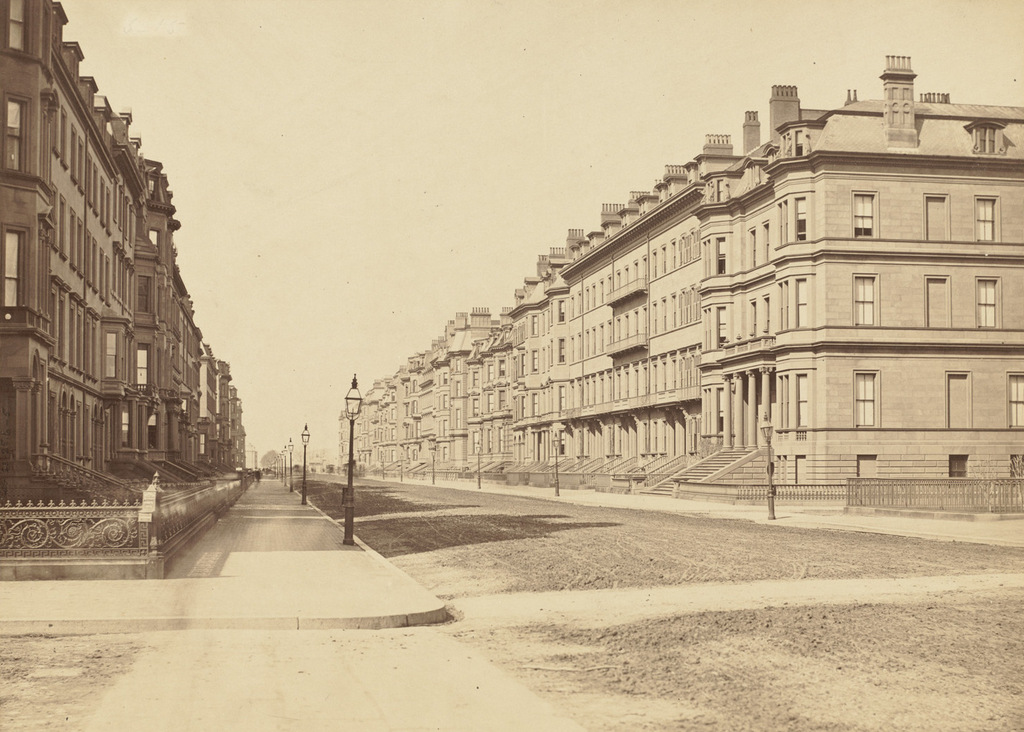 Beacon Street in 2015: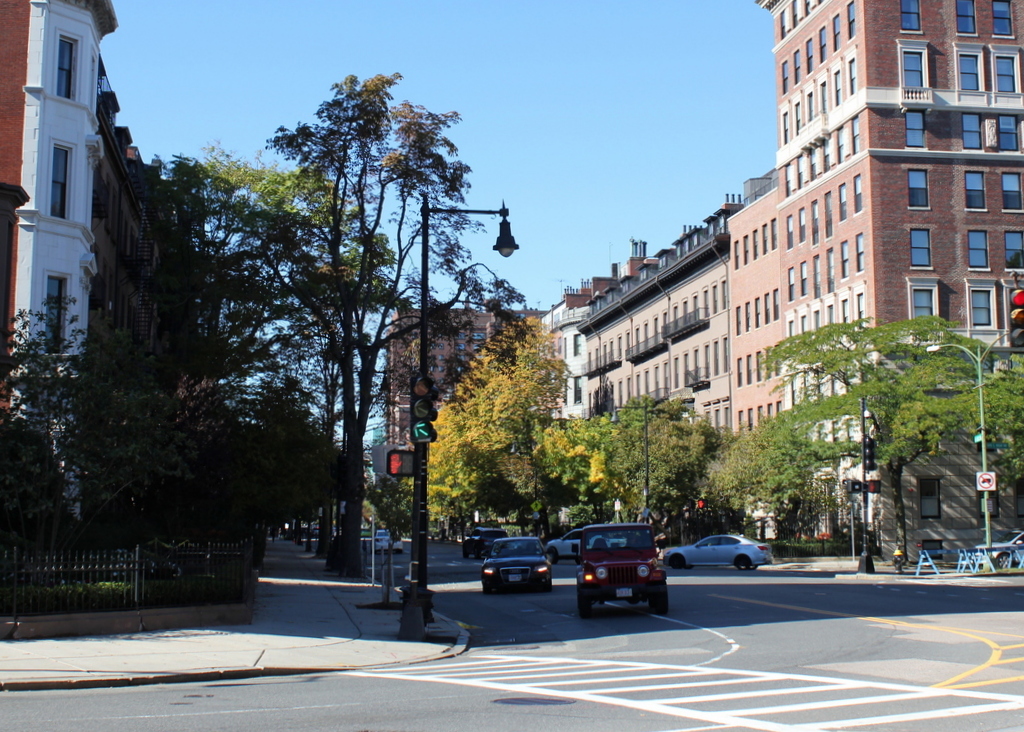 The houses on the right side of this scene are the oldest buildings in the Back Bay, dating back even before the large-scale landfill project had begun. The origins of Beacon Street date back to 1818, when construction began on a dam across the Back Bay, which at the time was a tidal marsh connected to the Charles River. The dam used the power of the tides to operate factories nearby, but it also had an added benefit of serving as a second route in and out of Boston, by extending Beacon Street across it.
The dam, which was completed in 1821, turned out to be a failure, and by the 1850s there were plans in the works to fill the Back Bay and expand Boston's land area. The houses here on the right side of the street were built around 1856 on land that had already been filled; they can be seen in the distance in the first photo in this post, which was taken from the top of the State House in 1857. By the time the 1870 photo above was taken just 13 years later, the landfill project was well underway, and both sides of Beacon Street had been developed as far as Dartmouth Street, three blocks in the distance.
Nearly 150 years after the first photo was taken, many of the buildings from the first photo are still standing, including most of the 1850s houses to the right. The only major change in the foreground is the pair of houses on the far right, numbered 100-102 Beacon Street. Half of the building was demolished in 1924 to build the apartment building that stands there today. The other half at 102 Beacon is still standing, although it was altered beyond recognition in 1938, when it was converted into an 18-unit apartment building with a new facade. However, the next seven houses in a row, numbered 104-116 Beacon Street, also date back to around 1856. They are all virtually identical, and 160 years later all seven are still standing, essentially unchanged on the exterior. The use of the buildings has changed, though; today, all seven, along with the neighboring properties at 102 and 118 Beacon Street, are owned by Fisher College and are used for classrooms and dormitories.
For more information on the history of these houses, see the Back Bay Houses website.