The view of the Back Bay, from the top of the State House, in 1857. Image courtesy of the Boston Public Library.
The same view from the same spot, between 1900 and 1910. Image courtesy of the Library of Congress, Detroit Publishing Company Collection.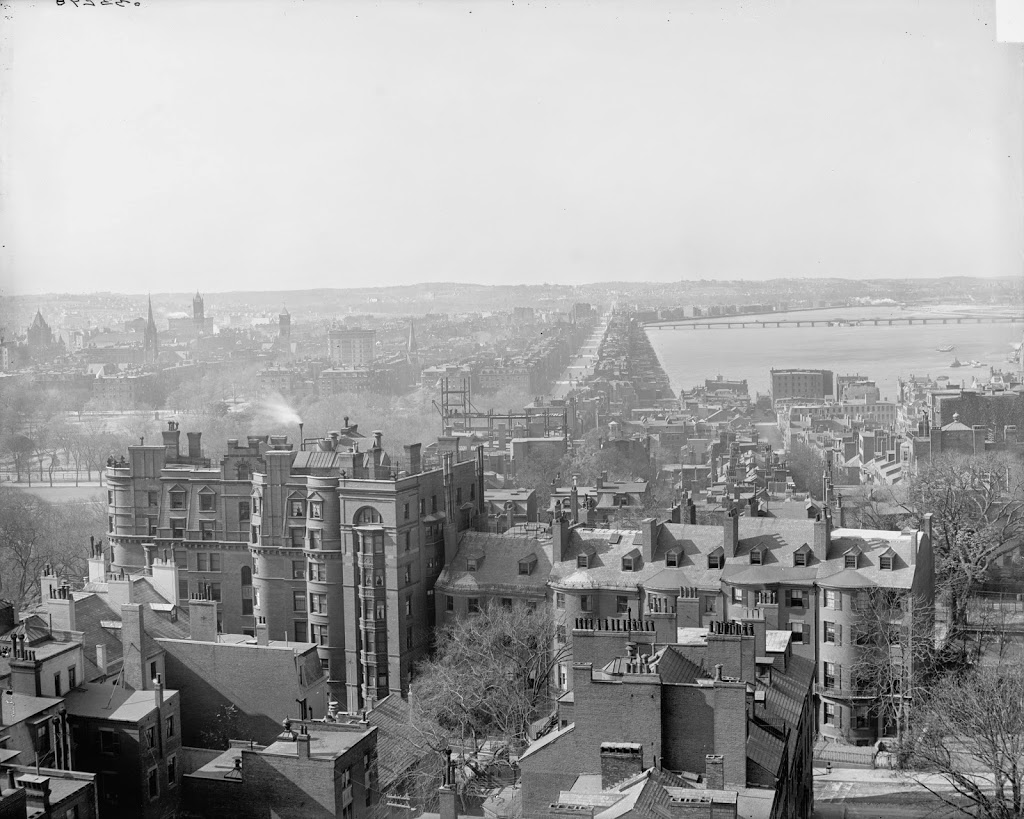 This post is a bit unusual, since I don't have a modern-day view of the scene, but I thought that the differences between these two photos, taken only about 50 years apart, was particularly compelling, and illustrates just how much of Boston is built on reclaimed land.  If I did have a present-day photo, it would show the John Hancock Building, the Prudential Tower, Hynes Convention Center, the Massachusetts Turnpike, and one of the most expensive neighborhoods in Boston.  Yet, less than 160 years ago it was just a heavily polluted mud flat.
To help identify a few prominent locations in the swamps of 1857, the row of trees at the end of the water is present-day Arlington Street, and the road built across the water is Beacon Street, originally built in 1814 as a dam and toll road.  The dam was intended to use the power of the outgoing tides for factories in the area, but it had the unintended consequence of preventing the mud flats from being washed out twice daily by the tides, leading to a shallow basin filled with sewage, garbage, and other pollution. Another dam connected Beacon Street to the point of land in the distance on the left.  The left-hand side of the dam ended at the present-day intersection of Massachusetts Avenue and Commonwealth Avenue.  In the extreme distance of the 1857 photo, Beacon Street reaches the mainland at present-day Kenmore Square.
Most of the Back Bay up was filled in only a short time after this photo was taken, and completely filled in by 1882.  The Fenway section (so-called because of the swamps, or "fens" in the area) was mostly finished by 1900, putting the finishing touches on the Boston that we now know today.