The Julius H. Appleton House on Maple Street in Springfield, around 1938-1939. Image courtesy of the Springfield Preservation Trust.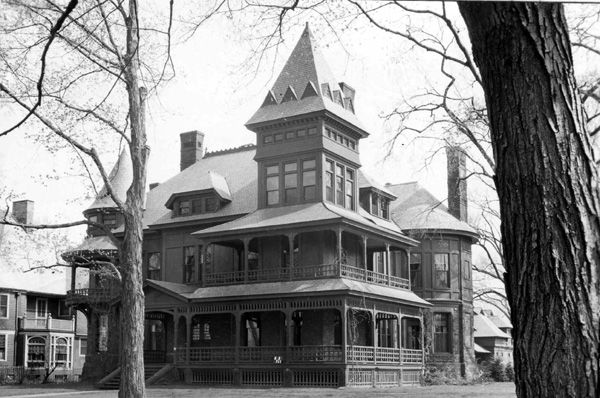 The house in 2015: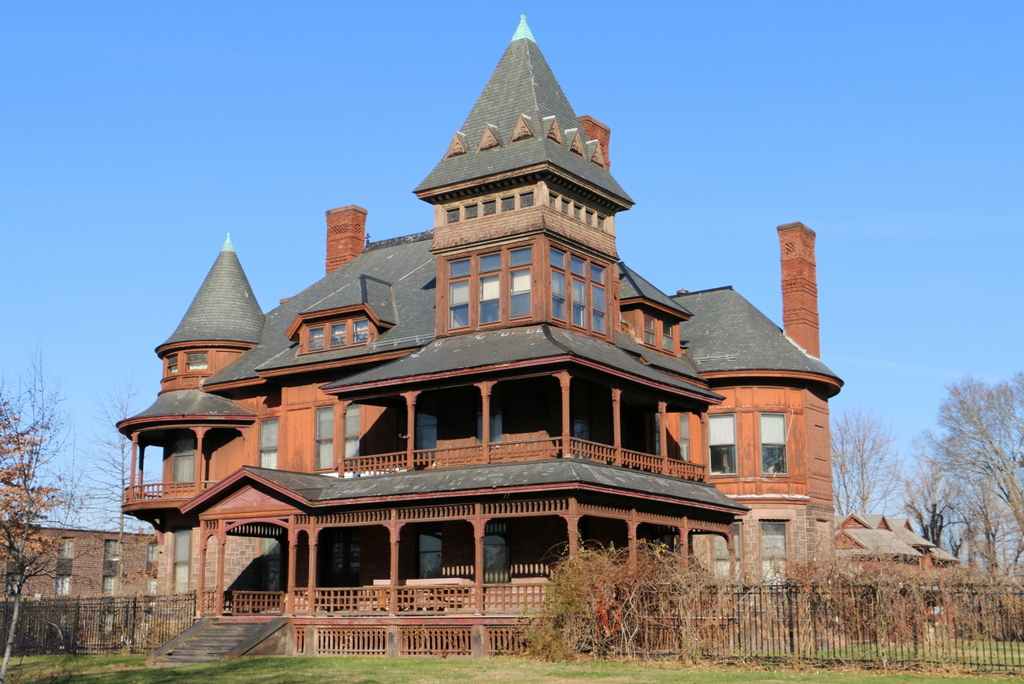 The late 1800s saw a number of mansions built along this section of Maple Street, where many of the city's most prominent residents lived. Sadly, many of these homes are gone now, but one of the survivors is this mansion at 313 Maple Street, built in 1886 for Julius H. Appleton. It was designed by Eugene C. Gardner, a local architect who also built the recently-demolished YWCA Building on Howard Street. The architecture of the house reflects both Stick style and the related Queen Anne style, both of which were common at the end of the Victorian era in the late 1880s. It is wood-frame, with wood exteriors on the second and third floors, but the first floor exterior is made of brownstone quarried in nearby Longmeadow.
The original owner, Julius H. Appleton, had previously lived in this house on Union Street, and he was a businessman who was involved in a number of different companies. He ran a steam heating company for several years and later became involved in the paper industry, serving as president of the Riverside Paper Company. He was also president of the Hartford & Connecticut Western Railroad, and he served as a director for many area businesses, including Mass Mutual, the Springfield Street Railway Company, Springfield Fire and Marine Insurance Company, Chapman Valve Manufacturing Company, and many others. In addition to his business involvements, he also held several political offices, including serving for two years on the City Council and two years on the state Governor's Council. Appleton died in 1904 at the age of 64, and his funeral, which was held here at his house, was attended by many distinguished guests, including Governor John L. Bates and former Governor Winthrop M. Crane.
The first photo shows the house over 30 years after Appleton's death, but the exterior appearance was essentially the same. Even today, the house retains all of its original elements in this scene, including the tower, the two-story porch, the shorter turret to the left, and the semi-circular porch around it. The only major change to the property has been the carriage house, which is partially visible to the right beyond the house. The original one burned down around 1980, but the owners later built a replica on the same spot.