The Chester W. Chapin House at 149 Chestnut Street, just south of Bridge Street, around 1893. Image from Sketches of the old inhabitants and other citizens of old Springfield (1893).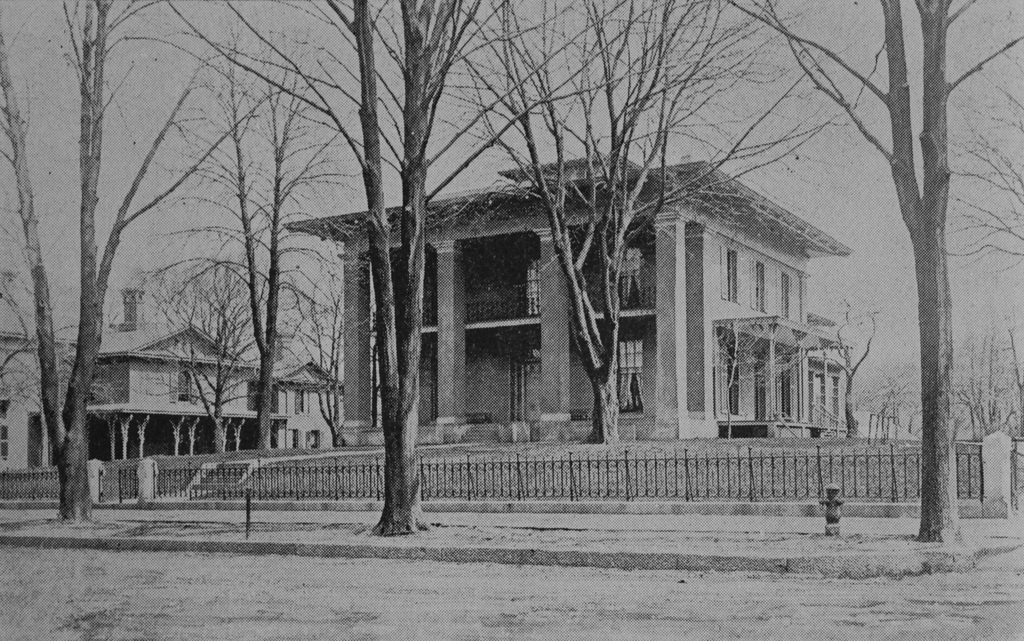 The scene in 2016: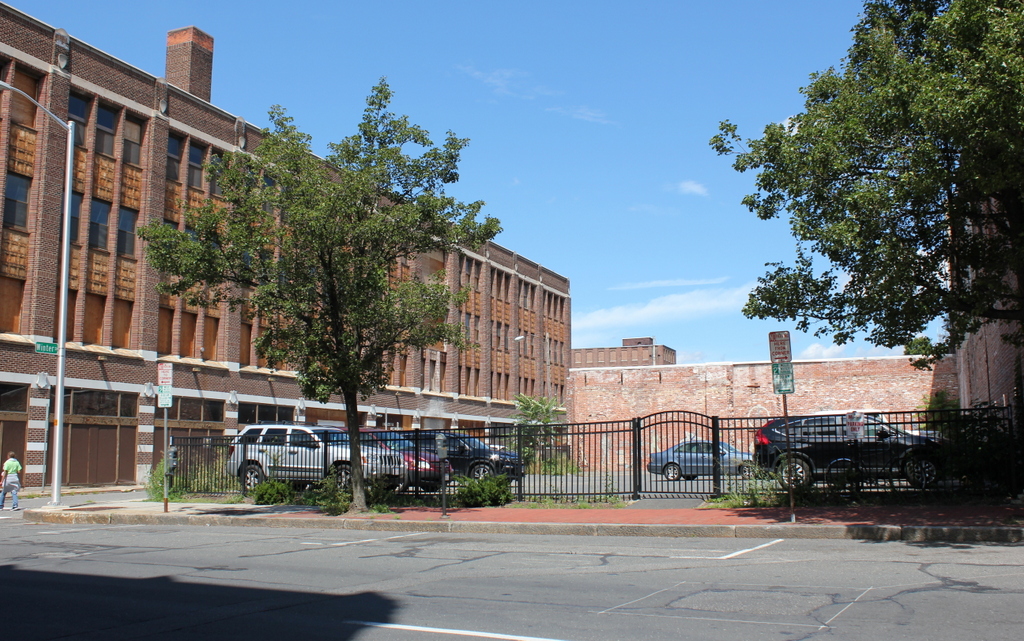 One of Springfield's most prominent residents of the 19th century was Chester W. Chapin, a businessman and politician who lived here in this home on Chestnut Street for nearly 40 years. Chapin was born in Ludlow, Massachusetts in 1798, and was the youngest of seven children. The family soon relocated to Chicopee, at the time still part of Springfield, where his father died in 1806, just 10 days before Chester's eighth birthday. As a young adult, he worked for $1.50 a day, building foundations for the cotton mills in Chicopee, and he later took a job as a clerk for his brother Erastus, who owned the old Parsons Tavern in Springfield.
Chapin soon went into business for himself, and in the early 1820s he opened a store in Chicopee. From here, he went on to make a series of  business investments, starting around 1826 when he purchased an interest in the Hartford to Brattleboro stagecoach line. His portfolio expanded in 1831 when he purchased a steamboat line from Springfield to Hartford, and along with this he also owned large interests in several other steamboat companies.
Stagecoaches and steamboats were soon to become largely obsolete, though, and in 1844 Chapin wisely sold his investments and purchased the Hartford & New Haven Railroad. In 1850, he became president of the Connectict River Railroad, which had just been completed from Springfield north to the Vermont border. With these two railroads, he controlled largely the same transportation corridor that had once been served by his stagecoaches and steamboats, but his most significant role as a railroad executive came in 1854, when he became president of the Western Railroad. Extending from Worcester to Albany, this line was later merged with the Boston and Worcester  Railroad in 1867 to form the Boston and Albany Railroad, and Chapin became the new company's first president.
Aside from his railroad interests, Chapin founded the Agawam Bank in 1846, serving as its first president and later as a director. He was also a director of the New York Central Railroad, the Springfield Fire and Marine Insurance Company, Springfield Gas Light Company, Chapin Bank, Parsons Paper Company, and a number of other companies. By the 1860s, he was among the wealthiest men in the city, as seen in his 1865 income of $78,886, equivalent to over $1.2 million today. Only two other residents of the city, pistol manufacturers Horace Smith and Daniel Wesson, had a greater income that year.
Chapin built this house on Chestnut Street in 1844, the same year that he started investing in railroads. Like most of the other mansions on the street in this era, its design was heavily influenced by the Greek Revival style, but it also shows elements of Italianate architecture, such as the overhanging eaves and the cupola, which would become more popular by the middle of the century. Because this area of Springfield was still sparsely developed, the house was on a large lot that extended behind it, almost all the way to Spring Street.
During the time that he lived in this house, Chapin also served one term in the US House of Representatives, from 1875 to 1877, before being defeated in his re-election bid. He was one of only two Democrats to represent Springfield in the House prior to the mid-20th century. For years, Western Massachusetts was a Republican stronghold, and no other Democrats would be elected to Congress from Springfield's district until Foster Furcolo in 1949.
Chapin died in 1883 at the age of 84, and the house was owned by his family for the next 30 years. By the early 1900s, though, the property, with its large backyard, was valuable commercial real estate. It was demolished in 1913, and Winter Street was developed through the lot. Here along Chestnut Street, the Willys-Overland Block was built on the left side, and another brick commercial block was built on the right side, where a parking lot is located today.