The Harris Block, at 454-472 Bridge Street in Springfield, around 1938-1939. Image courtesy of the Springfield Preservation Trust.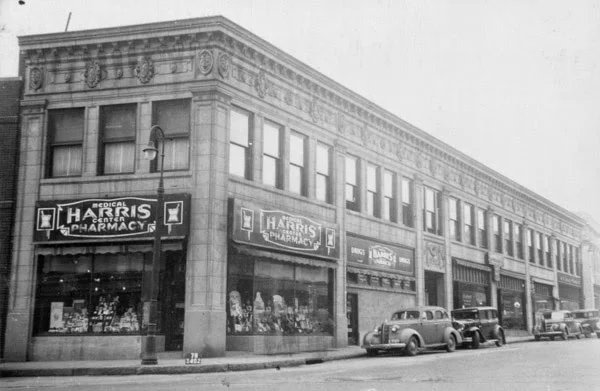 The building in 2016:

As mentioned in previous posts, Chestnut Street transitioned from a residential to commercial neighborhood in the early 1920s. The home of Daniel Harris once stood just to the right of here, but in 1923 it was dismantled and moved to Westerly, Rhode Island. His name lived on, though, with the Harris Block. This two-story commercial building was built in 1925 at the corner of Chestnut and Bridge Streets, and formed part of the northern side of the newly-developed Apremont Triangle.
When Bridge Street was extended east of Chestnut Street in the early 1920s, it crossed Daniel Harris's old lot and connected with Pearl Street. This formed a roughly isosceles triangle between the three streets, with a small park in the center that was named in honor of the 104th Infantry, a Springfield-based unit that fought at Apremont during World War I.
Three of the buildings fronting the triangle, including the Harris Block, were designed by architect Samuel M. Green. All three had similar designs, and were two stories tall, with large storefront space on the first floor. This made them ideal for car dealerships, and the Apremont Triangle soon became the center of the city's automobile industry. Here in the Harris Block, the corner storefront was originally a Rolls-Royce showroom, and their Springfield branch offices were also located in the building.
By the time the first photo was taken, Rolls-Royce was no longer in the building, and the corner storefront was instead a pharmacy. Over the years, car dealerships have moved to more spacious lots outside of downtown, but all of the early 20th century buildings at the Apremont Triangle are still standing, including the Harris Block. Because of this, all of these buildings were added to the Apremont Triangle Historic District on the National Register of Historic Places.