Looking east toward Exchange Plaza from City Hall in Providence, around 1913-1920. Image courtesy of the Library of Congress, Detroit Publishing Company Collection.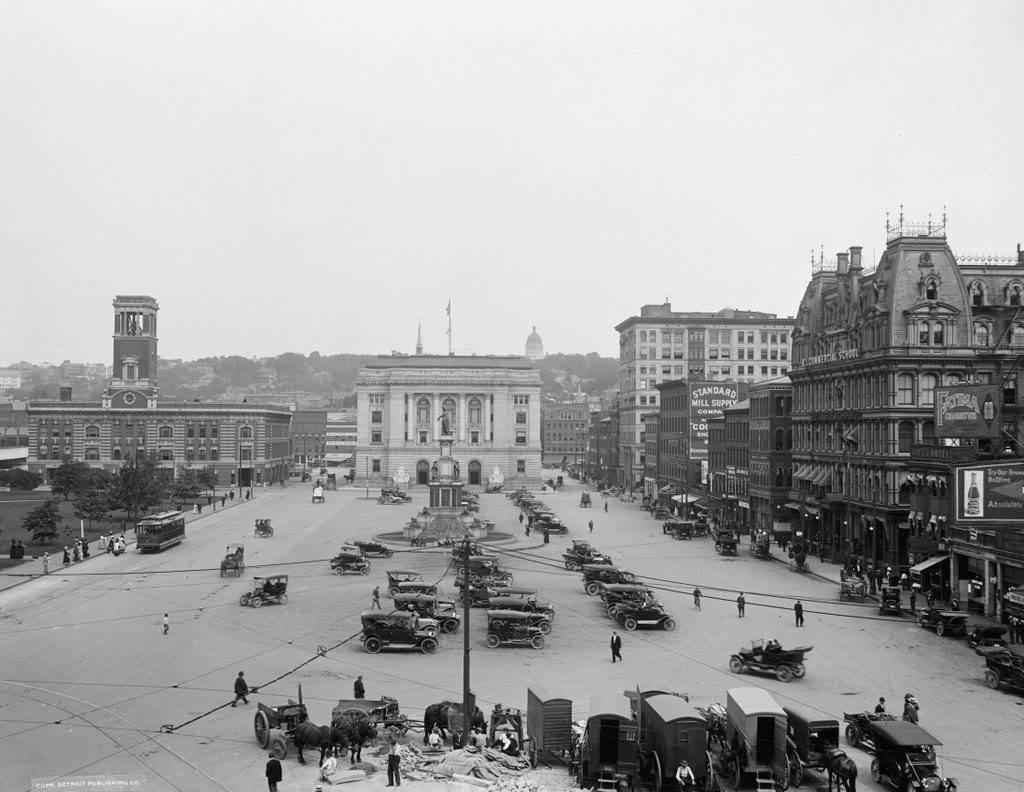 The scene in 2016: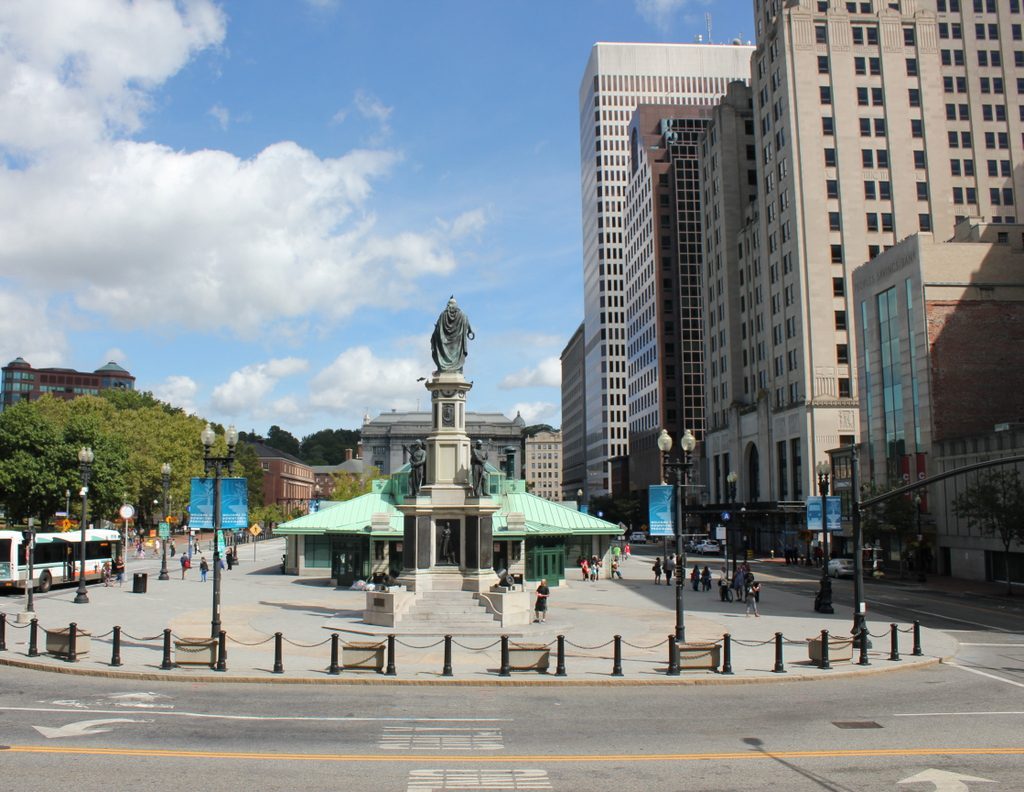 Exchange Plaza has been at the center of downtown Providence since the 19th century, although both it and its surroundings have undergone many changes during this time. In 1847, the city's first railroad station was built here on the north side of the plaza. A new station was built a little further to the north in 1898, and City Hall Park opened on the site of the old station, on the left side of both photos. City Hall, where these photos were taken, was built on the west side of the plaza in 1878, across from the Soldiers' and Sailors' Monument. This statue was dedicated in 1871 and moved to the center of the plaza shortly before the first photo was taken, but was moved back to its original location in 1997.
The first photo shows a variety of transportation methods, including cars, trolleys, and horse-drawn carts. However, at this point cars had begun to dominate the city streets already, and Exchange Plaza had become a parking lot. On the opposite side of the plaza in both photos is the Federal Building, which was built in 1908 as a post office, courthouse, and custom house. It is still in use today, and is one of only a few buildings still standing here from the first photo.
The right side of the plaza, which was renamed Kennedy Plaza in 1964, is now dominated by skyscrapers. In the first photo, the most prominent building here was the Butler Exchange, a six-story commercial block on the far right. It stood here from 1873 to 1925, and after its demolition it was replaced by the present-day 111 Westminster Street building. Completed in 1928, this 26-story skyscraper remains the tallest building in Rhode Island nearly 90 years later.
Today, the only building still standing from the right side of the first photo is the Exchange Bank Building, barely visible in the distance at the corner of Exchange Street, diagonally across from the Federal Building. Completed in 1845, it predates even the original railroad station that stood opposite the plaza. However, it is not the oldest building in the scene. That distinction likely goes to the First Baptist Church in America, which was built in 1775 on the other side of the Providence River. The top of its spire is visible in both photos, behind the Federal Building.