Looking upstream on the east branch of the Housatonic River, from the Dawes Avenue bridge, around 1906. Image courtesy of the Library of Congress, Detroit Publishing Company Collection.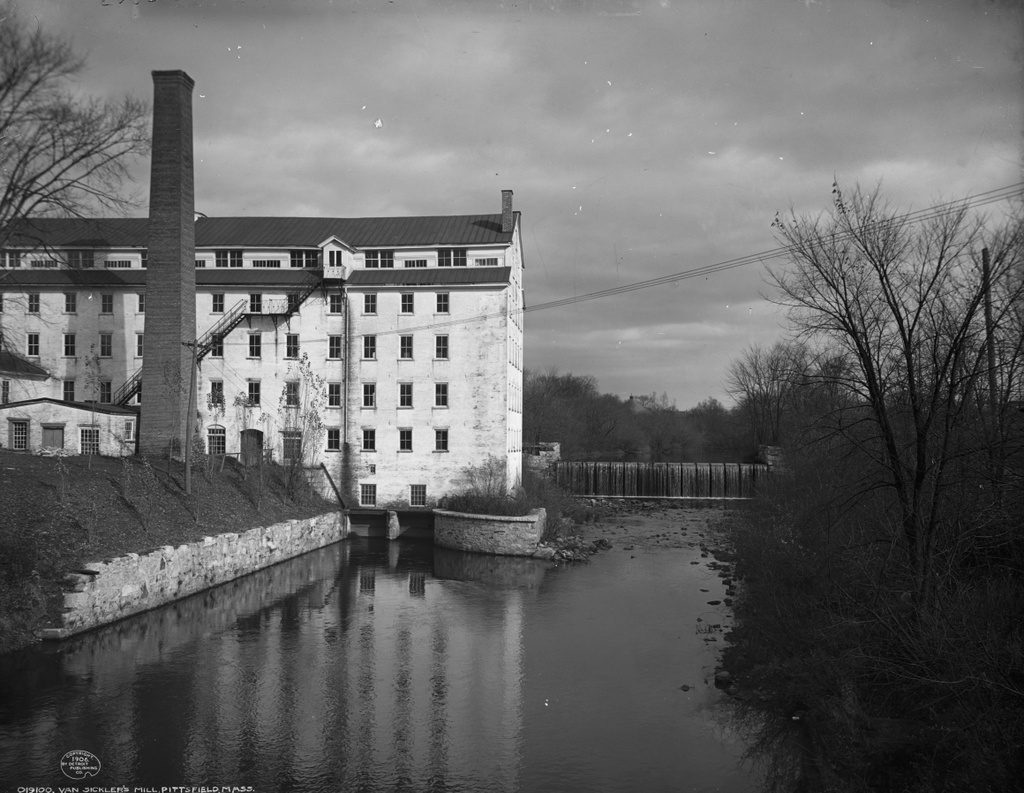 The scene in 2016: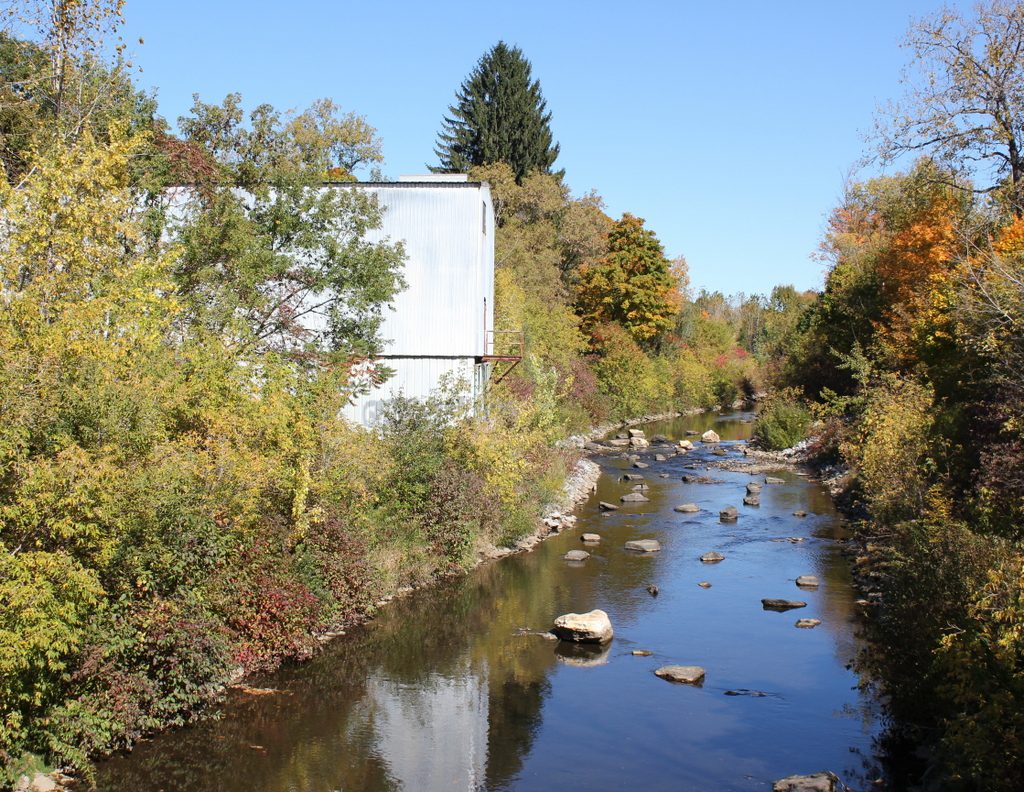 Pittsfield is located at the confluence of the east and west branches of the Housatonic River, and for several centuries these two waterways have helped develop industries in the city. The first mill dam in Pittsfield was built on the east branch, a little further upstream of here near the present Elm Street bridge. It was in existence by 1778, when Ebenezer White leased it and used it to operate a sawmill. With the coming of the Industrial Revolution, though, riverfront property would be in high demand for large-scale industrial uses.
In 1832, a group of businessmen, including Samuel McKay and Curtis Fenn, purchased the dam and the property downstream of it. That same year, the building in the first photo was completed, and was used as a cotton mill. It went through several ownership changes over the years, starting in 1839, when it was purchased by Thomas F. Plunkett. He removed the old dam and built one closer to the factory, as seen in the first photo. Along with this, he expanded the building and increased the workforce to 100 employees, enabling the mill to produce around 1.5 million yards each year.
A year later, in 1840, Martin Van Sickler became an overseer in the mill, and steadily worked his way into ownership. He purchased a quarter interest in the company in 1849, and after several ownership changes his percent of the company increased until 1867, when he became the sole owner. However, by the late 1800s Pittsfield's textile industry was already in decline. The cotton mill closed in 1883, and Van Sickler found himself $70,000 in debt. He sold the building, which was subsequently used for other industrial purposes, and Van Sickler died eight years later, penniless and homeless.
Although no longer a cotton mill, the old building was still in use when the first photo was taken. In 1930, while being used by Dale Brothers Laundry, it was gutted by a fire, nearly a century after it first opened. Today, a corrugated sheet metal building stands on the site. The old 1845 dam is also gone. It was removed in 1966 to improve drainage and to avoid sludge buildup, and the Housatonic River now flows freely through this scene, with hardly a trace remaining of the mill that once stood here.