The house at 111 Bowdoin Street in Springfield, around 1938-1939. Image courtesy of the Springfield Preservation Trust.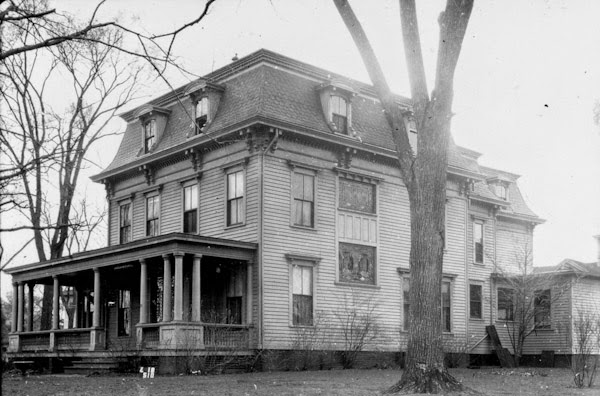 The scene in 2017: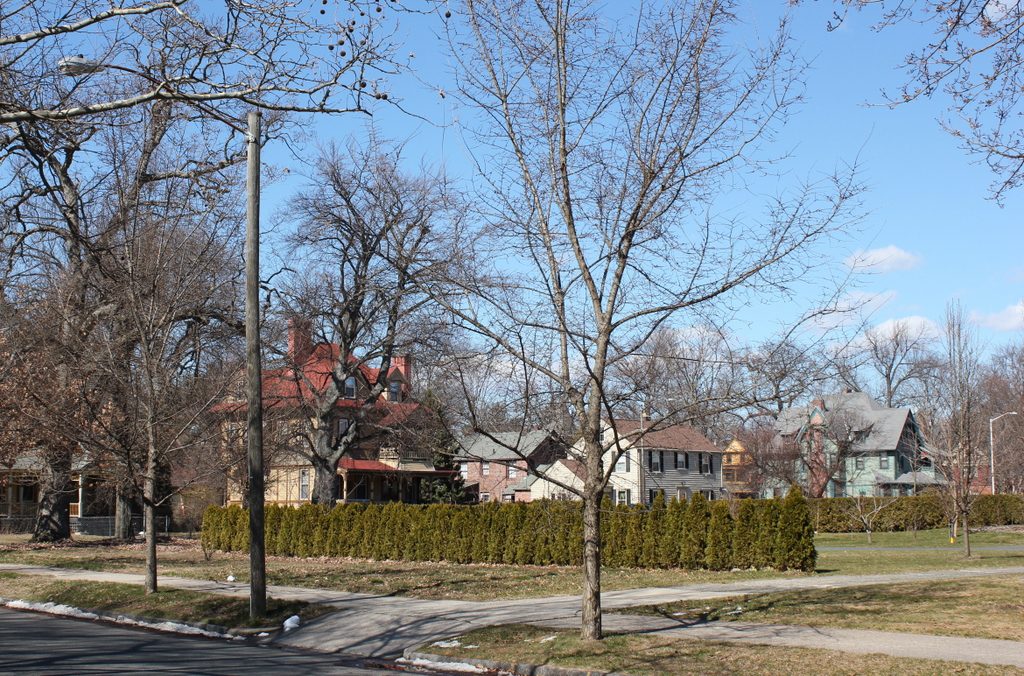 The large-scale development of Springfield's McKnight neighborhood began in the early 1870s, and among the first of these houses was this one at the southeast corner of Bowdoin and Worthington Streets. While the bulk of the homes in the neighborhood reflect Queen Anne-style architecture from the 1880s and 1890s, this home was built during the heyday of the Second Empire architecture of the early 1870s. The house was built sometime after 1870 but before 1874, when it was listed in the city directory as the home of Samuel Palmer. According to the same directory, he was a merchant and wholesale dealer "in Flour, Salt, Butter, Cheese and Produce generally."
Samuel Palmer lived here with his wife, whose name is variously recorded as Azuba, Agabah, Acuba, Azubeth, Arbua, Azabah, and Ayaba. Her gravestone offers yet another spelling, Azubah, which appears to have been the correct version of her name. Orthographic discrepancies aside, the couple lived here with their children, Ellen, Samuel, Henrietta, and Mary, and the 1880 census also shows two servants living here. The next surviving census records, in 1900, indicate that the family had moved to Enfield, Massachusetts, where 76-year-old Samuel was listed as a farmer. He died 11 years later, and Azubah lived well into her 90s, until her death in 1919.
While the Palmers were living in Enfield, their former house in Springfield was the home of John H. Carpenter, a clothing merchant. In the 1900 census, he was living here with his wife Juliet and her parents, Charles and Juliet Cleveland. John died in the 1920s, and sometime in the 1930s Juliet downsized and moved into an apartment just a block away from here. In the meantime, the house was acquired by the American Youth Council, an organization that trained unemployed young people. In the 1940 census, it was the home of the council's director, Frank W. Barber, as well as a social worker, John Haraty.
Most of the 19th century homes in the McKnight neighborhood are still standing, and form the McKnight Historic District on the National Register of Historic Places. However, this house has not survived. It was still here by the 1950s, when it was in use as the Musical Art Center, but it appears to have been demolished by 1976, because it does not appear in the inventory form for the historic district. The lot has remained vacant ever since, and it is now part of the property of the neighboring home at 103 Bowdoin Street.