The house at 103 Bowdoin Street in Springfield, around 1938-1939. Image courtesy of the Springfield Preservation Trust.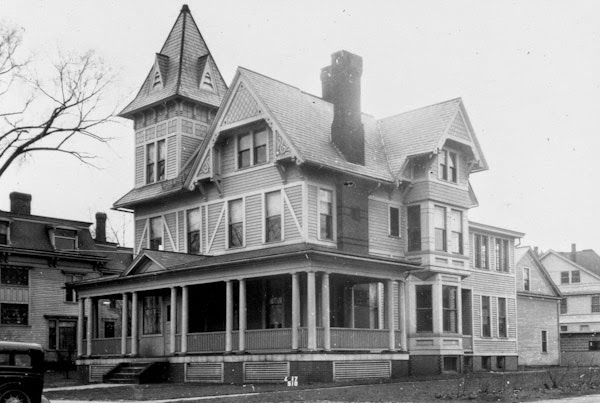 The house in 2017: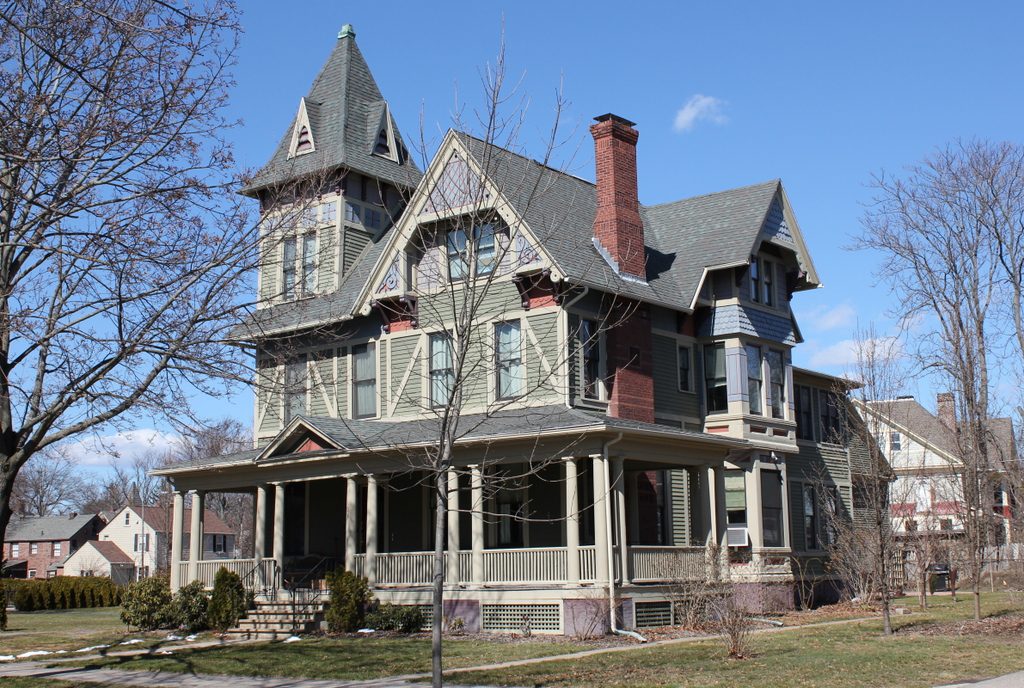 In a neighborhood with hundreds of excellent Queen Anne-style homes, this house on Bowdoin Street is probably one of the finest. It was built in the early 1880s as the home of William C. Newell, the son of button manufacturer Nelson C. Newell. Nelson and his brother Samuel had co-founded the Newell Brothers' Manufacturing Company, where they made buttons from their Howard Street facility. Around 1873 the brothers built adjacent, nearly identical homes just a few lots south of here on Bowdoin Street, and about a decade later William built this house.
William and his wife Martha were married around 1879, and within a few years they were living in this elegant home. He became the secretary of his father's company, which was eventually acquired by United Button Company in 1902. In the meantime, he and Martha lived here for many years, and they raised their five children here. They moved out of the house in the early 1910s, but they remained in the McKnight neighborhood until William's death in 1936 and Martha's in 1943.
The house was purchased by Dr. Susan P. Seymour, shortly after the death of her husband, Stephen E. Seymour. The couple had been married since 1884, with Stephen working as a lawyer while also serving as a city councilor and state representative. However, Susan also enjoyed a career of her own, becoming a physician shortly before their marriage, and practicing medicine for many years. They did not have any children, and Dr. Seymour lived in this house with her longtime servant, Elizabeth Burt, for nearly 20 years, until her death in 1930.
By the mid-20th century, many of the massive Victorian-era mansions of the McKnight neighborhood had been converted into group homes, nursing homes, or similar uses. In the case of this house, it became a nursing home, the Hilltop Rest Home. However, the property was eventually taken by the city in the early 2000s for nonpayment of taxes, and was subsequently sold to a private owners, who restored it to its original appearance. It is now a single-family home again, and is part of the McKnight Historic District on the National Register of Historic Places.