The house at 111 Maple Street in Springfield, around 1938-1939. Image courtesy of the Springfield Preservation Trust.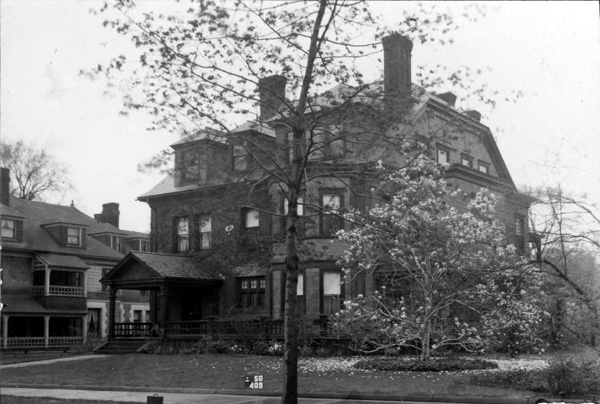 The scene in 2017: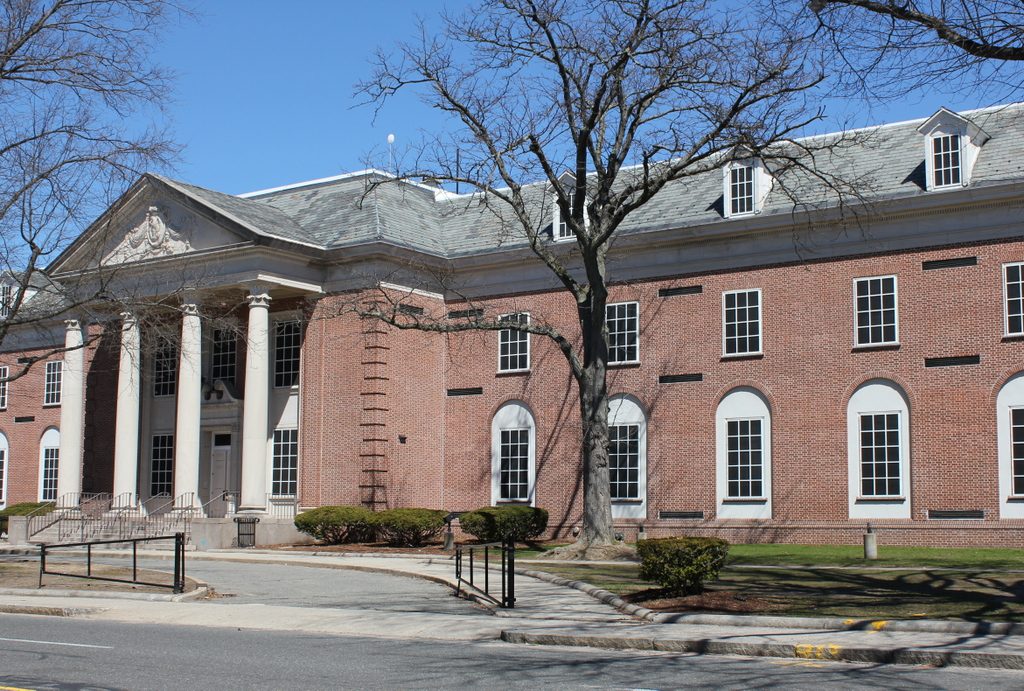 Eunice B. Smith was born in 1826, and grew up in Springfield's prominent Brewer family. Her father James was a merchant who was one of the founders of Chicopee Bank, and her grandfather Chauncey was a distinguished physician in the colonial era. Likewise, her husband David P. Smith was also a physician. He served in the Civil War as a surgeon, first for the 18th Massachusetts Infantry and eventually as chief surgeon at the Fairfax Seminary Hospital in Alexandria, and after the war he became a professor of surgery at Yale.
David and Eunice's only child, George, died in 1873 at the age of nine, and David died in 1880 at the age of 50. In 1890, Eunice had this house built on Maple Street, in between Union and Mulberry Streets. In the 1900 census, she was listed as living here with two servants, plus a woman who was identified as being her companion. Ten years later, she and her companion were still living here, along with four servants, which included a waitress, a cook, and two nurses.
After Eunice's death in 1911, the house was sold to businessman Harry G. Fisk. He came from a family of successful industrialists, including his uncle, George C. Fisk, who was the longtime president of the Wason Manufacturing Company. Harry's father, Noyes W. Fisk, worked for Wason and later became the clerk and treasurer of the Fisk Manufacturing Company, but in 1898 he and Harry established the Fisk Rubber Company in Chicopee. While Wason was one of the nation's leading railroad car manufacturers, Fisk Rubber became a major producer of bicycle and car tires, and Harry served for many years as the company's treasurer.
Aside from his involvement in the rubber company, which was later renamed the Fisk Tire Company, Harry Fisk was also the president of the Fisk Manufacturing Company, which made soap, and he was the president of the Springfield Motors Company. He served as a director for several other area companies, including the Massachusetts Mutual Life Insurance Company, and he even owned a large farm in East Longmeadow, where he bred cattle.
Harry Fisk and his wife Alice had four children, one of whom died in infancy. The family lived in this house for many years, and their wealth can be seen in the census valuations of the property. In 1930, for example, the house was valued at $75,000, or around $1.1 million in 2017 dollars. This was substantially higher than the other nearby mansions, which were fine homes in their own right. By the 1940 census, however, the home's value had declined to $40,000, or about $700,000 today. This was partially a result of the Great Depression, but it was probably also a reflection of changes in the neighborhood. By this point, many of the fine Gilded Age mansions on lower Maple Street had either been demolished to build apartments, or were converted into boarding houses. However, Harry Fisk remained here until his death in 1945, a year after Alice's death.
Along with the other three mansions along this section of Maple Street between Mulberry and Union Streets, this house was demolished sometime in the two decades between Fisk's death and the construction of the present building, which was completed in 1965. It was originally built as offices for the Insurance Company of North America, but was later used by Milton Bradley. In the mid-1990s, it was sold to the city and converted into the Milton Bradley Elementary School.