The house at 145 Clarendon Street in Springfield, around 1938-1939. Image courtesy of the Springfield Preservation Trust.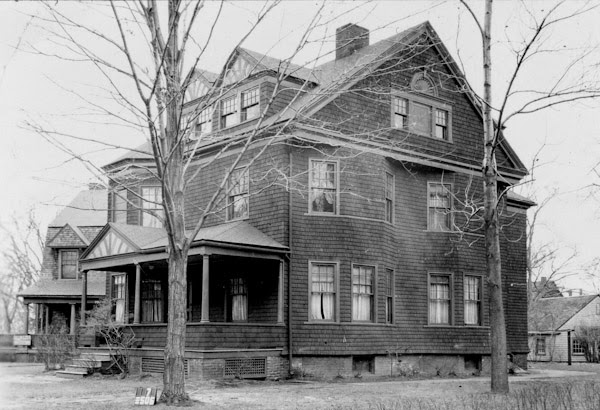 The house in 2017: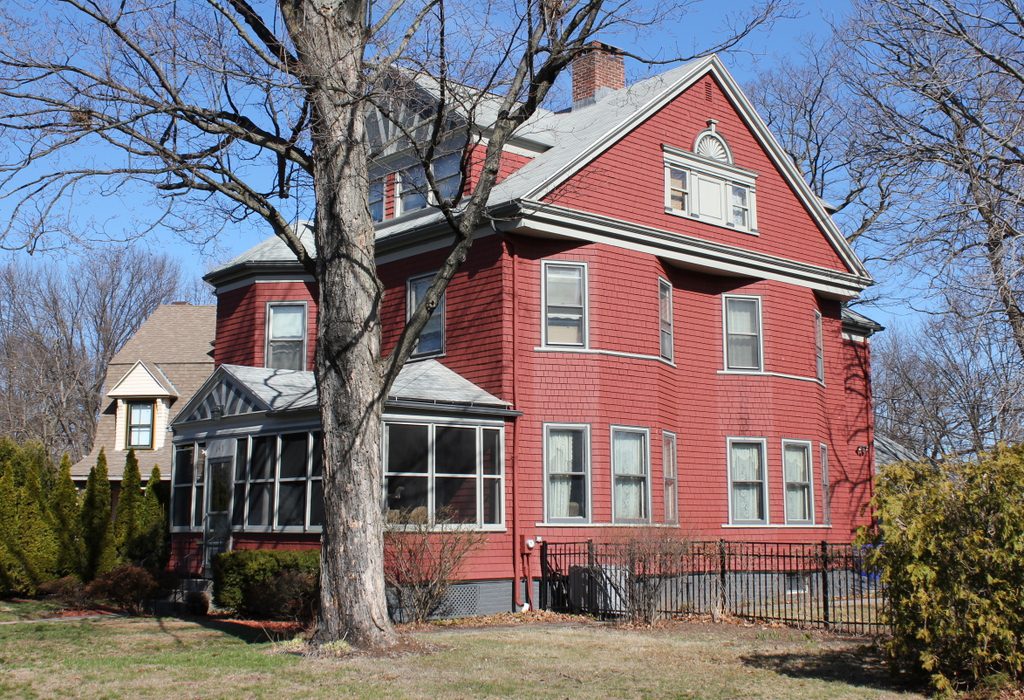 Springfield's McKnight neighborhood features many fine examples of late 19th century architecture, although virtually none were designed by architects of national significance. Instead, many of the homes were designed by local architects, including Guy Kirkham, who designed this house in 1892 and lived here for 17 years. He was born in 1864, and was the son of William Kirkham, a jeweler, and Harriet Merriam, who was the daughter of the famous Webster's dictionary publisher Charles Merriam. William died when Guy was young, and Harriet remarried in 1877 to Charles Hosley.
Kirkham studied architecture at MIT, and after graduating in 1887 he apprenticed in Minneapolis and New York City, and then spent several years studying in Europe. In 1892, he returned to Springfield, married his wife Grace Dwight, and started his own architectural firm. That same year, he built this house, just around the corner from where his mother lived. This house would have been among his earliest works, and incorporates elements of Shingle-style architecture. He undoubtedly would have learned about this style while at MIT, since it was widely popular in the 1880s, especially in wealthy New England coastal resort communities.
This house was one of about ten that Kirkham designed in the McKnight neighborhood, but he also designed a number of other important buildings in Springfield, including the Hotel Worthy, the Howard Street School, the High School of Commerce, the Forest Park branch library, the old YMCA building at 122 Chestnut Street, and the current MassMutual headquarters on State Street. Most of his works were in Springfield, but he did design a few buildings in nearby towns, including libraries in Chicopee and Hadley, the Unitarian church in Northampton, and the gymnasium at Wilbraham-Monson Academy.
The Kirkhams lived at this house until 1909, when they moved into a new house nearby at 120 Clarendon Street, which he also designed. Their old house here was sold to Guy's half brother, Walter Hosley, a physician who lived here for about a decade. By 1920, the house was owned by Raymond Wight, a paper company executive, and a decade later it was owned by Leiceser Warren, who was also involved in the paper business. Since then, there have been a few changes to the exterior, including the enclosed porch and a single, large gable over the dormer on the third floor. Otherwise, though, it is a well-preserved example of Shingle-style architecture, and it is part of the McKnight Historic District on the National Register of Historic Places.