The house at 89 Maple Street, at the corner of Union Street in Springfield, around 1938-1939. Image courtesy of the Springfield Preservation Trust.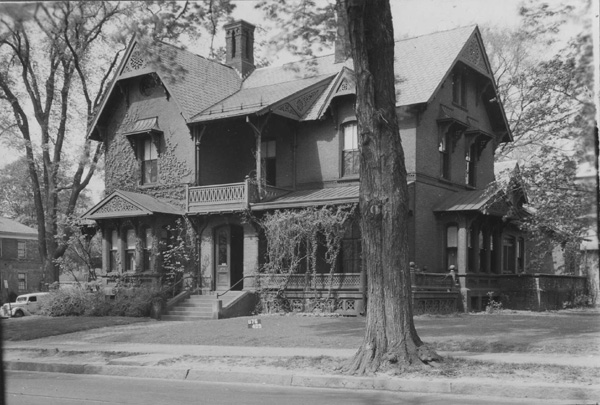 The scene in 2017: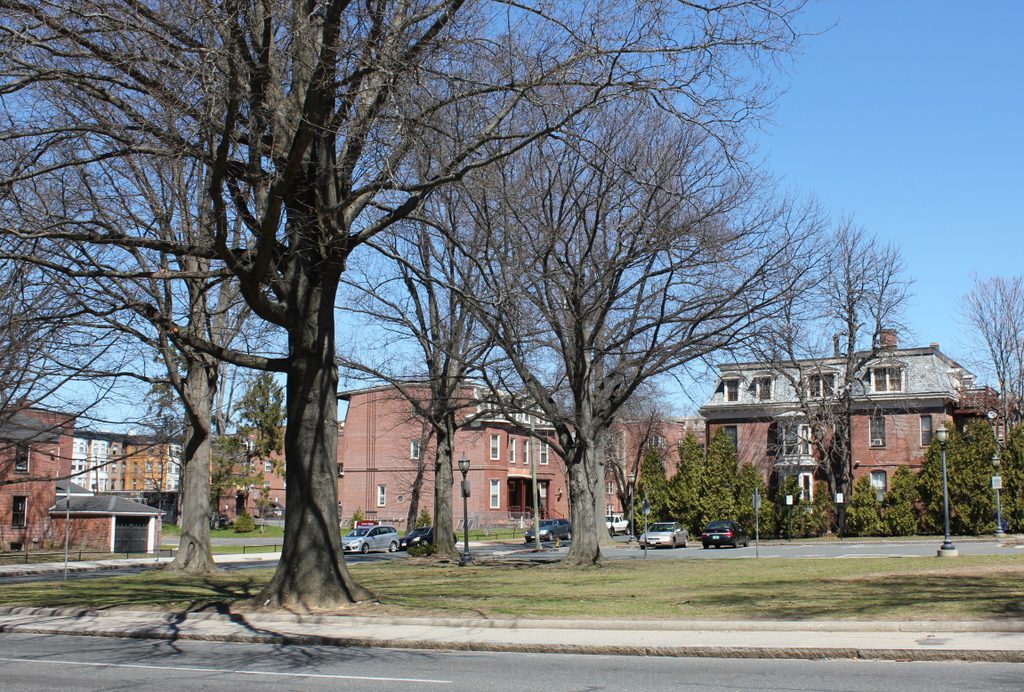 Henry A. Gould was born in 1828 in Manlius, New York, and grew up there and in nearby Syracuse. However, in 1854 he moved to Russell, Massachusetts, where he became a clerk at a paper mill. Four years later, he and Springfield resident Charles O. Chapin purchased the business, which became the Crescent Mills. Under the previous owners, the company had already been a major producer of paper, accounting for more than 13 percent of the country's entire paper production, but Chapin and Gould grew the business even further. They expanded the factory in 1858, and the Crescent Mills went on to become a successful paper company for many years.
In 1855, Gould married Lucy Bliss Lyman, a 26-year-old widow from Springfield, and they lived in Russell until 1871, when they moved here to the corner of Maple and Union Streets. Another house had previously stood on this lot, but it was demolished to build the Goulds' new home, which was designed in the Victorian Gothic style of the era. This same style can also be seen in other nearby homes, including 210 Maple and, on a much grander scale, 220 Maple.
Henry and Lucy did not have any children, and Lucy died in 1883. Two years later, he remarried to Harriet L. Bliss, who was the granddaughter of prominent early 19th century architect Asher Benjamin. By the 1900 census, they were living here with Henry's niece, Emily Hedden, plus three servants. After Henry's death in 1908, Harriet remained here until her death in 1920, and the house was subsequently sold to physician George Weston. Aside from his medical practice, Dr. Weston had also served as president of the Hampden District Medical Society and as a longtime member of the Springfield School Committee, and he lived here at this house until his death in 1931.
Like many of Springfield's other mansions during the Great Depression, this house was converted into a boarding house. There were ten lodgers living here during the 1940 census, all of whom were middle aged or older, with occupations that included two teachers, a paymaster, a stenographer, and a salesperson. Ultimately, several decades after the first photo was taken, the property was sold to the Insurance Company of North America, who built an office building here in the 1960s. This building later became offices for Milton Bradley, and it is now the Milton Bradley Elementary School. The school itself is just outside of view to the right, but the site of the former house is now a parking lot for the school.