The house at 233 Forest Park Avenue in Springfield, around 1938-1939. Image courtesy of the Springfield Preservation Trust.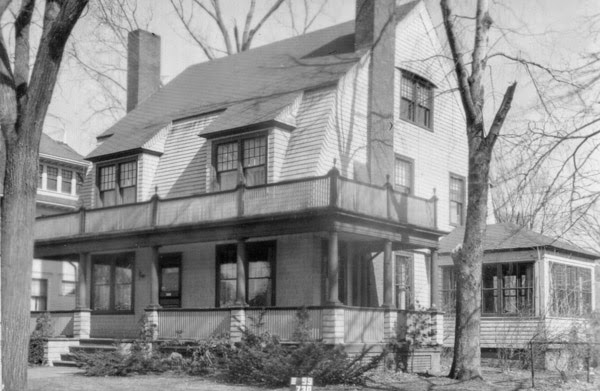 The house in 2017: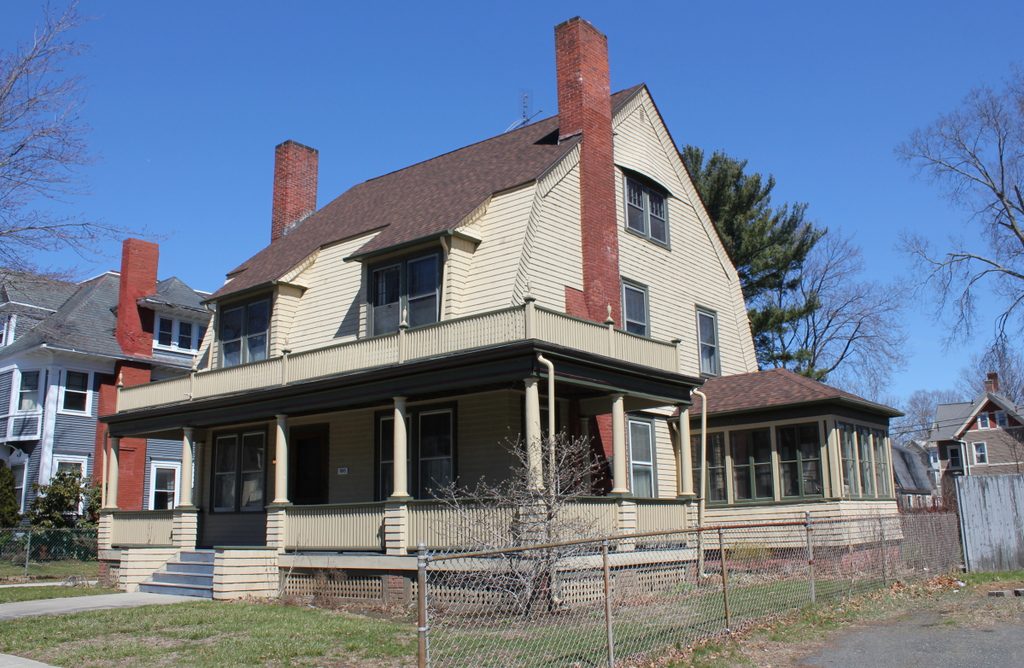 This house was built in 1895 as the home of Arthur B. Lewis, a merchant who sold hats and other "men's furnishings," as the census records describe it. He and his wife Lena had nine children who grew up here, although one of their children, Arthur Jr., died in infancy in 1901. This house would have been crowded by the 1910 census, when all eight of their surviving children were still living here, with ages ranging from one to 20. Along with this, they also employed two servants who lived here.
Lena died of pneumonia in the fall of 1910 at the age of 45, with her death certificate indicating that, as a Christian Scientist, she did not receive any medical care for her illness. A year later, their daughter Alice died just a week before her sixth birthday. According to her death certificate, she died of starvation from being unable to retain food, with hot weather being listed as a contributing factor. Arthur remarried in 1914, and he and his second wife Ada were still living by the early 1920s, along with several of Arthur's younger children.
By 1930, the house had been sold to Frederick D. Davis, a physician who lived here with his wife Blanche, their daughters Fredericka and Clarisa, and his parents, Lemuel and Lillian. However, Lemuel died in 1936, and Frederick died two years later, right around the time that the first photo was taken. Soon after, Blanche sold the house, and she and Clarisa moved to a nearby apartment on Sumner Avenue.
The house was subsequently owned by Michael Katz, the president of the Springfield-based Country Club Soda Company. A Jewish immigrant from Russia, he came to the United States in 1890 and soon after married his wife, Lena. They were both in their early 70s when they moved into this house in the late 1930s, and they lived here with their widowed daughter Rebecca and her daughter, Elaine. The family lived here until the early 1950s, when Rebecca, Michael, and Lena all died between 1951 and 1953.
In 1960, the house was purchased by Charles V. Ryan, who lived here with his wife Joan until 1976. During this time, Ryan served as the mayor of Springfield from 1962 to 1967, and unsuccessfully ran for Congress against Edward Boland in 1968. However, he returned to the mayor's office 36 years later, serving two terms from 2004 to 2008 and becoming the city's only mayor to serve non-consecutive terms. In the meantime, very little has changed with his former house. It remains well-preserved and, along with the rest of the neighborhood, it is part of the Forest Park Heights Historic District on the National Register of Historic Places.