The Third Harrison Gray Otis House, at 45 Beacon Street in Boston, around 1860. Image courtesy of the Boston Public Library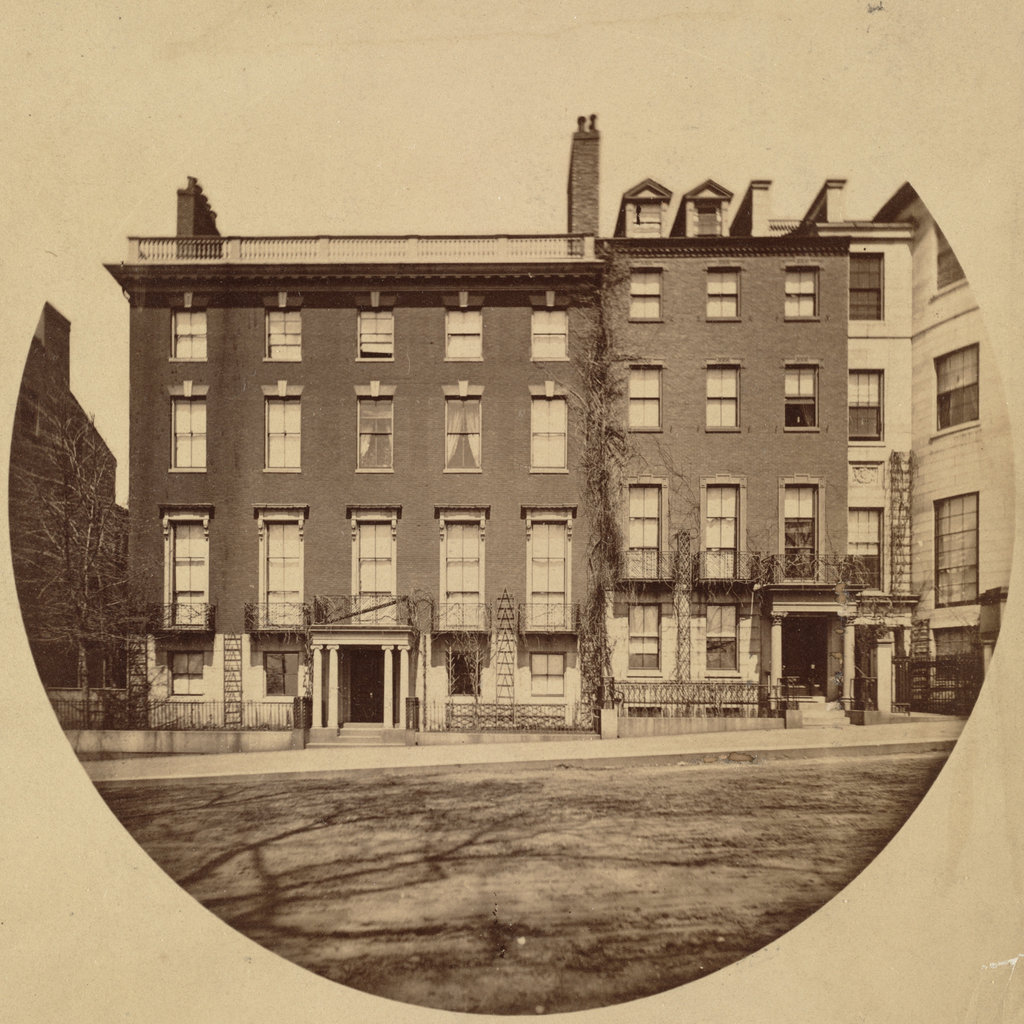 The house in 2017: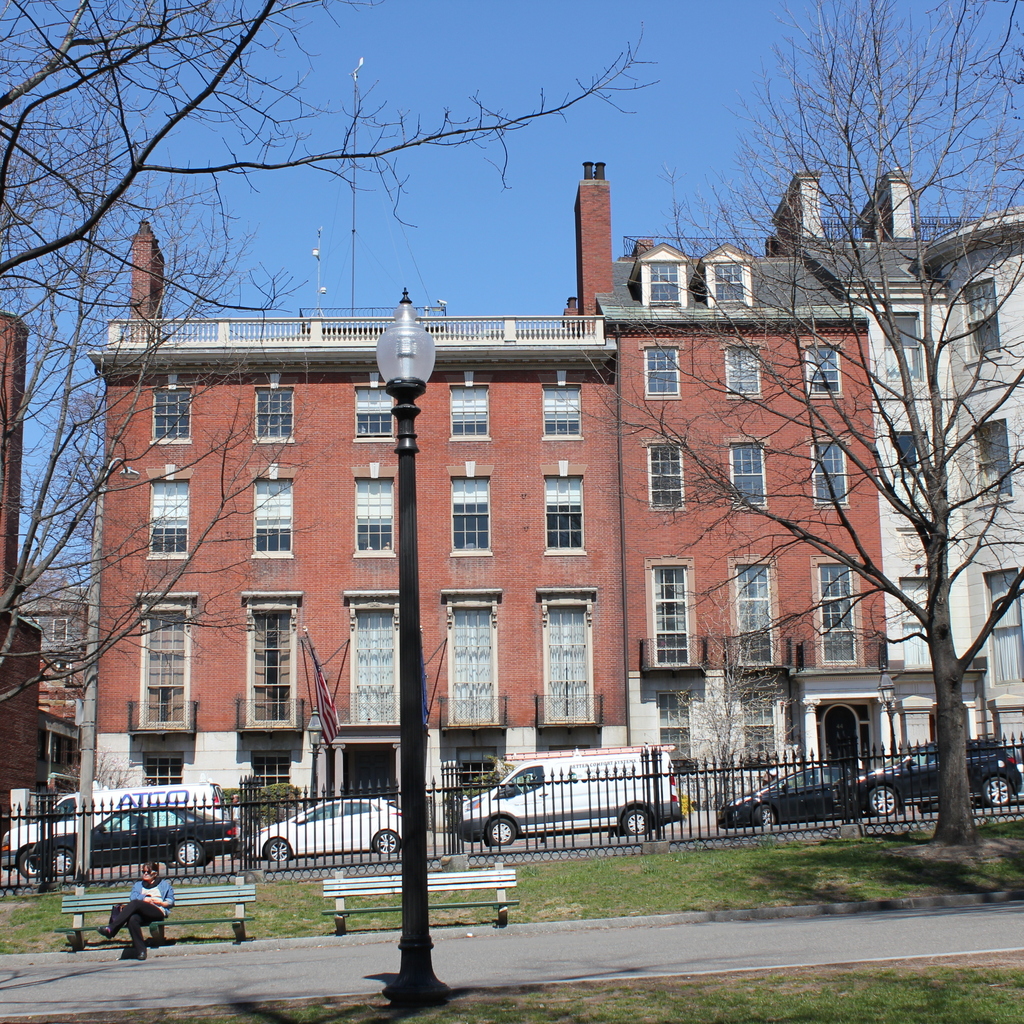 Harrison Gray Otis was a lawyer and politician, and one of the most prominent residents of Boston at the turn of the 19th century. Born in 1765 as a member of the prominent Otis family, he was a young boy when his uncle James became one of the leading anti-British patriots in the years leading up to the American Revolution. After graduating from Harvard in 1783, Harrison subsequently opened his law practice in Boston, and in 1796 he was appointed as the U.S. Attorney for Massachusetts. That same year, he was elected to Congress, and served two terms from 1797 to 1801.
Otis would go on to serve in the state legislature from 1802 to 1817, and was elected to a term in the U.S. Senate from 1817 to 1822. A few years later, he finished his political career by serving as mayor of Boston from 1829 to 1832. However, despite his extensive political career, his greatest legacy in Boston has probably been his three houses on Beacon Hill, all of which are still standing today as some of the finest examples of residential Federal architecture in the country.
All three of his houses were designed by Charles Bulfinch, one of the nation's most prominent architects of the late 18th and early 19th centuries. The first house, completed in 1796, was built on Cambridge Street, but Otis only lived here for a few years before moving in 1800, to another new house on Mount Vernon Street, near the top of Beacon Hill. He did not live there for very long either, though, because his third house, seen here on Beacon Street, was completed in 1808.
When the house was completed, Beacon Hill was just starting to be developed as an upscale neighborhood for Boston's elite, and Otis's house occupied one of the most desirable spots, directly across from Boston Common. Although most of the houses here are townhouses, his was originally built as a freestanding home, with gardens to the right and behind it, and a driveway to the left. The house itself is considered to have been one of Charles Bulfinch's finest works, and Otis was evidently satisfied with it, because he lived here until his death 40 years later in 1848.
Otis's political career peaked during the time that he lived here, and this house saw several distinguished guests, including James Monroe, who stayed here during a visit to Boston in 1817, as well as Senator Henry Clay. With Beacon Hill becoming the city's most desirable and exclusive neighborhood, though, property values rose to the point where Otis could no longer justifying having large gardens around his house. So, in 1831 he sold a 25-foot wide section of his garden to his neighbor, David Sears, who built an addition to his own house. This granite townhouse, which can be partially seen on the far right, was built for his daughter Anna and her husband William Amory, who was a prominent textile manufacturer. Two years later, Otis filled in the gap between the two houses by building 44 Beacon Street, directly adjacent to his own house, for his daughter Sophia and her husband, Andrew Ritchie.
By the time Harrison Gray Otis died in 1848, his formerly freestanding home had been mostly incorporated into the streetscape of Beacon Street. The only remnant of the gardens that once surrounded his home is the driveway on the left, which leads to a carriage house in the backyard. A rarity in Beacon Hill, this driveway is the only break in an otherwise continuous row of houses on Beacon Street between Walnut and Spruce Streets. When the first photo was taken about 12 years after his death, the house and its surroundings had already assumed its present-day appearance, and there is hardly any difference despite being taken over 150 years apart.
When the first photo was taken, the house was owned by brothers Samuel and Edward Austin, both of whom were merchants. Neither brother ever married, and after Samuel's death, Edward continued to live here for many years, until his own death in 1898 at the age of 95. The property changed hands several more times in the first half of the 20th century, and by 1940 it was owned by the Boy Scouts, who used it as offices until 1954. Since 1958, it has been owned by the American Meteorological Society, and it is used as the organization's headquarters. During this time, the interior was significantly renovated, but the exterior of the house has remained well-preserved, and it still stands as one of the finest homes in the Beacon Hill neighborhood.