The house at 36 Buckingham Street in Springfield, around 1938-1939. Image courtesy of the Springfield Preservation Trust.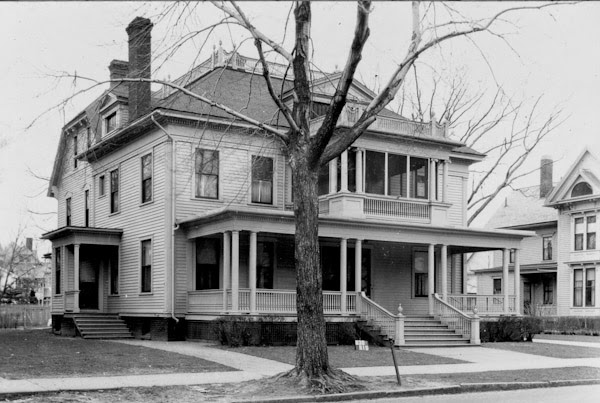 The scene in 2017: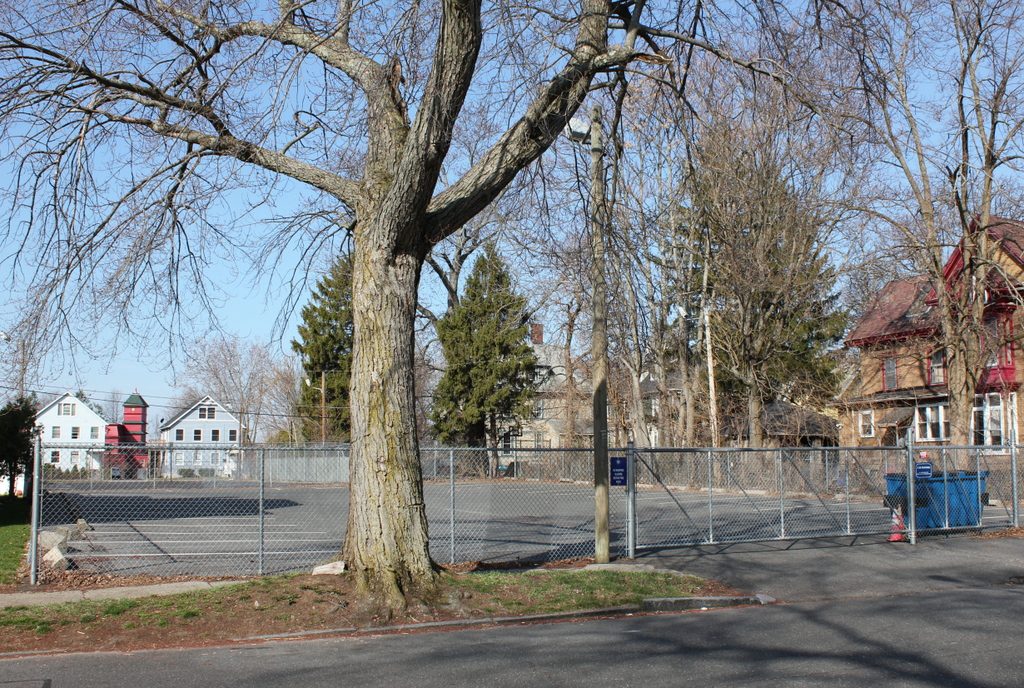 This house was built sometime in the 1870s for Adolphus F. Chapin, a prominent local clothing merchant. He was living here during the 1880 census, along with his wife Caroline and their son Alfred, and he remained here until his death in 1895 at the age of 48. The house was subsequently sold to William W. Broga, who moved in around the same time that he married his wife, Sarah. They were living here during the 1900 census, along with Sarah's three children from her previous marriage, and William was listed as working as a physician. However, he also appears to have been something of an inventor, receiving patents for inventions such as "Flushing apparatuses for water-closet bowls," "Coin separating and packaging machine," and "Resilient tire for vehicle wheels."
It does not seem clear whether Broga ever profited off any of his inventions, but by the 1910 census he and Sarah were living in an apartment nearby on State Street, and by the following census they had divorced. In the meantime, their house was sold around 1911 to Newrie D. Winter, a businessman who had served as the city's mayor in 1896 and 1897. Along with this, he also served as vice president and treasurer of the Northampton Street Railway, and by the early 1920s he was president of the Springfield Five Cents Savings Bank. At some point, during either Broga's or Winter's ownership, the house appears to have been altered from its original appearance, giving it more of a Colonial Revival style that matched contemporary architectural tastes.
Newrie's wife Delia died right around the same time that he purchased this house, but by the 1920 census he was living here with his son Dwight, his wife Marguerite, Delia's sister Kate V. Beach, and a servant. Like his father, Dwight also went on to become mayor of Springfield, serving from 1930 to 1933, while he was living in this house. He was only the third Democratic mayor to be elected since his father, more than 30 years earlier, and he was also the first Democrat in the city's history to serve for more than three years. However, he lost the party's nomination in 1933, and subsequently returned to his private business as a real estate broker.
Both Newrie and Dwight were still living here when the first photo was taken, but Dwight died a few years later in 1943. His father outlived him by five more years, before his death in 1947 at the age of 88. Their house was still here in the late 1960s, but it was demolished sometime before 1976, when the McKngiht Historic District was created. Today, the site is a parking lot, and the only trace of the house that once stood here is the tree in the foreground, which appears to be the same one that was in the first photo nearly 80 years ago.