The house at 44 Buckingham Street in Springfield, around 1938-1939. Image courtesy of the Springfield Preservation Trust.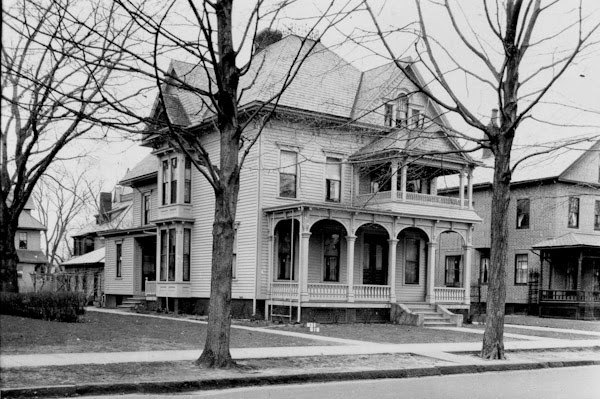 The house in 2017: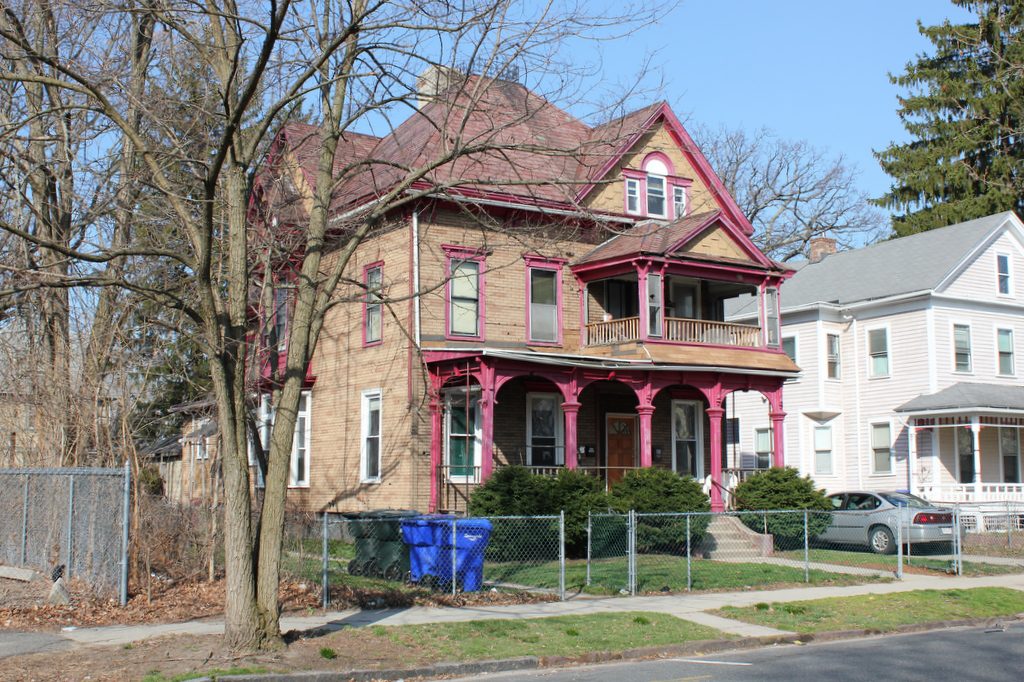 This house was built around 1876, as part of the first wave of development in the McKnight neighborhood. It likely would have looked different when it was first built, though, because some of the features did not come into common use until the Colonial Revival era of the early 20th century. If it was like the other 1870s houses in the neighborhood, it would have had an Italianate design with two stories and a flat roof, perhaps with a cupola in the center of the roof. The third floor was likely added about 20 or 30 years later, during the time when hip roofs and Palladian windows were in style.
The original owner of this house was Appleton B. Greenwood, a wholesale shoe merchant and partner in the firm of McIntosh & Company. He was 29 years old during the 1880 census, and he lived here with his wife Clara and their two young children, Grace and Roland. They were living in this house until the end of the decade, but had moved elsewhere by the early 1890s. Over the next two decades, the house saw a variety of residents, including James W. Stebbins, George W. Bristol, and Charles Hill. During this time, the house seems to have been used primarily as a rental property up until 1912, when it was sold to William and Carrie Blake.
Not to be confused with the English poet of the same name, William Blake was the treasurer of the Blake Manufacturing Company, which produced brass goods here in Springfield. He and Carrie had eight children, three of whom were still living here in this house during the 1920 census. William died during the 1920s, but Carrie was still living here when the first photo was taken in the late 1930s, along with her daughter Mabel, Mabel's husband James L. Hanchett, and their children. The 1940 census also shows four roomers living here, mostly young adults with jobs ranging from office clerk to church secretary to an electrical inspector.
Carrie and her family were still living here as late as the 1944 directory, but the house appears to have been sold soon after. At some point around this time, the exterior of the was covered in faux brick asphalt siding, which still remains on the house. Popular in the mid-20th century, this same type of siding can be seen on the house to the right in the first photo. Curiously, this situation is now reversed,  with the house on the right having a restored exterior, while its neighbor now has the artificial siding. Despite this, though, the house still retains most of its details from the first photo, and it is now part of the McKnight Historic District on the National Register of Historic Places.