The house at 170-172 Buckingham Street in Springfield, around 1938-1939. Image courtesy of the Springfield Preservation Trust.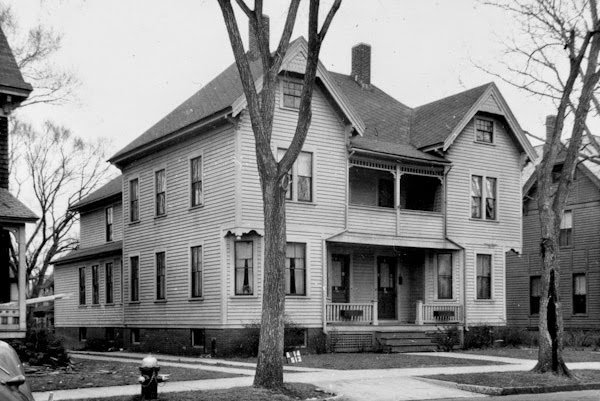 The house in 2017: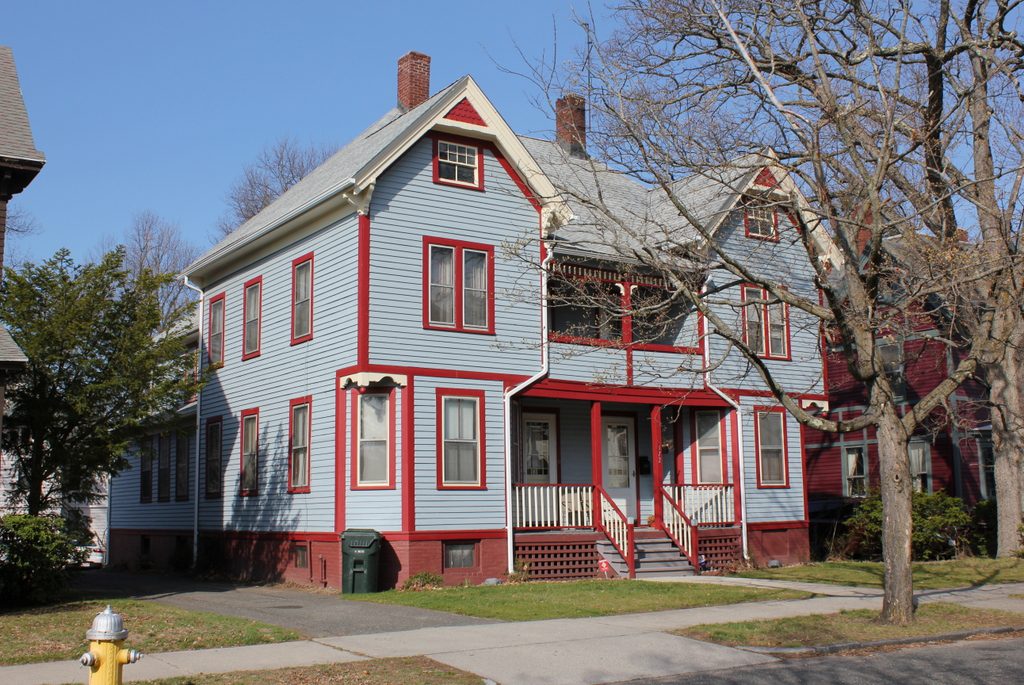 Most of the 19th century homes in the McKnight neighborhood were built as single-family homes, but many were later converted into multiple units. Some, however, were built as duplexes, such as this Queen Anne-style home on Buckingham Street. Both the 1899 and 1910 city atlases show that the property was owned by a C. C. Abbey, who does not appear to have personally lived here. Instead, both units were rented to a variety of tenants, most of whom were employed at local industries.
During the 1890s, the unit on the left, number 170, was rented by James A. Turnbull, who worked nearby at the Armory. By the turn of the 20th century, it was being rented by another firearms employee, this time James Gilbreth, who worked as a watchman at Smith & Wesson. In the meantime, unit 172 on the right had tenants such as William J. Cooper, the paymaster for Deane Steam Pump Company in Holyoke, as well as traveling salesman Francis W. Cole.
The unit on the right appears to have been further subdivided in the 1910s, because by the 1920 census there were three different families living here, in addition to a fourth in the unit on the left. A decade later, though, only one family appears to be listed in the census, with Frederick G. Platt as the owner. He lived in number 170 on the left, along with his wife Ethel and their five children, and he worked for the Y.M.C.A. Ethel was also employed, working as a nurse, and their only son, 18-year-old Graydon, worked as a pressman for a printing company.
By the time the first photo was taken, the entire house was owned by Hamilton Torrey, a teacher who lived in 170 Buckingham with his wife Marjorie, who was also a teacher, and their daughter Barbara. The 1940 census lists their incomes and number of weeks worked, and it indicates that, while Hamilton earned $1,000 for 52 weeks of work, Marjorie earned $880 for just 28 weeks. They also supplemented this income by renting out the unit on the right for $35 per month, to William G. Edwards, a photographic manager at an optical store. His wife Alma was a secretary for Forbes and Wallace, and in the 1940 census their incomes were much higher than that of their landlords, earning $2080 and $1040, respectively.
Nearly 80 years after the first photo was taken, this building remains a two-family home. Although the surrounding neighborhood entered a decline in the second half of the 20th century, many of the historic homes in the area have since been restored to their original appearance, including this duplex. Like these other homes, 170-172 Buckingham now forms part of the McKnight Historic District, which was added to the National Register of Historic Places in 1976.