The house at 367 Union Street in Springfield, around 1938-1939. Image courtesy of the Springfield Preservation Trust.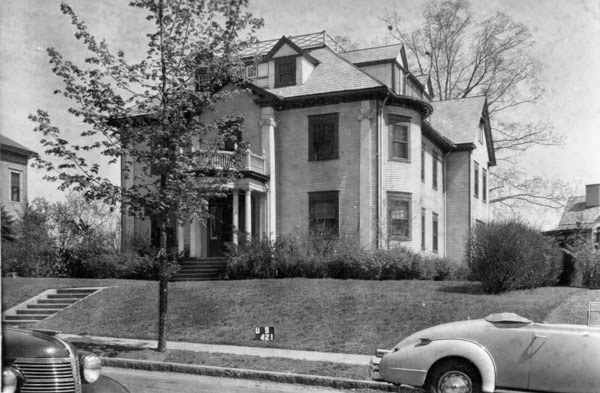 The house in 2017: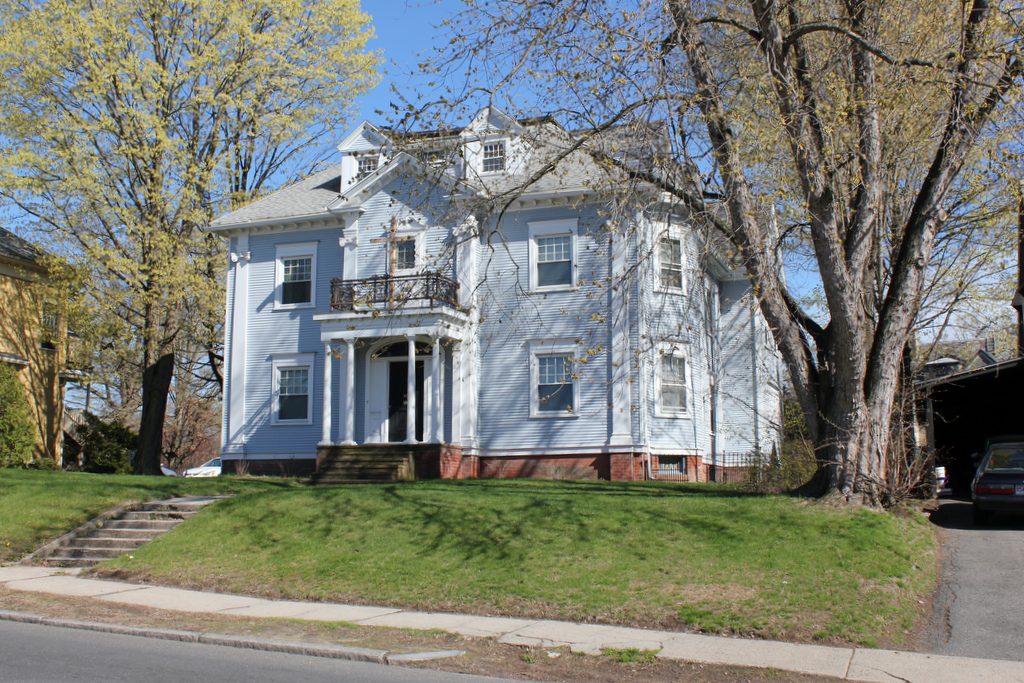 This house was built in 1899, and was part of the Ridgewood development, where a number of upscale homes were built on the former estate of Colonel James M. Thompson at the turn of the 20th century. It was purchased by Harry G. Fisk, who moved in with his newlywed wife Alice after their marriage in 1900. Fisk came from a prominent family of industrialists, including his uncle, George C. Fisk, who was the longtime president of Springfield's Wason Manufacturing Company, one of the nation's leading producers of railroad cars. George and his brother Noyes, Harry's father, also started the Fisk Manufacturing Company, which became a major producer of soap, and Noyes served as the company's clerk and treasurer.
Harry was born in Springfield in 1873 and graduated from MIT in 1896. Three years later, he and his father Noyes started the Fisk Rubber Company, with Noyes as president and Harry as treasurer. From its factory in Chicopee Falls, the company would go on to become a major producer of tires, and was eventually acquired by Uniroyal. Aside from the tire company, though, Harry was involved in a number of other corporations. He succeeded his uncle as president of the Fisk Manufacturing Company, and he was also a director of several other companies, including Massachusetts Mutual.
He and Alice had four children, one of whom died in infancy, and they lived in this house until 1911, when they purchased a nearby house at 111 Maple Street. Later in the 1910s, the house was sold to Douglas V. Wallace, the son of Forbes & Wallace co-founder Andrew Wallace. He grew up in his father's house on Maple Street, but after his marriage to Mary Robinson in 1913 the couple moved into this house. Douglas worked for his father's department store, eventually becoming vice president and treasurer of the company, and he and Mary had two children who grew up here. However, the family moved to Longmeadow in the late 1920s, where Douglas died in 1930 at the age of 44.
By the 1930 census, the house was owned by Chester T. Neal, a patent lawyer who lived here with his wife Julia, their four children, and his mother Minnie. He and Julia were still living here when the first photo was taken at the end of the decade, and they would remain here until at least the mid-1940s. Since then, the exterior of the house has remained well-preserved, as have many of the other surrounding homes in the neighborhood. Because of this, the area now forms the city's Ridgewood Local Historic District, and encompasses the turn-of-the-century development in between Union and Mulberry Streets.