The house at 26 East Weatogue Street in Simsbury, around 1935-1942. Image courtesy of the Connecticut State Library, WPA Architectural Survey Collection.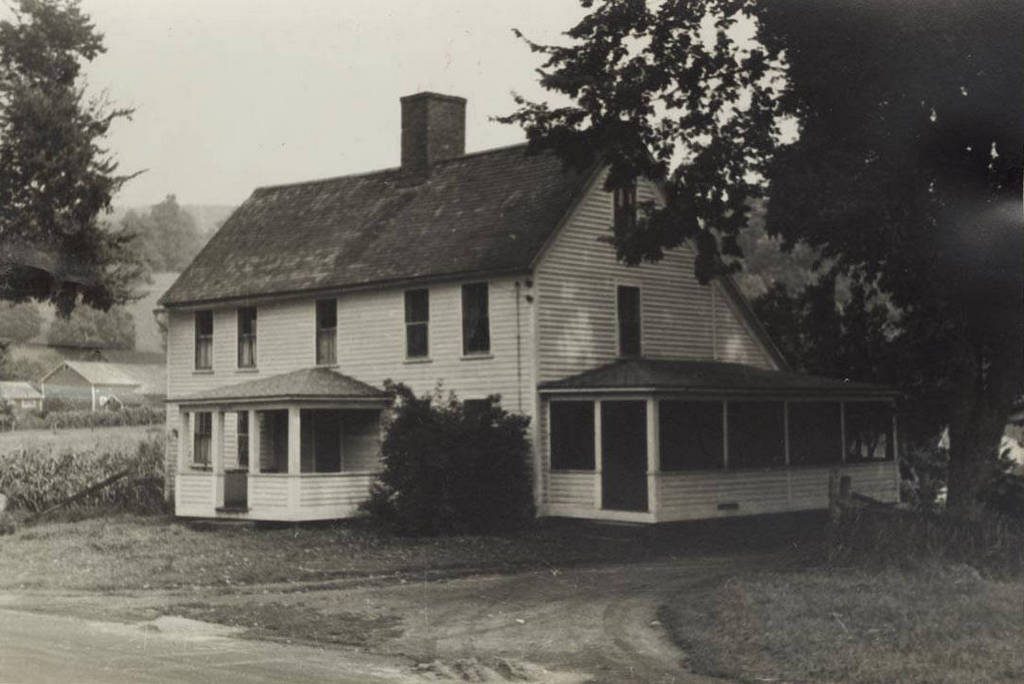 The house in 2017: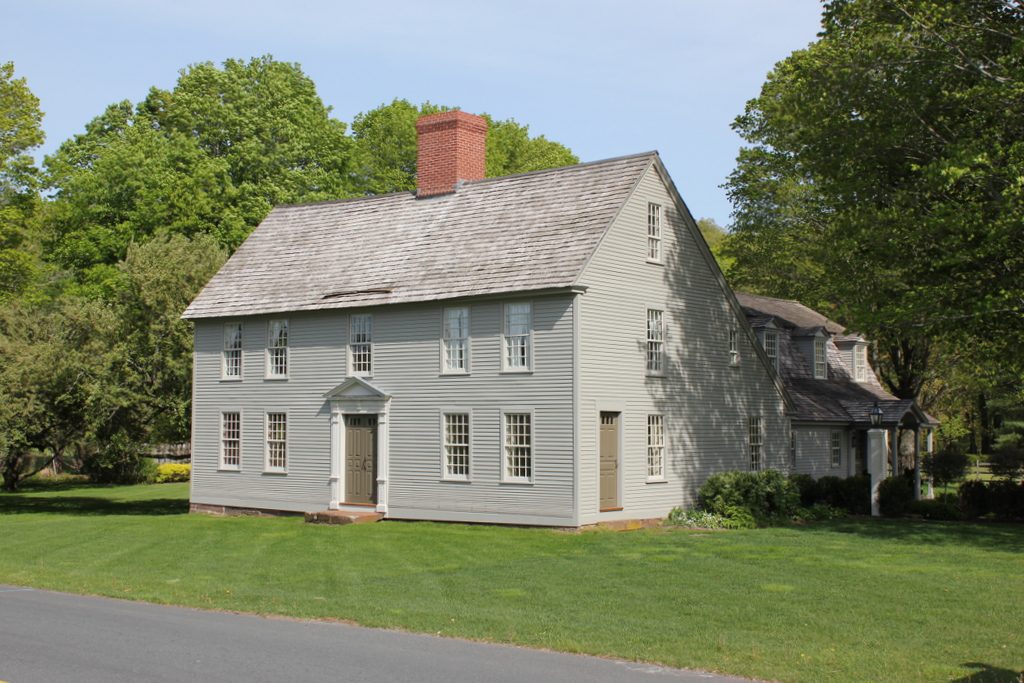 The town of Simsbury is situated along the banks of the Farmington River, with most of the town to the west of the river. On the east side, though, is the village of East Weatogue, which is located between the river to the west and the Metacomet Ridge to the east, near the corner of Hartford Road and East Weatogue Street. This area was first settled by Europeans in the 17th century, but it was destroyed by Indians in 1676 during King Philip's War. It was subsequently rebuilt, though, and this house is one of the oldest existing homes in the village, dating back to around 1720.
Like many other New England homes of the early 18th century, the house has a distinctive saltbox-style design, with two full stories in the front, one story in the back, and a large chimney in the center of the house. The original owner was Captain James Cornish, a farmer who was about 26 years old when he moved in here with his newlywed wife, Amy Butler. He and Amy had ten children, who were born between 1720 and 1740, and he became a prominent citizen in colonial Simsbury, earning the rank of captain in the town militia in 1736. After Amy's death in 1763, James remarried to Hannah Hickox, who died in 1779. James himself lived long enough to see the end of the American Revolution, and he died in 1784, a few months shy of his 90th birthday.
Over the years, East Weatogue remained a small farming village, and many of the colonial-era homes in the area have been preserved. The first photo was taken around the late 1930s or early 1940s, as part of a WPA architectural survey to document the historic homes in the state, and this was among several homes in the area that were included in the project. At the time, the exterior of the house had been somewhat altered by the addition of porches on the front and right side, but overall its saltbox-style architecture was still readily apparent, and the survey listed the house as being in "good" physical condition.
In the nearly 80 years since the first photo was taken, the house has been expanded with a large addition on the back, and the front of the house has been restored to its original colonial-era appearance, without the porches. Although not visible in this scene, the property also includes James Cornish's original 1720 barn, and both it and the house are now part of the East Weatogue Historic District, which was added to the National Register of Historic Places in 1990.