The house at 52 Cornell Street in Springfield, around 1938-1939. Image courtesy of the Springfield Preservation Trust.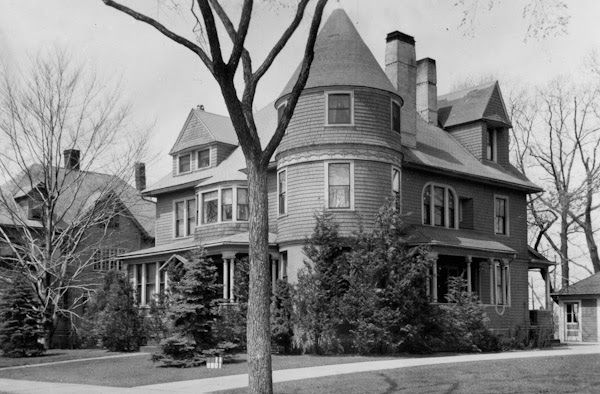 The house in 2017: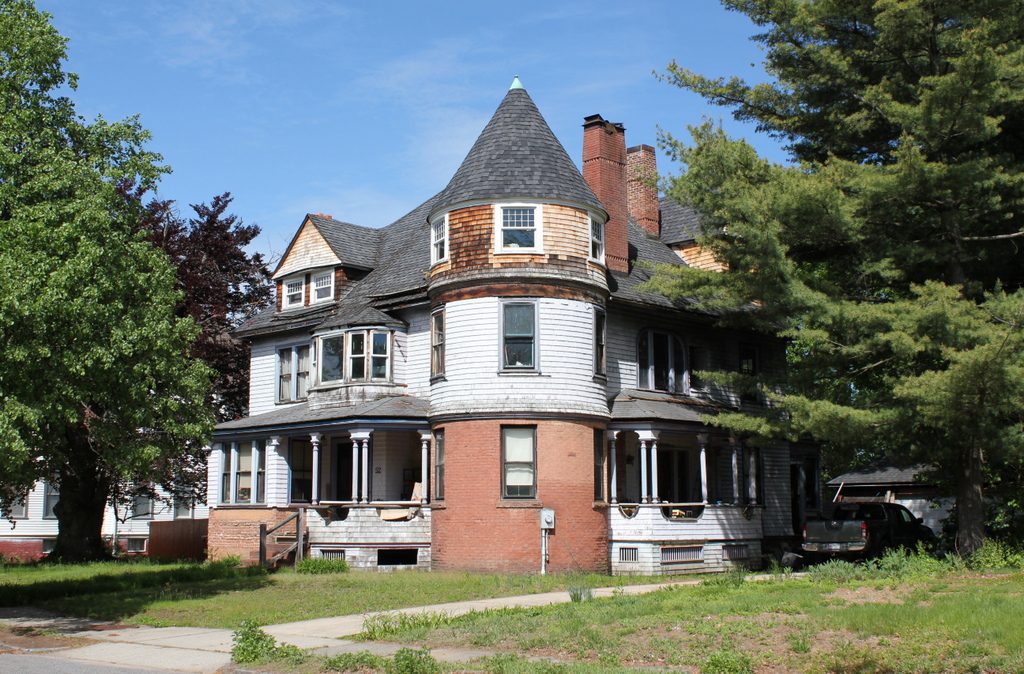 This elegant home was built in 1888 for John McFethries, a Scottish-born mechanical engineer who was in his late 50s at the time. He had come to America as a young man, where he married his first wife, Juliette McLean, in 1864 in Ludlow, Massachusetts. However, they subsequently moved to Russia, where John worked for the St. Petersburg and Moscow Railroad. Juliette died there in 1886, and three years later, while still in Russia, John remarried to Emily Pudan, who was originally from England.
By the early 1880s, John had moved back to the Springfield area along with Emily, and he became a prominent resident in the city. For several years they lived in a house nearby at 69 Clarendon Street, but around 1888 they moved into this house on Cornell Street, along the northwestern edge of the McKnight neighborhood. John was involved in several different local businesses, including serving as treasurer of the Waltham Watch Tool Company. He was also involved with the Highland Extension Company, which developed much of the land in the Upper Hill neighborhood of Springfield, and from 1890 to 1891 he served in the Massachusetts House of Representatives.
Emily died in 1900, and that year's census shows John living here with his daughter Olga, her husband John E. Cowan, their infant daughter Martha, and Emily's brother Frank. The Cowans subsequently moved to California, and John McFethries lived here in this house until his death in 1907 at the age of 76. His heirs owned the house for a few more years, and rented it to several different tenants, including Frank W. Watkins, who lived here from about 1910 to 1912. He lived here with his wife Mary and their daughter Lila, and he worked as a designer for the Taber-Prang Art Company, a Springfield-based firm that was a leading producer of fine art prints in the early 20th century.
Around 1913, the house was sold to Augustus C. Lamb, who lived here with his wife Effie and their three sons. He was a salesman for the American Writing Paper Company in Holyoke, and in 1917 he was promoted to sales manager. However, he resigned two years later to become factory manager of the Russ Gelatin Company, although he only stayed there for a few years before returning to American Writing Paper in 1922. Around the same time, he and his family also moved out of this house, and into an apartment in Forest Park at 143 Belmont Avenue.
This house then became the home of George S. Lewis, a firearms manufacturer who had previously worked for J. Stevens Arms of Chicopee. By the time he and his wife Fannie moved into this house around 1922, George had left Stevens and was in business for himself, starting the Page-Lewis Arms Company. He was vice president, general manager, and designer for this company, and he was also the general manager of the affiliated Page Needle Company, both of which were located in the same factory in Chicopee. However, in 1926, Page-Lewis was purchased by J. Stevens Arms, and George later began working for Winchester Repeating Arms in New Haven, Connecticut.
George and Fannie appear in city directories here as late as 1934, but by the end of the decade the house had been divided into several different apartments. During the 1940 census, which was done shortly after the first photo was taken, the house was owned by Robert W. Leduc, an accountant who lived here and rented out two other units in the home. One was rented by Edward J. Sawyer, a supervisor at Westinghouse who lived here with his wife Jean and their son, Edward Jr., and the other unit was rented by Nellie M. Allen, a widow who was 74 years old at the time.
In subsequent years, the city directories show a number of different residents living in this house, and it appears to have frequently changed owners in the mid-20th century. However, it is now a single-family home again, and it is one of the hundreds of historic 19th century homes in the McKnight Historic District, which was added to the National Register of Historic Places in 1976.