The house at 28 Cornell Street in Springfield, around 1938-1939. Image courtesy of the Springfield Preservation Trust.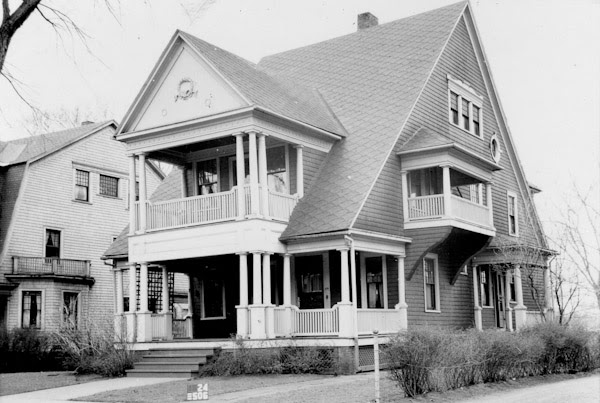 The scene in 2017: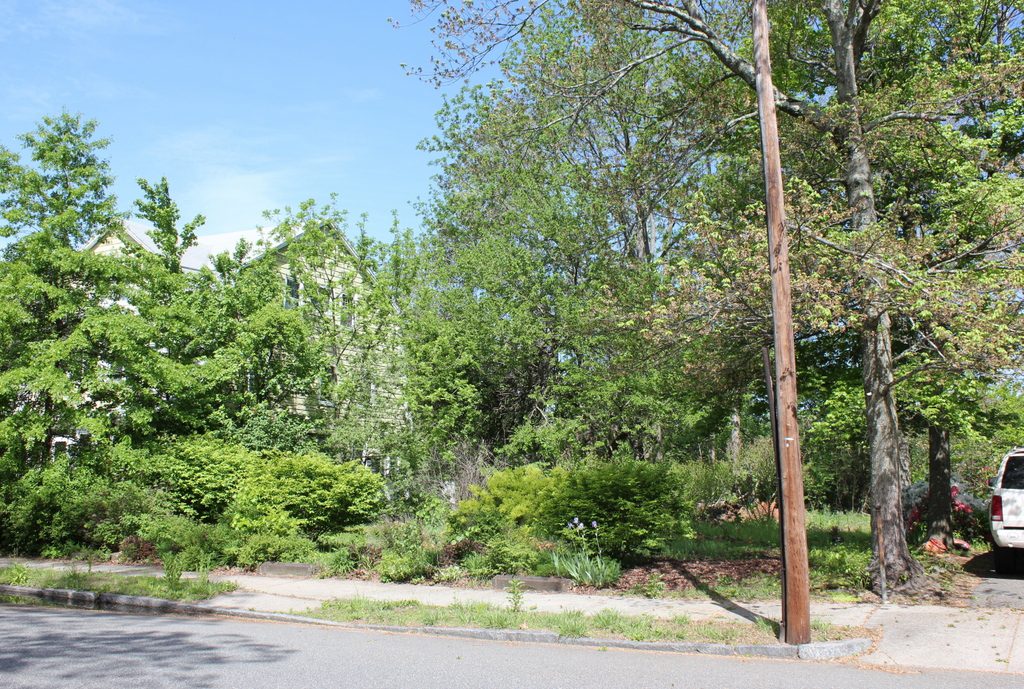 This house was built in 1895, and was originally the home of Frederick A. North. He only lived here for a few years, though, because by 1898 he had moved to New York, and by the following year the house was owned by James M. Van Deusen. He was a graduate of Rutgers and the Hartford Theological Seminary, but never entered the ministry, and instead worked in the four and grain business, with the firm of Van Deusen & Foley. He and his wife Isabel lived here with their five children for about a decade, but in 1908 they sold the house and moved to Pasadena, California, where James died in 1921.
The house subsequently became the home of Henry L. Thomas, a Canadian-born mason who is also listed in city directories as being a building supervisor. He and his wife Eleanor had seven children, whose ages ranged from 6 to 26 at the time of the 1910 census. The oldest, William, was listed in the census as working as a stage electrician for an opera company, although city directories from the same period list his occupation as an actor. Either way, he later married and moved to a house on Winthrop Street in the South End, where he was living in 1917 while working for Poli's Palace Theatre. Several of William's younger siblings also moved out of this house during the 1910s, and around 1920 Henry and Eleanor moved to an apartment at 663 State Street, where they lived with their three youngest daughters.
This house would remain in Henry's family, though, because during the 1920 census his daughter Mary was living here with her husband, John E. Keefe, and her daughter Patricia. John was a dentist and oral surgeon who was originally from Fall River, and in the aftermath of World War I he traveled to Romania with the American Red Cross. He was featured in several photographs taken by the Red Cross in 1919, including the one below, which shows him at work in his clinic in Bucharest.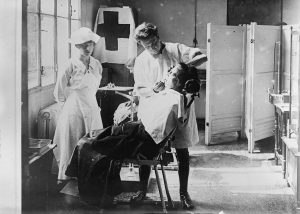 The caption of this photo explains that he performs around 400 major dental operations each month, while one of the other captions explains how "The war has wrought many changes in the life of the people of southwestern Europe and has brought them in contact with many people they had never seen before. Here is Capt. John Keefe of N.Y. who has charge of the A.R.C. dental hut at Bucharest which is the mecca for native dental experts anxious to learn the mysteries of modern dental surgery."
Dr. Keefe returned to Springfield after his time overseas, and for many years he worked out of an office at 1490 Main Street, where Tower Square now stands. He and Mary were still living here when the first photo was taken in the late 1930s, and they would remain here until Mary sold the house in 1953, a few years before John's death in 1957.
In the second half of the 20th century, the McKnight neighborhood entered a decline, and many properties were abandoned or taken by the city for tax delinquency. This particular house became part of the McKnight Historic District when it was established in 1976, but several years later the city took the property, and it stood empty for many years until it was finally destroyed in a fire in 1999.