The house at 80 Cornell Street in Springfield, around 1938-1939. Image courtesy of the Springfield Preservation Trust.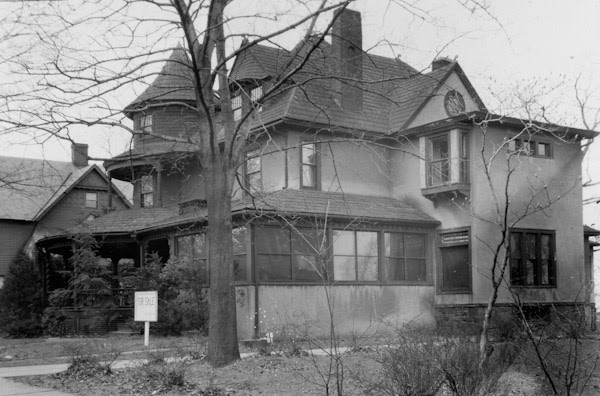 The house in 2017: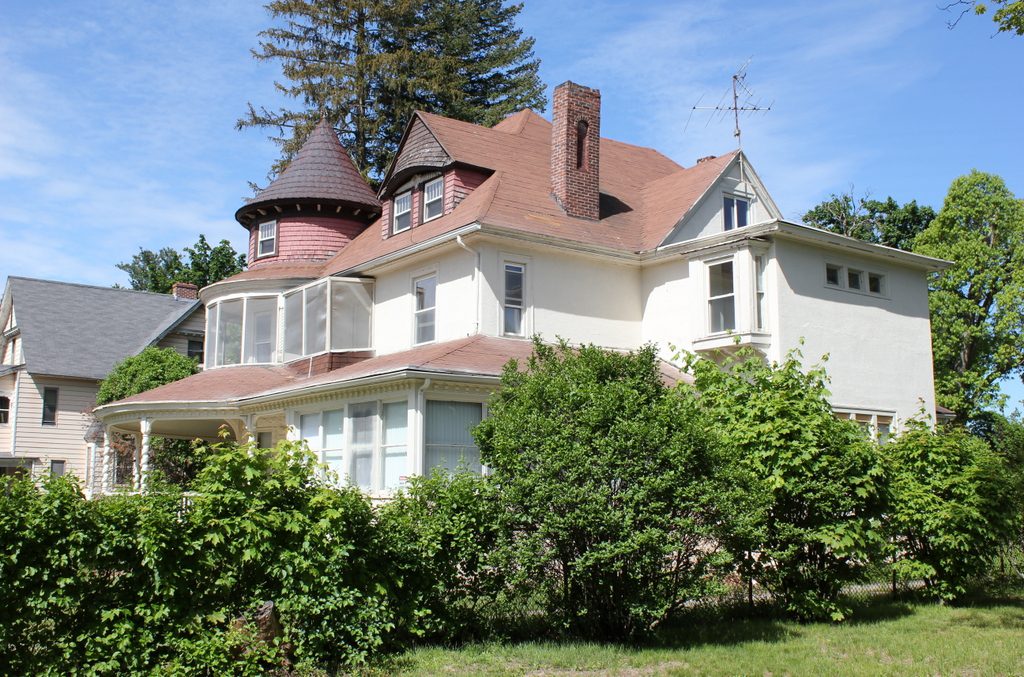 This house is known locally as the "Peter Proud House" for its role in the 1975 film The Reincarnation of Peter Proud, but the house was already nearly a century old when it made its brief Hollywood appearance. It was built in 1888, and was originally the home of Simeon E. Walton, a carpenter and builder who, according to an 1892 advertisement in the city directory, specialized in hardwood mosaic floors. This likely explains the interior of the house, which is still covered in fine hardwood floors, as well as wood paneling on the walls. He and his wife Ella had previously lived in a different house in the McKnight neighborhood, at 77 Clarendon Street, but they moved here after this house was completed and lived here until around 1910, when they moved to Agawam.
During the 1910 census, the house was owned by William Patton, a real estate developer whose properties included the Patton Building, which still stands at 15-19 Hampden Street. He was 52 years old and unmarried, and he rented part of this large house to Frederick and Mary Simmons, who were in their late 60s at the time. They lived here with their son, Frederick Jr., but both Frederick and Mary died of pneumonia in January 1914, less than a week apart. Their son continued to live here for a few more years, but he died in 1918 at the age of 50.
After Frederick's death, his sister Emma and her husband, George B. Church, moved into this house, along with their two teenaged daughters, Dorothea and Mary. William Patton continued to live here during this time, and George worked as a secretary for his real estate company. However, William died in 1925, and George and Emma subsequently moved to their own house on Morningside Park, in the Forest Park neighborhood.
This house stood vacant throughout the late 1920s, and was not occupied again until the early 1930s, when it was the home of Philip Decoteau, a French-Canadian immigrant who owned a shoe repair business on Oak Street in Indian Orchard. He and his wife Emily were in their 60s at the time, and they lived here with their sizable family, which included at least six of their adult children, plus a son-in-law, daughter-in-law, and several grandchildren. They were still living here into the late 1930s, but by 1939 the house was vacant and for sale, as indicated by the sign in the front yard of the first photo.
The house's moment of fame came in 1975, when it was featured in the supernatural film The Reincarnation of Peter Proud. The movie was an adaptation of the 1973 novel of the same name, which was written by Springfield native Max Ehrlich, and much it was filmed here in Springfield. In the movie, the title character (played by Michael Sarrazin) is a college professor in California who suffers from recurring nightmares that, as it turns out, are flashbacks from a previous life. Seeking answers, he travels to Springfield, where he discovers many of the landmarks from his dreams, including this house, which had been his home in his previous life.
Today, the house still stands on Cornell Street, and still retains much of its Victorian-era elegance, although it has undergone some significant changes over the years. Even before the first photo was taken, the original clapboard exterior was replaced with stucco, and during the 1940s the interior was divided into several different apartments. The original tin roof, visible in the first photo, is also gone, except for the top of the spire. However, it remains a prominent house in a neighborhood that is filled with fine Victorian homes, and it is now part of the McKnight Historic District, which was added to the National Register of Historic Places in 1976.